Women's Day 2022: At 77, This Dadi is An Inspiration For All Of Us
At the age of 77, Sheela Bajaj turns her passion of knitting into a profession.
Sheela Bajaj became an entrepreneur at the age of 77. She has an Instagram page with the name of Caught Craft Handed. This happened when her granddaughter helped turn her passion for knitting into her profession. She makes headbands, scarves, sweaters, masks, earrings and many more. On Women's Day, we bring to you the immensely inspiring life story of Sheela Bajaj.
Life Journey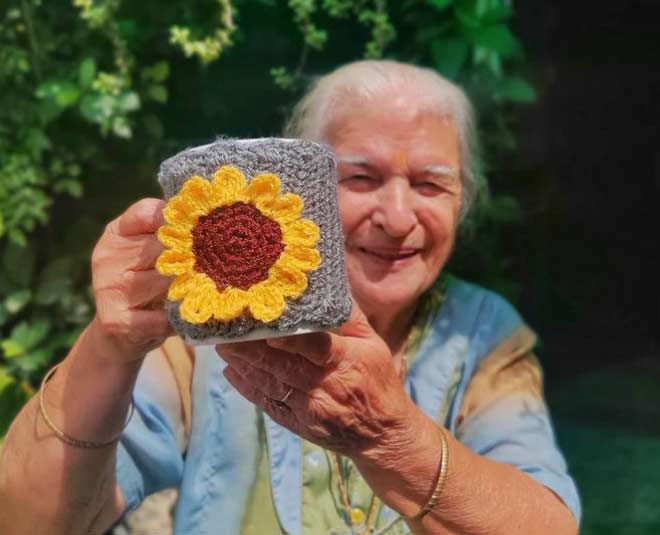 Sheela Bajaj has always been a fearless woman and wanted to lead an independent life. She fought with her parents to get an education. She studied till the age of 17. However, her family got her married at the age of 18. After marriage, she couldn't work as her in-laws were against it.
For the next 59 years, she took care of the house and her family. However, she would stitch in her free time as she loved to do it. She would stitch cosy sweaters and other things for her family.
Beginning Of A New Chapter
View this post on Instagram
Now, she has a small family that consists of just her and her granddaughter. In 2020, when the pandemic hit, things got hard and she felt lonely. This is when her granddaughter gave her a brilliant idea. She said, "How about you start knitting again? But this time, for yourself."
This idea by her granddaughter made her believe in herself and gave her the courage to start a business. Her granddaughter started an Instagram page and started posting her creation on the page. This started the new chapter of their life and they started to turn this into a full-time thing.
Don't Miss:National Youth Day: Know The 19-Year-Old Female Electrician's Inspiring Journey Of Shattering Stereotypes
Sheela Bajaj talked to a leading daily and said, "I was responsible for manufacturing and marketing, while she had taken up the finance and logistics department. That's how we crafted our little business and at the age of 78, I earned my first paycheck– Rs. 350! It was a feeling I had never felt before. I felt so proud and independent that I just wanted to dance."
View this post on Instagram
"Although the beginning was humble and the response was cold. A lot of people of my age told me what I did was nothing special and there are so many who make similar products. But I never let that get into me because I knew the love I'd put in all my creations. Soon, we started getting orders from all over the country and then there was no looking back. As a single manufacturer, I get 10 times more orders in a month than I can ever make, but it is never exhausting," she added.
Don't Miss:Birthday Special: 5 Times Neil Nitin Mukesh Made Our Hearts Melt
Now, she spends 6 hours of the day knitting for her business and she just loves it. At this age, she got a chance to be independent. She is proof that it's never too late to do anything. You just need to believe in yourself and do whatever you want to do. She is surely an inspiration for all of us.
For more such stories, stay tuned to HerZindagi!