When we talk about electricians, the first image that pops in our mind is of a male electrician. That's because we have mostly seen men in this profession and doing these things. However, a 19-year-old woman, Sirisha Jetti's inspiring journey of becoming a female electrician is gracefully shattering such stereotypes.
In an exclusive conversation with Lakshita Singh of HerZindagi, Sirisha Jetti shares her journey. On National Youth Day, let's know about her inspiring story and journey.
Who Is Sirisha Jetti?
Sirisha Jetti is a 19-year-old Electrician with higher aims in life. In a job fair, she learned about numerous courses offered by Tata STRIVE like beauty-related, electrician, etc. But as soon as she heard about the electrician course, she wanted to enroll.
"When I heard of Tata STRIVE at a local job fair at Secunderabad, I knew I wanted to enroll. But I never wanted to opt for any of the other courses being offered (including beauty- related courses) because I had set my heart and mind to the Assistant electrician course. Naturally then, the interest inventory procedure (a picture-based algorithmic approach for assessment of a learner's natural interests through a set of visual inputs) gave the same results. I was meant to pursue the electrician course!," said Jetti to HerZindagi.
Today, Jetti works at Taj Krishna as an assistant electrician, where she is earning Rs 12,000 per month and is able to support her family financially. She is also pursuing a B Tech degree in a distance mode and has recently rented a home in Dilsukhnagar, Hyderabad.
Inspiration Behind Work
(Source: Tata STRIVE)
Daughter of an auto driver, Jetti and family suffered financial crisis in 2016 and her father's single income in the family of 4 was not enough to make ends meet. Everyday was a struggle as they struggled with daily needs, let alone paying rent for their house. That's when she realized she has to get a job, and for that, she needs to get skilled. So, she enrolled in a course for Assistant electricians.
She says that she's fascinated by electrical equipment, whether it's small fixtures like a light bulb or larger appliances like a refrigerator. That is why she chose the electrician course: she wants to enjoy her work. Another reason she chose this course is that she believes this course will help her in her higher studies of B.Tech.
A Female In A Male-Dominated Field Of Electrician
(Source: Tata STRIVE)
On asking about the journey in the male dominated field, she replied- "I agree this field is male-dominated. "But why only men?"
She added, "I wasn't the only woman pursuing this course. I had a few female classmates too; but at my workplace, I am the only female electrician. Yet, I never felt anybody treating me differently for my work. In fact, I have and I continue to receive support from all colleagues - chief engineer, supervisor, colleagues – everyone".
Family's Reaction On Choice Of Work
"They were initially hesitant, yes. And this was despite my brother being an electrician himself! My parents had their doubts. I told them, I want to be an electrician. A female electrician. My conviction persuaded them by almost 50% and they gave their go-ahead. That is how I enrolled into the course. Within a short duration of me pursuing the course, the remaining 50% was taken care of too – when they saw me not just visibly happy but also confident with the knowledge I gained," said Jetti.
Motivation Behind Work
(Source: Tata STRIVE)
Sirisha Jetti says, "I am fortunate to do what I like to do for a living and that keeps me motivated"! Talking about her workplace, she says, "The hotel property has eight floors and I love to receive 'the list' in the morning when I report to work. The list contains rooms to be serviced. And so begins the process – we check for the proper functioning of appliances such as kettles, hair dryers and refrigerators, and also lighting fixtures, switches and sockets. It happens like clockwork and then comes my favourite part: Picking up the phone and calling our back end's extension number in cases where we have an appliance breakdown or support is needed. I enjoy this bit the most".
Don't miss: HZ Exclusive: Know All About Shaheen Bhatt's Battle With Depression In Her Own Words
Sirisha Jetti Future Plans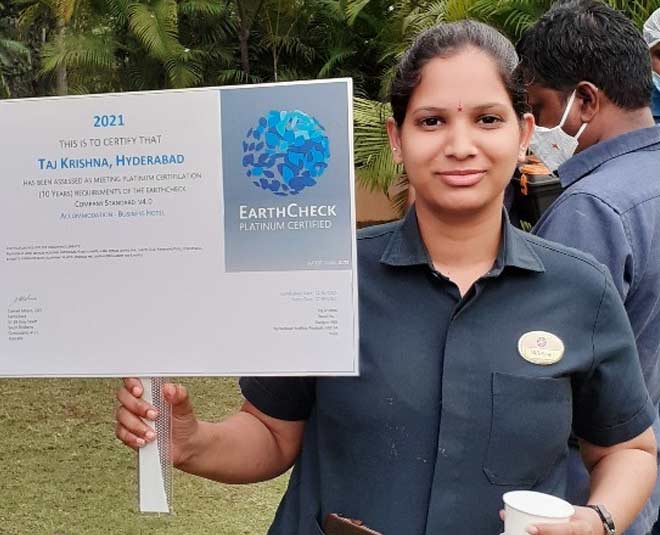 (Source: Tata STRIVE)
Sirisha Jetti wants to be the Chief Engineer at Taj Krishna or any other Taj Hotel. She says, "I have seen what hardships my parents had to go through – especially during 2015-16 when we were faced with financial difficulties. At that time, I was in school, hence unable to support in any monetary way. That is why I only have one dream: to provide for a comfortable life for us all".
Don't miss: Sudha Murthy Talks About Her World That's Full Of Stories
Message Of Self- Belief
"Never let society decide what you should and could do. Believe in yourself and success will follow." This is the message the 19-year-old wants to share and that worked for her.
Women like Sirisha Jetti inspire many more women. The way she has travelled her path to success, doing something unconventional and breaking stereotypes, she won many hearts. Financial independence is an empowering feeling, and with more and more women becoming financially independent, the world will see a better future.
Looking forward to the day when I call an electrician and a woman turns up on the doorstep to fix the problem.
For more such inspiring stories, stay tuned to HerZindagi!