How many women you know have fun and experiment with their fine jewellery? Probably a handful. Deepshikha Gupta, Senior VP Design, Melorra says that most women would probably stick to their favourite gold chain or a bunch of rings, without changing or mixing and matching. In my opinion, not playing with your fine jewellery is a miss on experimenting with your look. Layering or stacking your fine jewellery lets you refresh your look more often.
Here are several ways in which you can layer your fine jewellery, shared by Gupta, especially when you have delicate, minimal pieces in your jewellery box – from necklets and rings to bracelets, banglets, and earrings.
Necklaces
If you're layering chains, don't keep it boring. You don't need to only pick plain gold chains in the stack. You can create a look, say by stacking, a pearl chain, a gemstone chain and a plain gold chain. Or layer a gold necklet with a longer pearl chain. Mix it up in a very creative way. Sticking to the same material can make it look ostentatious and very predictable. Make the stack slightly unpredictable. Go for necklaces of different styles, weight, length and texture. You can even wear a choker, working it down with slightly heavier chains or pendant pieces. If you are up for something more experimental, then try wearing them sideways instead of at the centre.
Create a cascading effect with multiple slender chains of different lengths. Play with texture and colour by mixing up a band necklet with an enamel pendant chain or necklace. If you are looking for a theme, then you can layer up enamel gold chains of the same colour but varying lengths or create a transitional colour effect with varying shades and length.
Wearing two necklets with complementing centrepieces is also a good idea. If you want to veer away from sticking to any particular theme, you can mix up themes and motifs like say stack a celestial motif with a floral motif and add on a plain necklet.
Rings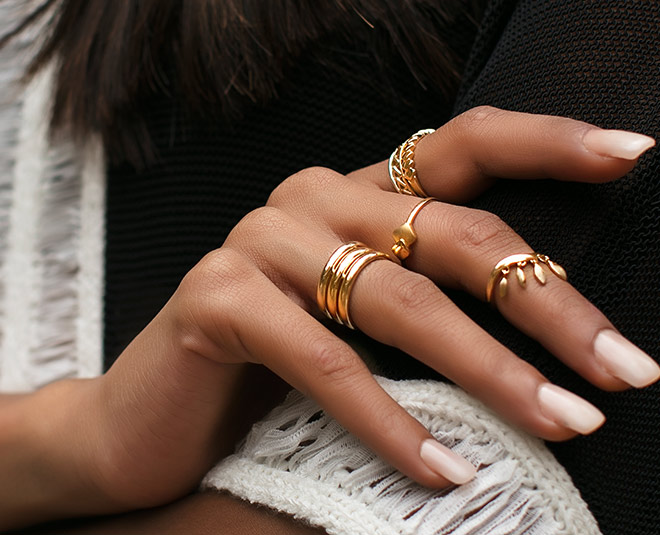 With rings, you can make some interesting changes to your look by experimenting with forms and how you place them on your finger. It can be one plain gold ring on a finger, one diamond ring on the other and maybe, one gemstone ring on yet another. Or, if you feel it's too much, you can keep it to one diamond ring and two plain gold bands. Try different combinations. Maybe, mix up different colours of gold… like rose gold, white gold and a yellow gold ring.
Don't shy away from mixing up two trends. It could probably be a floral motif ring with another ring in the trending colour of this season, like lemon. It can lift up your entire look.
You may choose to mix gemstones or even pearl-studded rings with a few simple solid gold pieces. While a stack ring already gives a layering effect on one finger, you can add more range to it by wearing a midi ring, and a few bands on the same hand.
Go one step further by pairing double finger rings with two or more bands worn closely together on consecutive fingers. The possibilities of experimenting are many when your rings are dainty, and not chunky.
Don't Miss: Upgrade Your Hand Jewellery With These Midi Rings In Different Styles
Bracelets & Bangles
Mixing up bracelets and bangles is a good idea for stacking! You can do, maybe one single strand bracelet with a plain gold banglet! Or a double strand bracelet with a couple of thin gold bangles. You can also try pairing up a charm bracelet with a simple bracelet. Or depending on your mood and occasion, you can stack together lots of charm bracelets in gold.
If you like colour, mix and match different bangles in enamelled gold. Alternatively, you can experiment by stacking coloured bangles on the same hand or try the monochrome effect. And, if you're up for something more experimental, then simply wear your long fashion chain (20 to 30 inches) as a bracelet! Add in a pendant for the charm effect.
Getting it right - how much is too much?
Don't be afraid to experiment. The possibilities of layering delicate fine jewellery are endless. However, while lightweight and minimal gold can never look gaudy, you don't want to go overboard and add too many pieces together. Probably create a stack with a minimum of two and maximum of four pieces. While layering fine jewellery, it's also a good idea to keep your outfits simple to get the right amount of focus on the jewellery. For instance, the power shoulders' trend wouldn't go well with the cascading chains' look. The key is to keep it minimal but not boring, fashionable but not bordering on a faux pas. Happy Stacking!
For more on jewellery and styling tips, stay tuned to HerZindagi.