Hand jewellery can make or break your look and the first thing that comes to our mind is a ring. Off late midi rings have become the" in thing" which look chic and uber cool on your manicured hands. Worn by fashionistas, you can make your own statement with umpteen number of designs out there in the market. You can keep it simple, jazz it up with some vintage or go totally out with the bling. It is up to your personality. Their delicateness allows you to easily wear them with other pieces of jewellery as well like a delicate necklace or an ear cuff.
Go Simple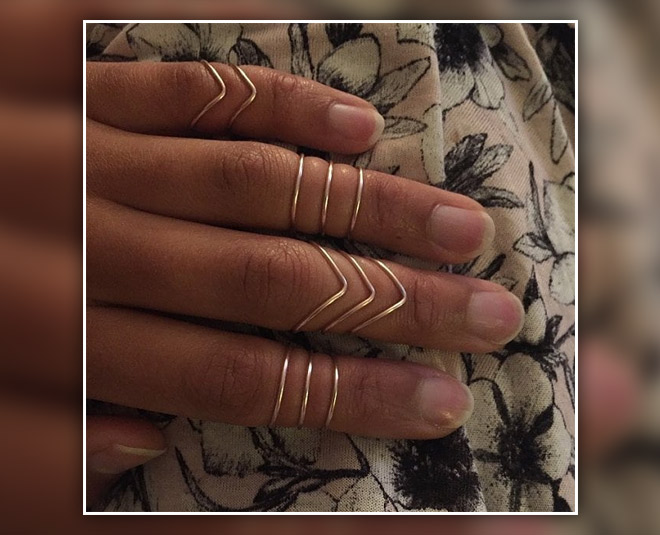 The minimalist inspired midi rings look very feminine, simple and perfect to complement the outfits we wear every day. If you want all the attention to go to your hands may I suggest you add a nice nail paint that is suitable for the season? Go for these V shape ones to add a little drama and break the monotony. If you are worried about wearing them to the office, opt for knuckle rings as they are very discrete. Go for golden or rose gold rings as they look classy and elegant. Buy Black Punk Stack Plain Above Knuckle Ring Midi Finger Rings Set, for Rs 189 here.
Vintage Midi Rings
These rings look beautiful if you have the right attitude. They are daring, diva, hip and out of the ordinary. They look elegantly rustic and a vintage-inspired stack of rings look very unique. What to wear it with? You could go all black and wear these rings or wear denim and a white T-shirt. Do colour your nails simple to make those rings stand out. It is important that you balance it out and not go overboard. If you go loud on the nails with nail art and then also wear vintage rings, your hands will look like Christmas trees. Buy Shining Diva Fashion Oxidized Silver Ring for Women for Rs 199, here.
Tube Rings
This one is close to simple. It is a perfect modern and chic jewelry piece. These are simple and elongated shapes which are perfect for working ladies. They kind of give a futuristic vibe to everyone who prefers to wear in combination with other midi rings and normal rings. To give it a girl look, you could stack your tube ring with a cute midi ring that has a fun shape. It could be a flower, a heart or an animal. Even sun signs look good. Buy STRIPES 6 Piece Midi Finger Ring Set Silver Colour for Girl/Women for Rs 350, here.
Don't Miss: Here's How You Can Style Indian Jewellery With Western Outfits Like Bollywood Divas
Cocktail & Midi Rings
For a fashionable look, you can pair up a cocktail ring with midi rings. You can stack the rings and balance it out with one statement cocktail ring. This mix of casual midi rings with an elegant cocktail ring could make your outfit look catchy. If you want to take it to the next level mix a statement midi ring with a pearl or a ruby. Or you could go for a cluster ring as well.
Bold Rings
For an artistic bohemian beach look, these bold symbolic rings are perfect. Very bold and detailed, yet they are in a combination with midi rings which looks very balanced and cute. You could add more rings if you want to attain that gypsy or boho look. Oh and the cool part? You can paint your nails pop and bold as well. Go for bright hues like a shocking pink or an orange perhaps.
Sparkling Rings
Love bling a lot? There are rings out there to cater to that love of yours as well. You can get some inspiration from some trendsetter celebrities. However, you can decorate your night out outfits with many sparkling knuckle and normal rings. These rings can have rhinestones and gem rings to highlight this bold style.
Stay tuned to HerZindagi for more fashion tips.