Nita Ambani: Alluring Collection Of Sarees
You will find the best collection of sarees in the closet of Nita Ambani. Here are all the reasons to say we're right about that!
Saree has been the traditional go-to look for every Indian woman. It is one of the widely used outfits, as it holds significance in the Hindu culture. The colour and the embellishment of your saree say a lot. The yellow coloured saree is considered auspicious while a red saree signifies courage.
Most women resort to wearing a saree every day while some keep it for special occasions like a wedding or a grand event they have to attend. With it being a significant part of the society, you will often spot women acing their sarees, with elegance and style.
Even the richest woman in India loves to carry a saree with grace. Nita Ambani has been spotted donning her look with utmost style and dignity. You will find the most exquisite collection in her wardrobe, that gives us the inspiration to rework on our own!
The Most Expensive Saree In The World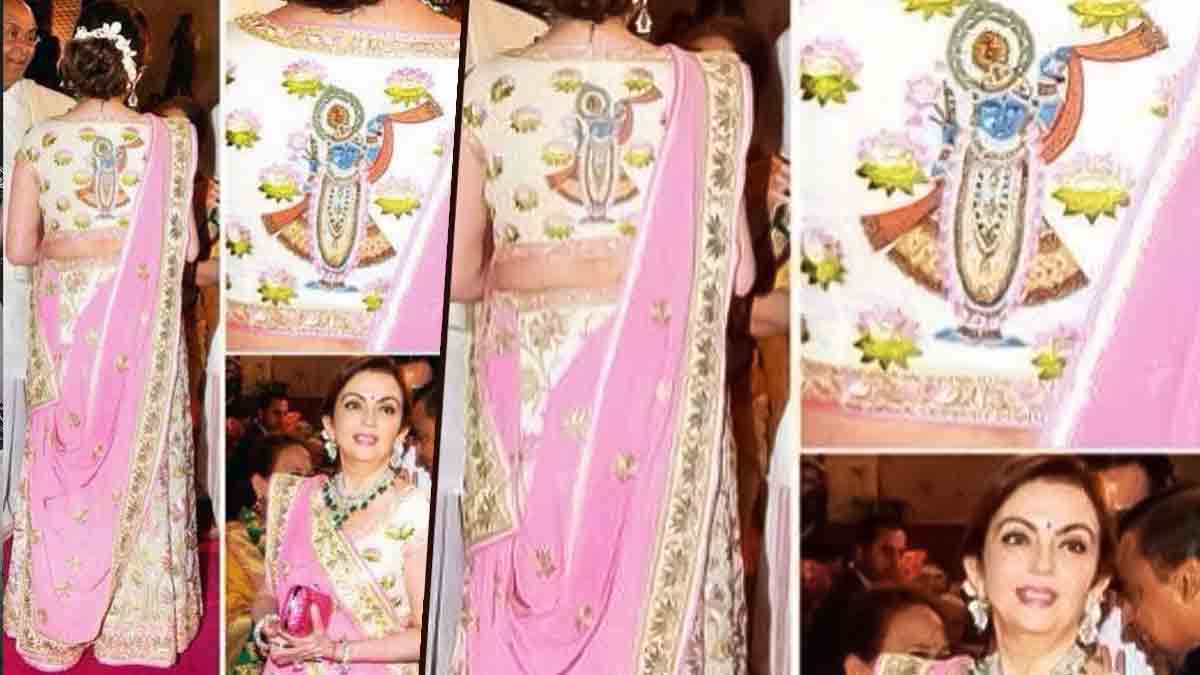 When we speak of the rich, expensive things, you are bound to look up to the Ambanis. They have quite a taste of lifestyle. You will find them owning a bunch of expensive items, that could even seem unreasonable to you.
Nita Ambani owns the most expensive saree in the world which has also set a record in the Guinness World Record. The saree was reported made by 35 women artisans who hand-embellished some rare gemstones like ruby, pukhraj, emerald, and pearls, among many others.
The main attraction of this saree was indeed the blouse. It had embroidery of Lord Krishna on the back, which looked absolutely gorgeous. The saree was designed by Sivalingam, the director of Chennai Silks, and is popularly known as Vivah Pattu Saree.
You wouldn't imagine the cost of this saree! It is said to cost a whopping amount of ₹40 lakh. Unbelievable, isn't it?
Read More -Beauty Tips To Take From Nita Ambani
Sabyasachi Saree
View this post on Instagram
Every bride dreams to be a Sabyasachi bride. Steadily starting out in the industry of luxury wear, Sabyasachi made its name in the year 2006, making it a popular choice for every bride, worldwide. The designer is known to have catered to the needs of B-Town celebrities like Vidya Balan, Katrina Kaif, and the newlywed, Alia Bhatt.
While Bollywood's favourite has also made a name in Hollywood, you can find the designer making his way to the closet of Nita Ambani!
It was in 2017 that we spotted one of the best sarees that has ever been worn by Nita Ambani, and it turned out to be by this designer. The blouse was covered with embroidered golden polka dots while the rest of the saree was generously studded with gold-tone sequins.
With the perfect balance of elegance and beauty, the socialite was glammed up by the famous celebrity makeup artist, Mickey Contractor.
Read More -Here's Why You Need To Take Jewellery Inspiration From Nita Ambani!
Abu Jani Sandeep Khosla
View this post on Instagram
The label is a collaboration between two designers, Abu Jani and Sandeep Khosla. The two designers take immense pride in their works and are best known for the ability to infuse Indian craftsmanship and textile heritage with a European tailored silhouette.
It was during Tina and Anil Ambani's son's wedding that we saw Nita Ambani wearing a saree that brought out the best in her. Jai Anmol Ambani and Khrisha Shah tied the knot on February 20, 2022, which seemed like a fashion show to us.
Nita Ambani wore a saree by one of her favourite designer duos, Abu Jani Sandeep Khosla and believe us when we say she looked gorgeous. The philanthropist opted for a romantic pink zardozi and resham ghagra which she teamed up with a heavily-embroidered golden blouse.
Which one is your best look? Connect with us over our official Instagram account and drop in a comment. Stay tuned for more styling tips and tricks!