Here's Why You Need To Take Jewellery Inspiration From Nita Ambani!
Nobody is better than Nita Ambani to tell you why recycling is the best option with daughters when it comes to jewelry!
Nita Ambani has been one person to has the best jewelry collection in all of India. For all the times she has pulled up her closet jewelry, the socialite has managed to grab all eyes and hearts with her looks! Here's the takeback from her expensive collection!
Florals Are Always In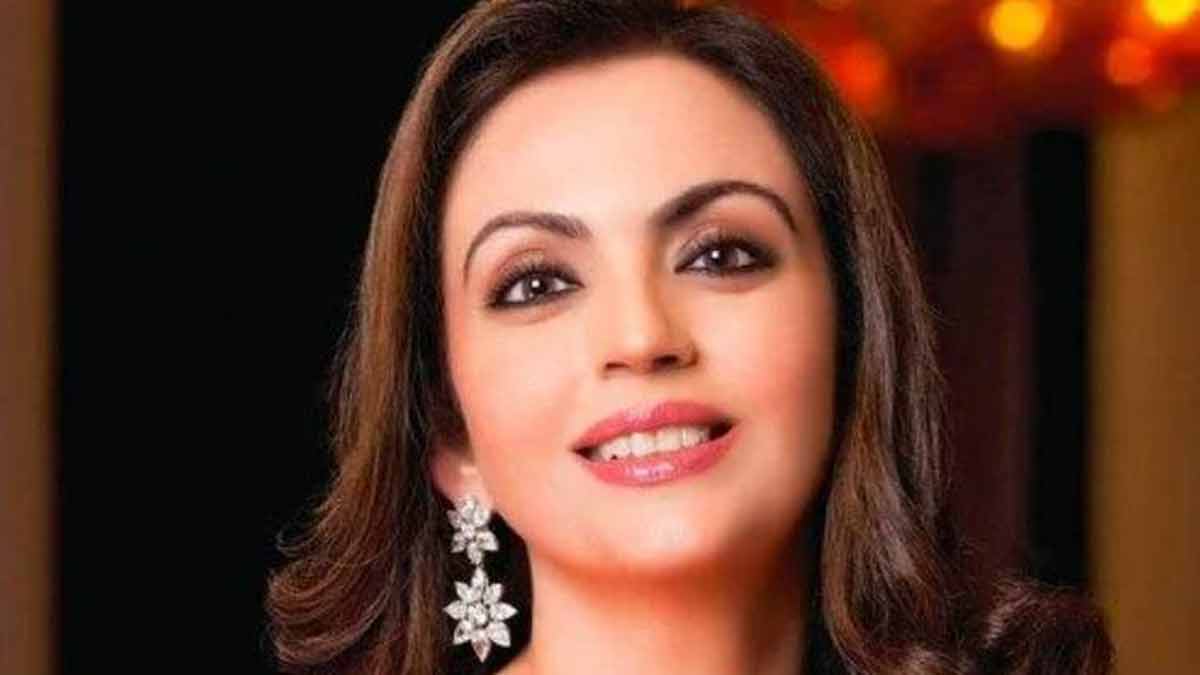 While going for a jewelry set, you should pay attention to details like Nita Ambani! Going through her jewelry collection, you will often spot floral designs.
Florals never go out of style and team up well with either traditional or western outfits. You can pair your floral earrings with your palazzo and silk shirt while keeping your hair open and letting the diamonds shine.
Remember to keep your florals minimal and small. They will help in bringing a more minimalist approach to your outfit while giving you a chic look!
You Should Have At Least 1 Long Necklace
With every jewelry set, you should always opt for a long necklace to balance the look. Looking at Nita Ambani and her daughter/daughters-in-law, are always spotted wearing a long necklace whenever they go for a choker as their main neckpiece.
You need to put in a logical approach as to when you go for shopping a long necklace. Let it be in a versatile colour like gold or silver, that seems to find its match with every attire. You should ideally go for bigger precious stones like polki or diamonds rather than picking on smaller, more detailed ones.
These necklaces make your torso look taller and give a flattering illusion to your body while a choker breaks down the look!
Read More-Beauty Tips To Take From Nita Ambani
Let The Entire Set Match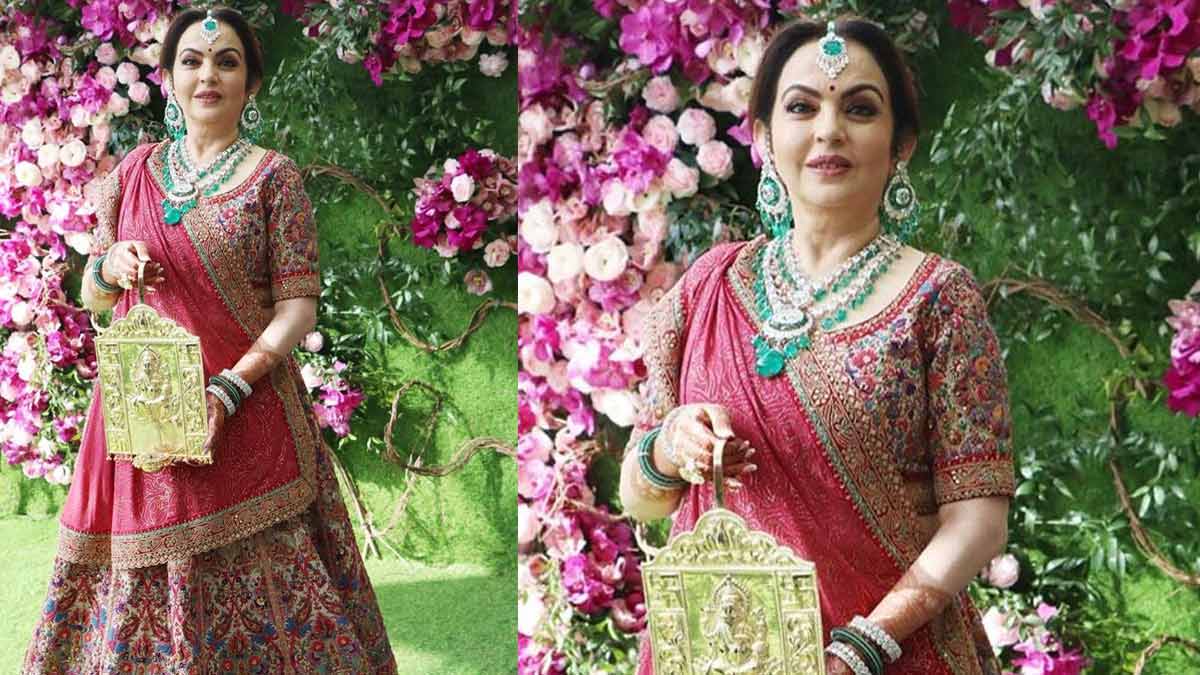 While picking your jewelry set, it is important to go for a matching set, meaning the colours in your jewelry set need to be consistent. There is no chance wherein a variety of colours on your necklace and earrings are going to match if you pick different shades or colours.
Looking at Nita Ambani, it is a clear sign for you to get a matching set so that the symmetry is there when you go off wearing the set. You can go for precious stones like red rubies for your necklace, earrings, maang tikka, and your nath.
It is best to pick stones that are versatile in nature and can be a complementing statement to your entire outfit for the event.
Green Can Be Your Best Friend!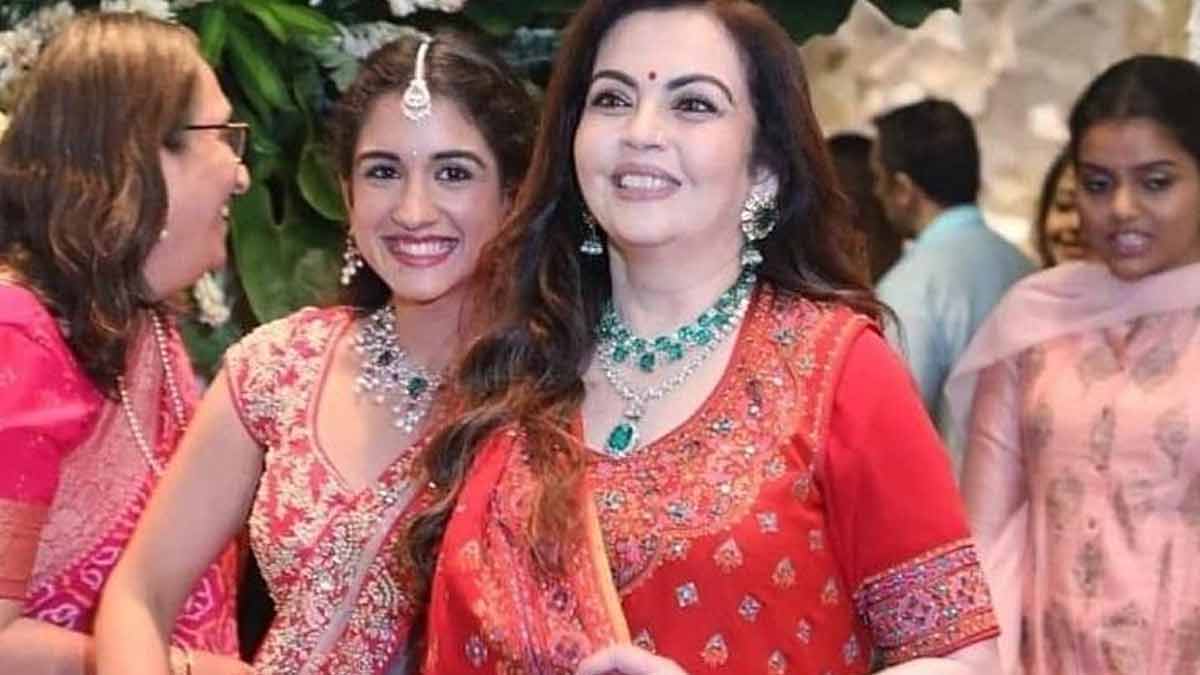 While going through many shades from the colour wheel, there is one colour that doesn't seem to fail the Ambani women. Green seems to be their favourite colour. The four women are often spotted in green emerald-cut jewelry designs that overtake their entire look for the event!
The green cut is versatile and happens to match its tone with every other colour, either in a complementing or contrasting way! You can find yourself wearing green jewelry with outfits that are red, yellow, golden, and black. You can experiment with colours like pink and blue, while you may even want to go out of the mainstream colours and try out shades of the colours you like!
With green being a versatile colour choice, you should definitely have one jewelry set in your collection!
Read More-Give Your Handbag Collection A Boost With Inspiration From Nita Ambani!
Recycling Is The Best Option When You Have Daughters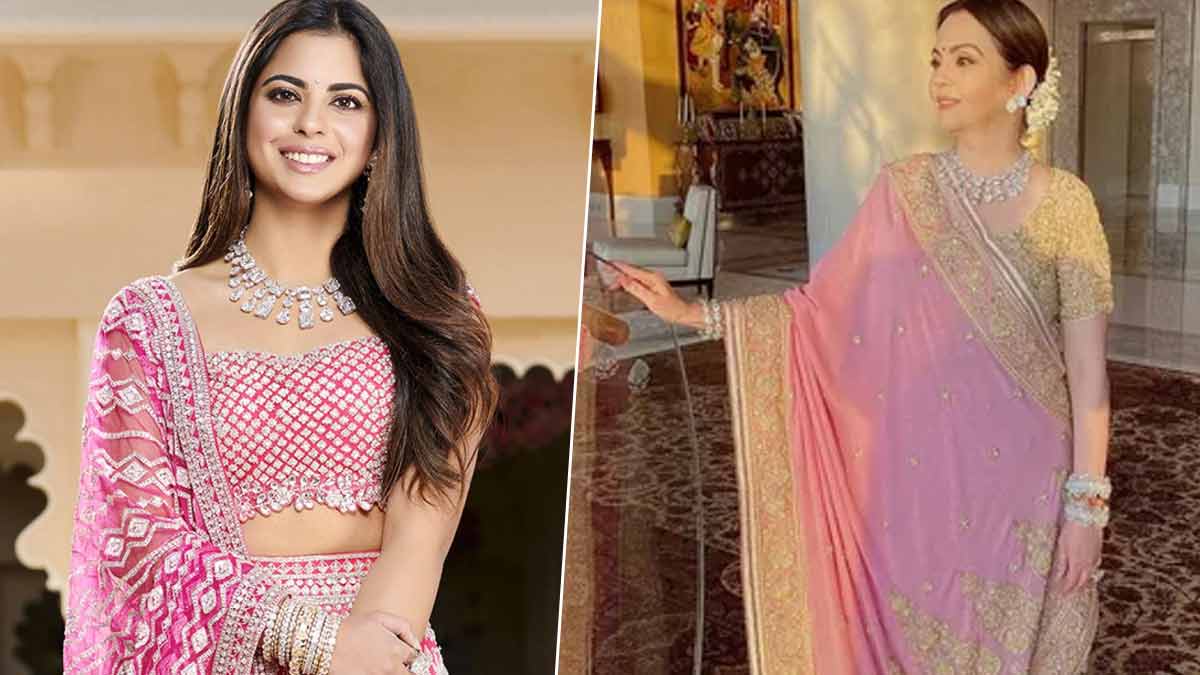 Just like everybody, the Ambanis have also been spotted recycling their jewelry items. Not that they can't afford an entirely new set of precious stones, but the habit of recycling for the betterment of nature seems like the ideal motive to us.
Many times, the Ambanis have been spotted not only exchanging jewelry items but also their clothes. When you have daughters, exchanging should be one practice that should be carried out regularly.
It saves money, time, and effort when you go out shopping and explore buying new things for your closet. It will help you buy something more valuable and irreplaceable closet items.
When you build an irreplaceable closet, it will be easier for you to pair your clothes while mixing and matching one item with the other, making a rather unusual but complementing outfit for your event!
Looking for more? Connect with us over our official Instagram account and let us know in the comments. Stay tuned to HerZindagi for more tips and tricks!