Some of us are blessed with nice long hair but are often confused with ways of styling it and just stick to a long pony, keep it open or make a regular bun. With the Summer season upon us, if you are looking for ways to make your mane look great but out of your face and away from your nape to avoid the heat then here are some hairstyles which may come in handy. They are easy to make and fulfill the purpose as well.
French Braids In Different Ways
A long mane looks amazing and when it styled in different ways, it adds a style quotient to your look as well. A French braid can be worn at work, at a party or even at a small get together and always can be counted upon when you are out on a date. You can begin making the knot from a little above and if you have coloured hair, those streaks look uber cool. Another way is to part your hair above and below. Make side French braids on both sides of your head and then get them together in the middle as it flows below and tie with a black or a transparent rubber band.
Side Braided Pony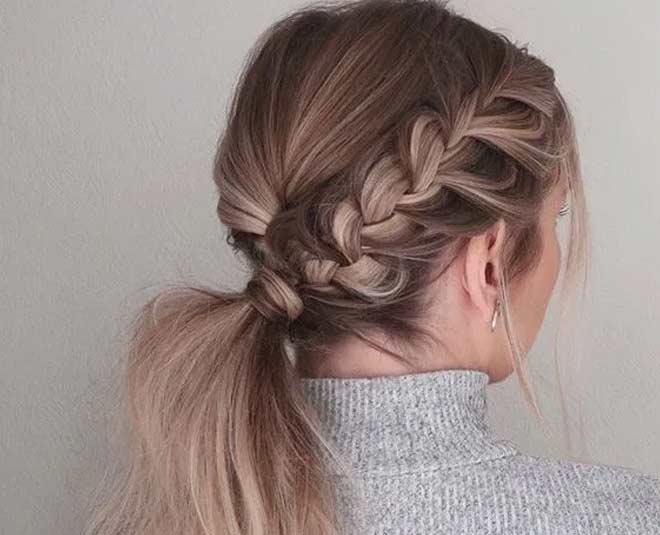 Get the long locks out of your face in this heat and look stylish anyway! Simply make braids on both sides of your head and then twist and ake a pony. You won't need hair pins to keep the braids intact either as you have French braided it.
Side Braided Pigtails
If you can carry it off then a fish braid looks amazing, especially in a pigtail style. This look looks best when you are wearing something sporty or denim with a white top.
French Knot
This chignon looks super classy when you want to wear formals be it Indian or western. It looks stunning even with a saree and can be embellished with nice hairpins as well or simply stick a rose or a hibiscus on one end. Keep it a little messy to make it look more natural and as if you did not put much effort into it.
Don't Miss: HZ Tried & Tested: Mother Sparsh's 30 Herbs Hair Oil Detailed Review For Dry, Damaged
Top Bun
This hairstyle is super fun to make and look as well. It adds a casual air to the way you look and keeps the extra baby hair off your face. It looks best on people with a small forehead and makes your face look bigger as well.
Can you think of more such casual, easy hairstyles? Do share with us on our Facebook Page and stay tuned to HerZindagi for more.