While some of you may think that it is your makeup that makes you stand out, the rest of you may think it is the colour of your outfit. Let us break it to you ladies, it is neither of these two things that make you the center of attraction on any occasion, it is the neckline of the outfit that you are wearing!
Everyone is either wearing a short dress or a long one, a saree or a salwar suit, these things are common. However, the design of the neckline that you have worn is what makes you stand out from all the other people wearing the same kind of outfit! This is why, if you would have noticed at award functions, even when all the actresses are wearing dresses, their necklines are what make their looks unique!
So today, we bring to you five neckline designs that will make you look stunning for sure!
Official Evening Party Off Shoulder
Image Credit: tara sutaria instagram
For a party like this, it is a given that you will be picking the colour black, tie your hair in a bun and carry a subtle makeup look. However, while everyone is going to opt for a collared neck we recommend you to go off-shoulder. Nevertheless, make sure the cut is straight and not a princess cut or the entire professional look will be lost. So what are you waiting for? Get a similar dress made, take a champagne flute in your hand and woo everyone at the get-together with your fashionable professionalism!
Cocktail Party Deep Neck
Image Credit: kiara advani instagram
This one is our favourite and we will tell you why! When it comes to a cocktail party(read more cocktail party dresses) or similar events, people choose necklines that are revealing and in this mindset, they forget that they even have to carry a look that makes them stand out. For a party like this, opt for a deep V- neck and by deep we really mean it. If you are too conscious, do not make it wide, just deep. Have your shoulders covered, padded would work too and go for full sleeves. The neckline of deep would be opted by several people at the party, but the deep V neck going till a little above your belly button paired with covered shoulders will make you look perfect!
Don't Miss- 5 Cool Ways To Style Your Bandeau Tops
Noodle Straps For A Beachy Day
Image Credit: alia bhatt instagram
When in Goa, this neckline is a must! It makes you look carefree and is perfect for a beach vibe! Not only will this kind of neckline be perfect for the humid beach weather but will also make you look fashionable in the most casual way! Comfortable to wear, appears to be stylish and best for the weather conditions, this neckline is a must when you plan your trip to Goa!
Don't Miss- Quick Outfit Ideas To Save Time And Look Gorgeous
The Half Collar Covered Blouse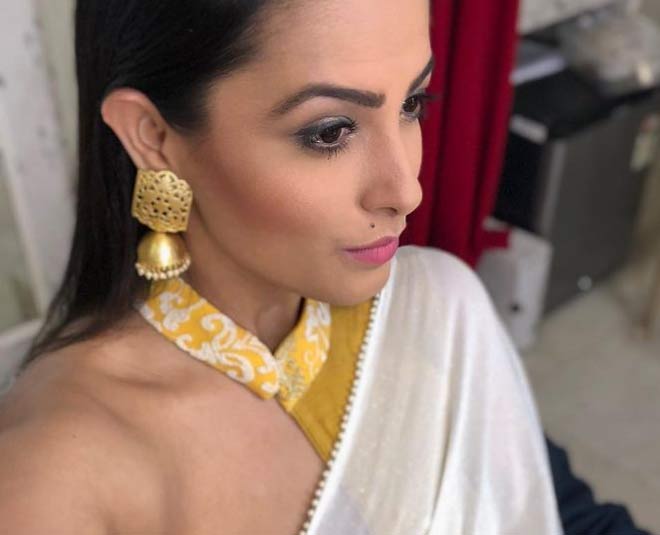 Image Credit: anita hassanandani instagram
When it comes to blouse designs the one person that comes to our minds is Shagun from 'Yeh Hai Mohabbatein'. While every blouse neckline that Anita Hassanandani wears is gorgeous, this particular one will make you look fit for absolutely any occasion. Be it a puja or a party, this half and half look gives you the best of both worlds!
The All-Time Favourite, Round Neck
As cliched as it might seem, a round neckline goes with absolutely every outfit on absolutely any occasion. If you are attending a casual occasion, go for a round but not too deep neckline. For blouses and dresses that you want to wear for parties or large gatherings, opt for a deep round neckline. For a slightly casual partly wear a deep round neck top with junk pieces of jewellery or a choker and you are all set to rock!
We hope you liked this article and will inculcate these necklines in your outfits! Stay tuned to Her Zindagi for more such articles!