If you are someone who is into partying you would know how the culture of cocktail parties has been gaining a lot of popularity currently. Now you can completely dismiss this article saying that you are not someone who indulges in parties so there is no need for you to know the dos and don'ts of dressing up for a cocktail party. Well, let us tell you that at present there are a lot of weddings that have a cocktail party as a pre-marriage function. For these kinds of parties, you can't wear your usual salwar kameez and sarees. You need to go out of your comfort zone. So, if this is your first time dressing up for a cocktail party then this article is for you. However, if you are someone who keeps going to parties like these, even then this article will tell you if you have been dressing right all this while or not! So read ahead to know how to dress perfectly for a cocktail party.
Just The Right Amount Of Flare
Image Credit: i.pinimg
When you are dressing up for a cocktail party you need to be mindful of the amount of flare and bounce that your dress has. While a little bit is enough, that too on a short dress, do not go looking like a Cinderella in search of her prince charming! If you are wearing a long dress, make sure it is A-line. However, if you are wearing a short dress, a little flare is permitted.
Footwear Is Not To Be Taken Lightly
A lot of studies say that subconsciously the first thing that a person notices about you is your shoes! You don't want your first impression to go wrong, do you? No matter how plain your dress is, wear footwear that shimmers and you are set! If your dress is already shimmery, go for a classic black sandal! In any case, it is a golden rule to not wear flats on a party dress. If you don't like heels, we aren't asking you to wear stilettos, just a little bit of height will work!
Read About The Right Make-Up For Cocktail Party- Cocktail Party Makeup? This Gorgeous Look Is Easy To Do For Brides-To-Be
Don't Get Too Comfortable
Image Credit: i.pinimg, i5.walmartimages
It is good to be comfortable wherever you go. However, if you really want to know how to dress up perfectly for a cocktail party you must know that it is never good to look too comfortable at a cocktail party. A major don't for an outfit ensemble for a cocktail party is to not turn up in ripped jeans and baggy t-shirts. You sure will look cool, but not right for the occasion. If you really want to wear jeans, pair them up with a top that has more of a party touch to it(know more about tops that give a great look). Opt for an off-shoulder top, sparkles, and shimmers, or anything beyond the plain casual!
Choose The Right Purse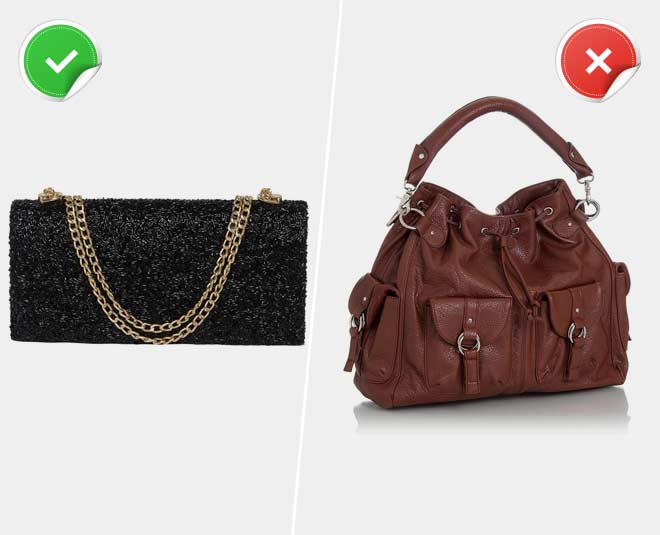 Image Credit: adn-static1.nykaa, i.pinimg
You are going to a party, not to a trip where you will carry a purse to fit every tiny piece of luggage you have! Know that the purse that you carry for a cocktail party is not to keep your things but to add an element to your attire. Carry a small clutch or an envelope and make sure it matches the colour of your dress. When in doubt, opt for black!
Read More About Handbags- From Clutch To Cross Body, Here's How To Carry Different Types Of Handbags
Accessorise But Don't Go Overboard
It never hurts to add a little bit of bling to your outfits, not too much though! How much is too much anyway? Well, if your dress has a high neckline, just go for earrings. If however, you have a deep neckline, a tiny pendant would do. For your hand, wear thin bracelets or a sophisticated watch! In any case, this is not your haldi and sangeet so give your gold ornaments a break here!
These were just a few suggestions on how you can dress up for a cocktail party! For more such content, stay tuned to Her Zindagi!