6 Tips For Bridesmaids To Select Dresses For Summer Weddings
From fabric to the colour, bridesmaids have to scrutinise everything in the couture before wearing the dress for the big day. Read on!
In the summer wedding season, the task of finding a perfect dress is a hassle for bridesmaids. The warm weather requires dresses that feel lightweight and add a breezy touch to your personality.
If you are bridesmaids, you need to look your best for the wedding. However, you need a dress that allows free movement while the camera keeps a focus on you. Here are a few tips for you to select a dress for a summer wedding.
Dress Must Flatter Your Body Type
Image Courtesy: Mouni Roy/Instagram
Each woman has a different shape and size. While everybody is perfect in its own shell, it is crucial to pick a dress that can help you flaunt your best features. For example, not every woman might look gorgeous in a sharara.
Therefore, you must choose a dress that can accentuate your curves. If you have a voluptuous body, you can try a crop-top, pants and shrug. Women with a slim body can try a saree. However, an Anarkali suit is a safe option for almost every woman with any kind of body shape.
Buy From One Shop
Shopping from one place allows you to avail of discounts. Moreover, it allows you to explore more options. You can ask for different styles of dresses and try them on. It will also make you feel less confused.
Choose Light Colours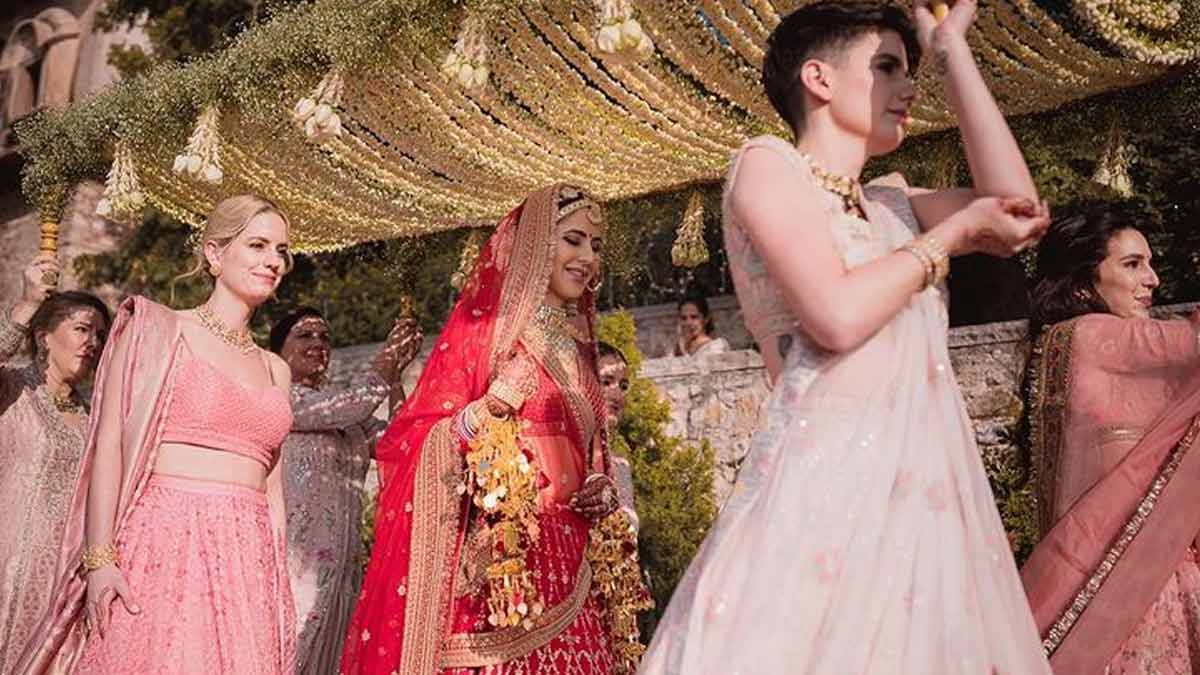 Image Courtesy: Katrina Kaif/Instagram
Summers are all about breezy couture. Colours play a crucial role in ensuring a comfortable look. If you are heading for a summer wedding, you must try pastel shades. They add a soothing touch to your outlook and make you stand out among the wedding guests.
For example, baby pink or light green works best for any ritual. You can also try lemon yellow for the haldi ceremony. Bridesmaids should also pick dresses according to their skin tone. Women with dark skin tones must stay away from the neon and metallic shades. You can take inspirations from Katrina Kaif's sisters in the above image.
Consider The Wedding Venue And Time
While selecting a dress for a wedding, bridesmaids must confirm the wedding time and venue. If the wedding is outdoor and during the day, select a dress in a light shade that can keep you comfortable and hassle-free.
On the other hand, if the wedding is in the night, you can pick light and bright shades like blush pink, royal blue and bottle green. At night, it does not matter whether the wedding is indoor or outdoor. However, bridesmaids must wear a lightweight dress to avoid discomfort due to temperature and crowd.
Do Not Pick A Dress Without Trying
Whether you are a bridesmaid or just a regular guest at the wedding, make sure to try the dress before wearing it for the big day. It ensures that the fabric falls gracefully on your skin, and the dress fits perfectly. In the above image, Alia Bhatt's bridesmaids look so gorgeous with Ranbir Kapoor.
Many times a dress might be loose at one end or tight at the other. These small glitches cannot be resolved at the last minute. Hence, women must do dress rehearsals to ensure that everything fits impeccably on the body and allows them to move without any restrictions.
Don't Miss: History Of Saree & Impact Of Industrialisation
Choose Lightweight Fabric
Indian women are quite fond of wearing silk. Our country, in fact, produces many varieties of silk, but it is not an appropriate choice for a summer wedding. Instead, organza, cotton, maybe mixed silk, chiffon and georgette are the perfect fabrics to enjoy a wedding function without hassle.
Don't Miss: Styling Tips For Women With Big Bust And Tummy
Bridesmaids can try organza and chiffon sarees. If you are not interested in sarees, you can also try beautiful Anarkali cotton kurtis or chiffon and georgette suits. Sharara sets are also quite famous for wedding festivities and look chic on women.
We hope you liked the tips. Share your thoughts with us in the Facebook comment section, and stay tuned with HerZindagi for more stories on style and fashion tips.