History Of Saree - Get Acquainted With The Story Of Nine-Yard Elegance
Do you know lehenga and ghagra have roots originating from the evolution of sarees? Read on!
Saree is a traditional piece of clothing that most Indian women wear. Its length ranges between 5 yards and 9 yards. However, what today is a part of statement clothing also boasts a history that dates back to the Indus Valley Civilisation.
In Sanskrit 'Sari' refers to a 'strip of cloth'. For centuries, sarees have been available in various types of fabrics, including silk, cotton, chiffon, georgette, etc. However, did you know that the first mentions of saree are found in Rig Veda, reportedly written around 3,000 BC?
The Begining Of The Nine-Yard Elegance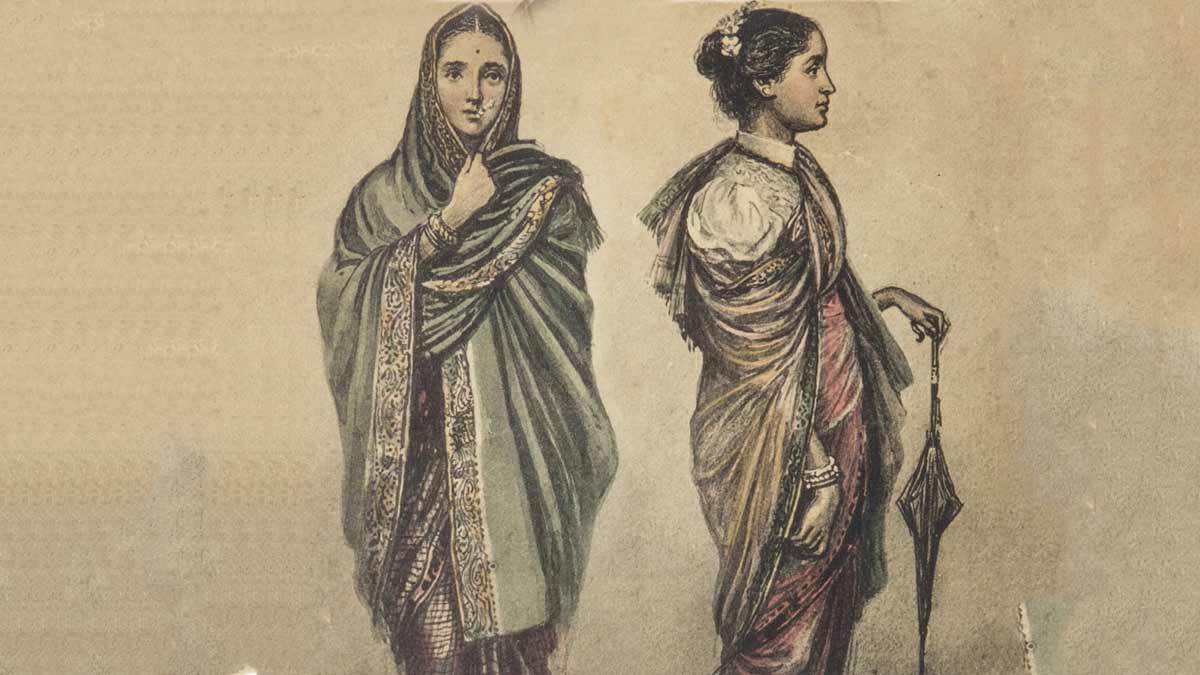 Image Courtesy: Google Arts & Culture
History tells us that the first sarees were worn in cotton fabric, cultivated in the Subcontinent of India around the 5th millennium BC. Around this time, cotton weaving was a renowned task, and workers started to use ingredients like lac, turmeric and indigo to add vibrant shades to the fabric. Initially, sarees were just drapes that helped women hide their modesty.
How Did It Get The Name?
We know the Sanskrit derivative of saree, but a few Buddhist and Jain scripts suggest that it evolved from 'sattika', which referred to women's attire. It used to be a three-piece garment that consisted of a veil, lower garment and chest band.
One can find it traced in the Buddhist Pali and Sanskrit literature around the 6th century BC. The initial handloom (handwoven) saree styles include cotton, ikkat, embroidery, silk and tie-dye textiles. In fact, sarees are said to be the roots of the development of ghagras, lehengas and cholis.
The Evolution Of Saree To What It Is Today
Image Courtesy: Alia Bhatt/Instagram
As the trading in India flourished and rich foreigners started exploring our land, the women of our country started requesting artisans to use gold threads, expensive stones and fine fabric to craft a saree.
It soon became a symbol of status which started helping women to stand out among peers and relatives. However, it remained a popular choice of garment for women irrespective of the class they belonged to.
With British Raj came the wave of industrialisation. Soon we got introduced to the techniques of synthetic dyes. Local traders started to get involved in the export and import of chemical dyes, and that is how we came to know about the technique of dyeing and printing.
Don't Miss: How To Look Tall In Saree Without Wearing Heels
The new techniques flooded the market with more varieties of sarees. Now, women had ample options to choose from. The textile industry was developing, and it was getting reflected in sarees in the form of motifs, figures and flowers.
As the influence of foreigners increased, we began to see the saree as traditional attire for women in India. It came to get recognised in foreign countries as well. The seamless piece of garment was now a symbol of femininity in India.
Don't Miss: Choose Saree According To Your Body Type
Today, we can see at least one special saree in every state in India (Famous Regional Sarees Of India). From Banarsi silk to Kanjeevaram silk, there are ample varieties of silk sarees alone available in our country. From top brands to a local clothing shop, women can find sarees in every market in India.
Stay tuned with HerZindagi for more such stories.