We take care of our face, our body, use multiple masks and massagers to make them glow but often forget that our feet are important as well! They carry our weight, take us to places and well, we are lucky if we have feet in every way! So why not give them the comfort as well? Many of us buy some notoriusly uncomfortable slippers on the logic of being cute and shell out money like water and then end up with blisters and cuts with aching heels or bad postures. I personally have extra sensitive feet which bleed in even home slippers, branded or non-branded doesn't matter. They get corns when I wear slippers that have joints on the base itself so I miss out on a lot of cute footwear but then I got my hands on these slippers by Solethread and here is my detailed review of the same.
Claims
The brand claims that these slip ons are water-friendly with a rexine strap and havebeen handcrafted to provide a comfortable and a perfect fit. These slippers have EVA vacuum technology which are rubberised skid-resistant & durable sole with friction grooves.
Packaging
When these puppies arrived, I was excited as my feet truly needed something comfortable and I was hunting for something I can take on a girl's trip as well. The packaging was rather nice, wrapped in a solethread watermark butter paper and the slippers had paper foldings to give the arch of the slide a sturdy form. Neat and simple is what I would call it.
Look & Material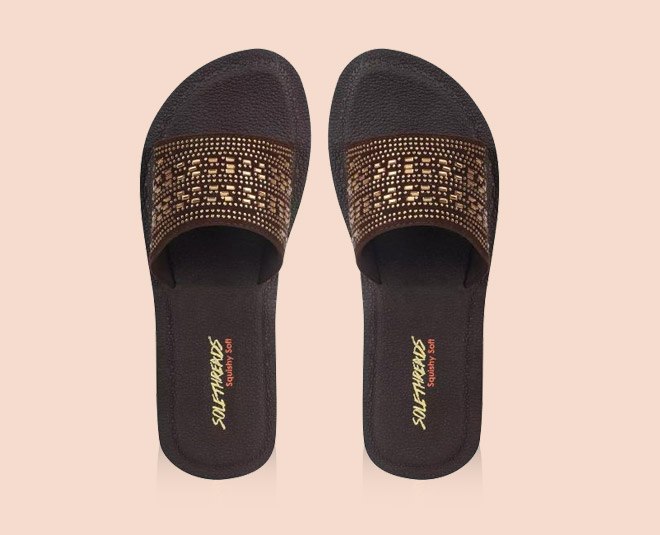 The embellishments in golden brown tinge on the brown variant of these slippers look really pretty when worn and in winter if you wear socks then too they will look nice on your grey socks. The cushion of the slippers is mushy so that your feet don't feel uncomfortable. The strap is foamy and made of rexine.
Don't Miss: These Tips Will Help You Buy The Perfect Heels Online Or In Stores
My Experience
These slippers are perfect for all age groups. They have worked like a charm for my sensitive feet and they are super comfortable for my mother as well who hunts for comfortable slip ons due to a deformity in her toes.
The water resistant, anti-skid claim by the brand is actually true, you can see the grooves on the sole, so you can even get them for the senior lady in the house. These go with any outfit and make you look presentable as well thanks to the embellishments so you can carry them to your trips as well.
Price
The Solethread Squishy Cup slip ons sot Rs 599.
Don't Miss: HZ Tried & Tested: Trident Aroma Bedsheet, King Size, Sandalwood Fragrance Detailed Review
Verdict
I love these slippers and I plan on getting their black variant as well to have more choices. Give it a try if comfortable feet matter to you.
Rating
5/5
Stay tuned to HerZindagi for more such reviews and let us know if you want us to review something different by commenting on our Facebook Page.