Fashion trends for women have always been beautifully uncomfortable. We have had years of tight-fitted clothes, corsets, bodysuits inside already body-hugging dresses. Women have always had to face a trade-off between fashion and comfort.
Especially Bollywood actresses, our style icons, have always found the need to squeeze themselves into tight dresses to look a certain way.
However, off late, the discomfort in fashion is being nudged off by oversized and layered clothing that our actresses have been flaunting on every occasion. From something as simple as wearing an oversized sweater at an airport to attending the elitist party in an oversized dress, we know what the fashion forecast for 2021 fall is going to be - Comfort Fashion!
We have picked out for you a few such looks that are perfect for any occasion and well, if our Bollywood babes have validated these styles, then who are we to question them!
Flaunt Oversized Sweaters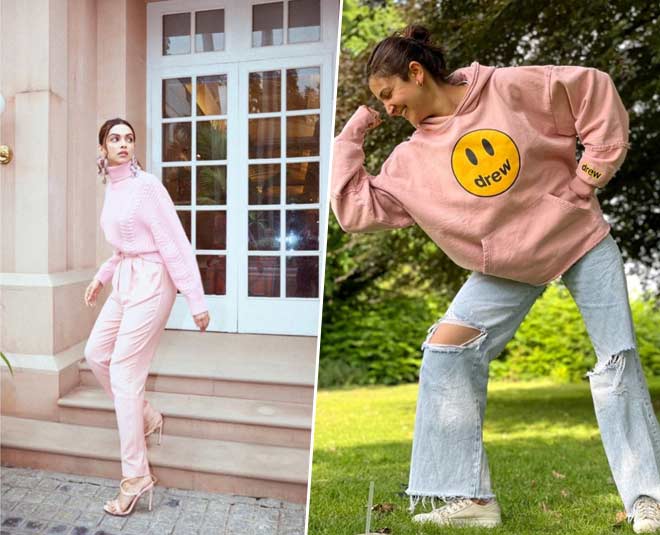 Image Credit: shaleena nathani, anushka sharma instagram
These two actresses have always shown an inclination towards sweaters and hoodies. Their airport looks are all about hoodies, jackets, sweaters, and jeans. Those of you who have always felt underdressed while stepping out in hoodies, you are up to date with the fashion forecast, so ace your look with a glamorous smile because one thing that both these actresses have in common apart from their love for oversized silhouettes is their charming smiles!
Style By Layering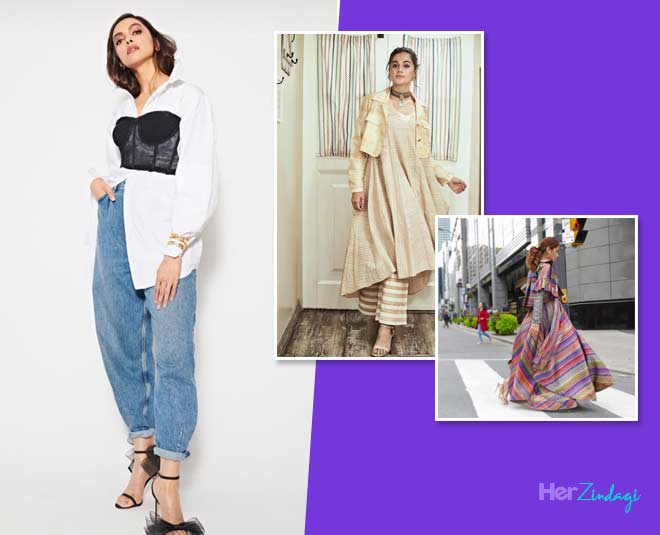 Image Credit: shaleena nathani, taapsee pannu instagram
Perfect to conceal the heat in the most fashionable way, Taapsee Pannu has been nailing her fashion appearances with the perfect blend of mix and match layers! Giving an indo-western look to Indian outfits by pairing them with jackets, long-sleeved tops, etc, Tapsee Pannu has been making statements with her looks!
Don't Miss: All The Times Bollywood Divas Wore The Most Unconventional Dresses And Aced It!
Layering is also ideal if you are someone who wants to wear oversized outfits because they are fashionable but you do not feel too confident in them. You can wear an oversized shirt, pair it with baggy jeans and add a corset or a tube top just like Deepika Padukone! This look is as oversized as it can get with a touch of your style preference!
Conceal With A Belt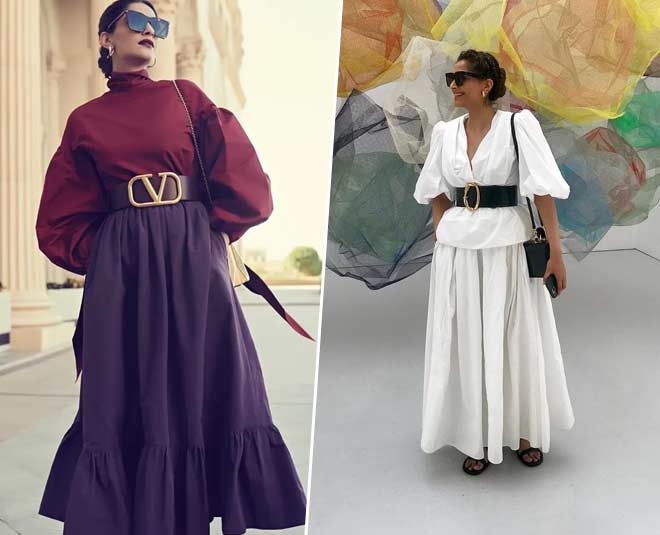 Image Credit: sonam kapoor instagram
To add a touch of sophistication to the latest relaxed fashion trend, actresses are seen boasting broad belts over their otherwise loose silhouettes. When talking about belts, the one and only Sonam Kapoor takes away the limelight because no one knows fashion like Sonam! In both the look she is seen wearing skirts, tops with baggy sleeves, and thick belts. To say that she is looking gorgeous would be an understatement. She has perfectly concealed her relaxed fashion sense with a thick black statement look. Sonam Kapoor is the personification of natty!
Don't miss- Celeb Approved Ways To Dress Like A Boss Lady
Bulky Sleeves
Image Credit: taapsee pannu, anushka sharma instagram
The one body part that we have been most conscious about is our bulky arm and this trend is ideal to cover them up. Significantly loose dresses with puffed-up bulky sleeves are extremely in right now! This style is the epitome of "go big or go home", we suggest you place these outfits in your cart before they go out of stock because they certainly are not going out of fashion any time soon!
We hope that we have been able to guide you well in picking out your outfits this fall! If you wish to read more such articles, stay tuned to HerZindagi!