Bride And Her Wedding Veil With Father's Handwritten Note Is Too Adorable; See Yourself
In a beautiful gesture, bride got her late father's handwritten note embroidered on her wedding dupatta.
Weddings are a special day for every bride and groom. And for the big occasion, everyone wants our loved ones to be by our side. Just like that, a newly wed, Suvanya wanted to feel the presence of her father on her wedding day, whom she recently lost to cancer. So she came up with a heartwarming and adorable way to feel his presence on the big day. In a beautiful gesture, the bride got the veil of her bridal lehenga embroidered with her late father's handwritten letter, leaving us all emotional.
Unique Veil With A Handwritten Note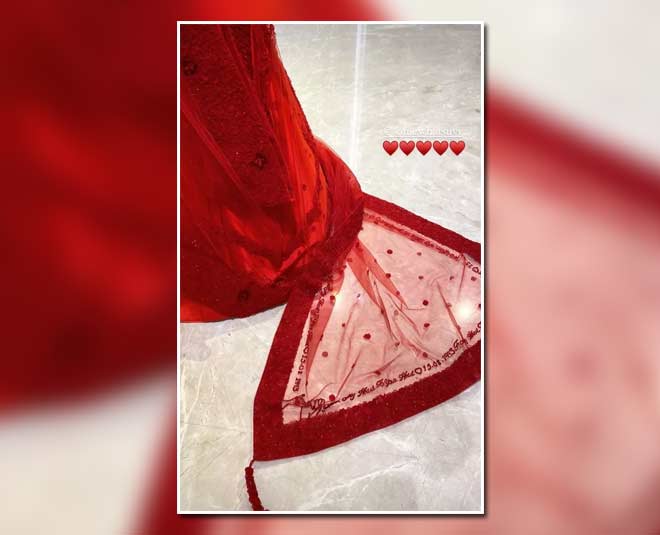 The adorable bride decided to make her day extra beautiful by adding sentiments to her day. She went on with getting a few words from his late father's handwritten note embroidered on her wedding dupatta. An excerpt from the letter read, "From my heart to yours."
To feel the presence of her father on her wedding day, she asked her designer to incorporate a few excerpts from the father's handwritten note, that she got on her last birthday, on the edge of her veil. Portions from the letter that said, "From my heart to yours," and so on were added.
The story was shared by @wedmegood:
View this post on Instagram
The Handwritten Note
Suvanya told in a now-viral video how her father had written her a letter on her birthday. She kept the letter in a frame and read it anytime she felt lonely.
View this post on Instagram
"For my birthday last year, papa had written a letter to me. He carefully crafted it with utmost honesty and love in an attempt to convey what I mean to him. The effort he made is beyond me. He chose to write the same letter in both blue and black ink giving so much thought to what I'd prefer," she says.
She also shared how her papa had beautifully crafted the letter, pouring his heart out on a paper for her. She went on to tell how carefully he wrote the whole letter with two inks, black and blue, to make sure she really liked the gift.
The bride said that she got the letter framed and would read it any time when things felt wrong.
Don't miss: Most Popular Bridal Trends Of 2021 You Need To Know
The Bride Lost Her Father To Cancer
Suvanya's father died of cancer last year during the COVID-19 pandemic. To honour his memories, she decided to include her father's love into her wedding. Her father had seen the lehenga she was wearing and had chosen it as his daughter's marriage attire just before passing away.
Bride's Minimal Makeup Look Is Impressing The Internet
View this post on Instagram
The special gesture of getting a unique veil won hearts on the internet. However, another reason for Suvanya's wedding photos becoming viral is her stunning appearance on the wedding day. Rather than opting for the traditional bridal ensemble of maang tikka, necklace, nath, and chura, the bride chose for a minimalist look for her special day. This absolutely impressed the netizens. She flaunted her special day look while ditching the embellishments. Instead, she chose to adorn herself in a unique style with dupatta and flowers, and we are in awe looking at her.
Don't miss: Brides Who Broke Stereotypes In 2021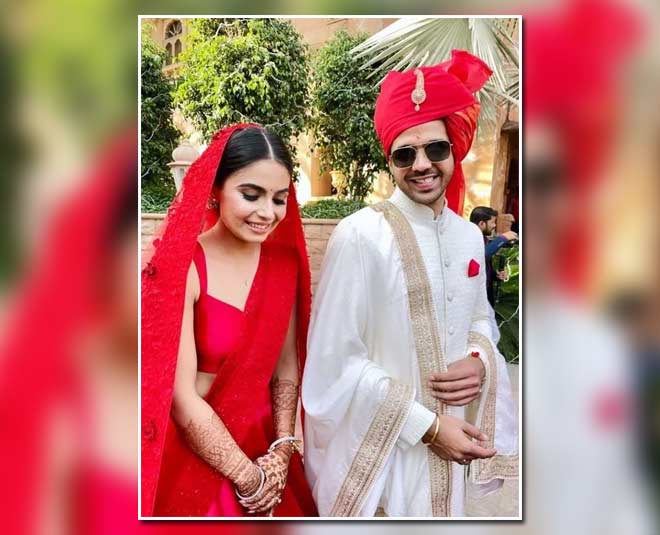 Bride Suvanya tied the knot with beau Aman Kalra at Khimsar Fort in Rajasthan. A video was shared by @officialhumansofbombay, sharing the story.
Take a look to know the whole story:
View this post on Instagram
We are in complete awe of the adorable bride's beautiful choices for her wedding day. What are your thoughts on the lovely bride's adorable gesture? Let us know on our Facebook and Instagram page. For more stories like this, stay tuned to HerZindagi!
Recommended Video