It's difficult to find a person who doesn't love to wear a good pair of denim or jeans almost every day. If we invest in a good pair of jeans then it can instantly elevate your looks within minutes but choosing the right jeans is not a cakewalk as it seems. Finding perfect jeans according to your height can be hard, whether you are short or tall if you choose the wrong jeans it can drastically pull your looks down.
High Rise Jeans
image courtesy: petitedressing blog
High rise jeans are most popular among women especially if you have short legs and a wide waist. High-rise jeans have taken the style market by storm that has now been worn by women almost every day. A Petite woman with an hourglass figure should go for these high-rise jeans as they will give you that lengthening effect. Make sure you are choosing it in a solid wash instead of fades to achieve that long effect and look. Another important thing to keep in mind while choosing high-rise jeans is that make sure you are getting the right fit. The fitting of jeans can make all the difference to your appearance, if it's too tight then it can push your curves inwards making your figure look too straight.
Don't Miss: Your Ultimate Guide To Buy Trousers Online To Avoid Camel Toe
Flared Jeans

image courtesy: popsugar
This 70-inspired style of jeans looks super classy and elongating on a petite woman. These pair of jeans with flares look flattering on a pear-shaped or straight-figure woman. One thing that you should know while getting flared jeans is that always go for the one with narrow flares as wider ones can make you look even smaller and bulgy at the bottom. Pick the one that goes best with your height so that you won't have to run for altering your jeans. Altering can even kill the charm of your first-hand jeans as reshaping takes away the actual flare. Go for dark solid colors that will make your legs look like they never end anywhere.
Don't Miss: Finding The Perfect Denim Is Now Easy
Boot Cut Jeans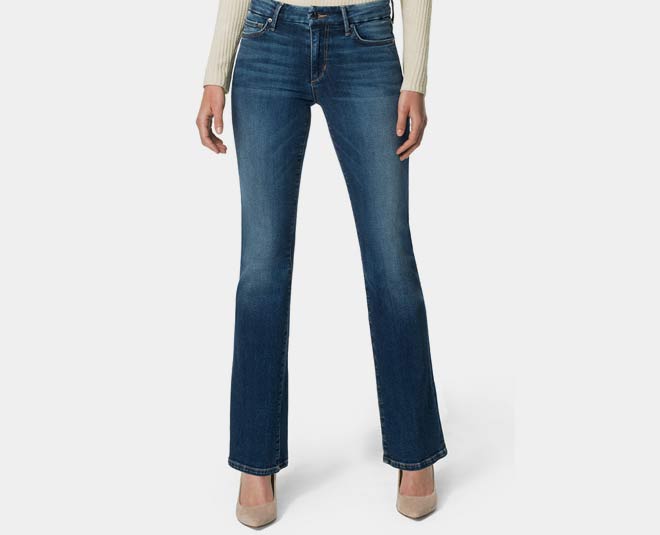 image courtesy: instyle
Boot cut jeans are another style that looks smashing on a short woman. However, these pair of jeans are chosen by almost every figure and body type of woman but it specifically looks stunning on females with apple or hourglass body shape. Enough space at the bottom of boot-cut jeans will provide that balance to your overall figure of the body. It highlights the waist area and loosens up at the bottom or knee part. Pick the dark-washed boot cut jeans that will grab the attention of people to your upper half instead of your legs. Make sure you are choosing the boot cut jeans with the correct length as short jeans will make the bottom of your jeans look wider and anything too long will swamp your looks.
Wide Leg Crop Jeans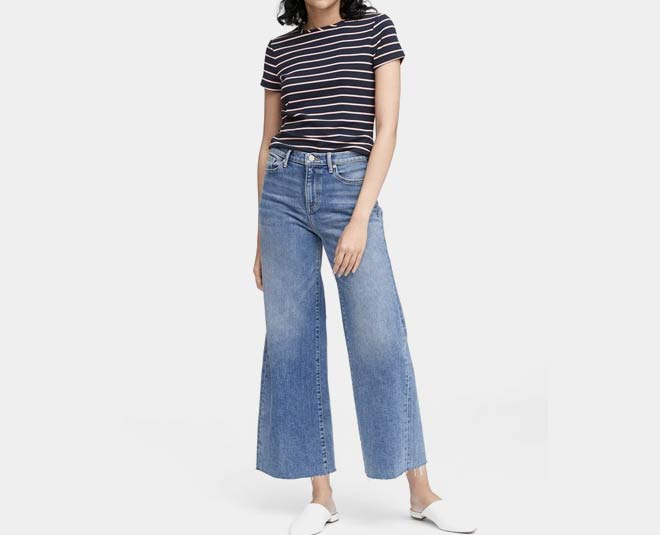 image courtesy: banana republic
Wide leg jeans can look a bit intimidating on a petite woman but choosing the one with high rise can result in the opposite. These wide-leg pair of jeans look great and are easy to style especially during summers. The wide-leg short jeans with hems and frills at the bottom will work best for you to achieve that long-leg illusion.
Tell us which one is your favorite pair of jeans out of these styles. Stay tuned to Herzindagi for more.