Make Jaggery Chikki At Home, Consume For These Health Benefits
Jaggery chikki is a traditional sweet enjoyed during this winter season and it has multiple benefits for our health.
Chikki is a traditional sweet which is enjoyed during the chilly winters. All those who have a sweet tooth wait for the winters to arrive all to binge on these delicious candies loaded with peanuts, sesame seeds, jaggery among other ingredients.
Chikkis are available in a variety but the traditional recipe uses just jaggery and peanuts.
Jaggery and peanut chikki is also known as gud patti and is enjoyed all across the country. Especially during this time when we are celebrating festivals like Lohri and Makar Sankranti, this one sweet is a must-have on the table.
Munching on jaggery chikki is highly beneficial for our health especially during this season. It fuels our body with the much-required nutrition and also provides a lot of energy which is much needed because most of us feel lazy and lethargic during this time of the year.
How To Make Jaggery Chikki?
Ingredients -
1 Cup Peanuts
3/4 Cup Jaggery
1 Tbsp Water
1 Tbsp Ghee
Directions -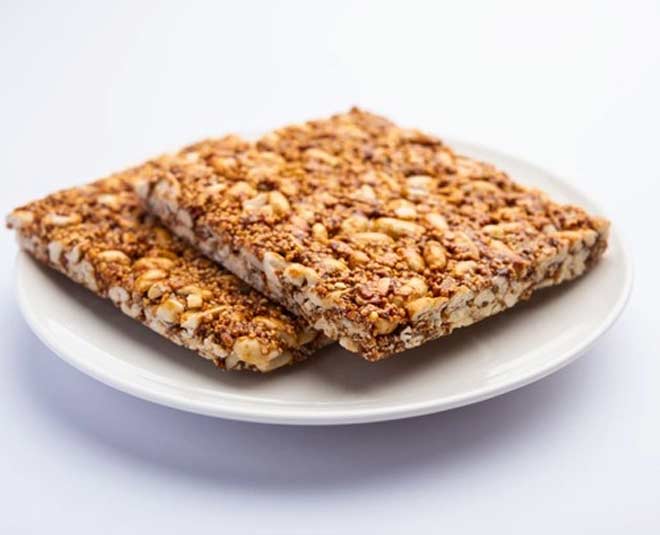 In a pan, dry roast peanuts and keep them aside once they turn aromatic. Use regular, unsalted, and peeled peanuts for this recipe. They are easily available in the market.
Once cool, crush peanuts a bit and keep them aside.
Grated jaggery or gur and add it to a kadhai.
Add water to it and let the jaggery dissolve completely.
If required, add more water.
Next ad some ghee and mix.
Jaggery should be cooked till it gets a thick consistency. To check if it's perfectly done, drop a piece of jaggery mix into water and if it becomes hard immediately, it is cooked.
Add peanuts to the jaggery mix.
Pour the hot mixture over a steel plate.
With the help of a ladle or spatula, even out the mixture.
Using a knife cut into pieces while the mixture is still hot.
Cool completely and store in an air-tight container.
Enjoy homemade jaggery chikki!
Health Benefits Of Jaggery Chikki
We spoke to Nutritionist Ekta Soodand she shared that jaggery is officially winter food. She said, "Not only jaggery tastes good but it gives enormous health benefits and should definitely be consumed during winter season."
"It is rich in many vital vitamins and minerals, it also boosts our immunity, keeps our body warm, treats cold and cough, and even controls our body temperature," she added.
Don't Miss: Health Benefits Of Consuming Sesame Seeds And Jaggery In Winter Season
Jaggery Chikki Is A Healthy Snack
If you are looking for healthy snacking options which also satiate your sweet cravings, jaggery chikki can be your pick. It is a great option if you are off sugar because jaggery is a great alternative. So you can really binge on this traditional sweet without feeling guilty.
Don't Miss: Expert Shares Health Benefits Of Eating Gur Paratha During Winter Season
Jaggery Detoxifies Body
Jaggery or gur has antioxidants and polyphenols present in it. This is why jaggery works as a detoxifying agent for your body. Consuming jaggery and peanut chikki help in clearing blood clots. It also reduces the chances of nervous diseases.
Jaggery Chikki Helps In Development
The amino acids present in jaggery chikki helps in the essential growth and development of your child. The amino acids trigger the growth hormone. If your kids don't like consuming jaggery otherwise, you can feed it to them via delicious chikki. They can be a good alternative for unhealthy evening snacks.
Though jaggery chikki is healthy, make sure you consult your doctor before adding it to your diet if you are undergoing a health treatment. For more such health-related stories, stay tuned to HerZindagi.com