The chilly winter season calls for foods which are warm and nutritious. Among the long list of delicious foods we should all consume during this season is jaggery or gur.
Gur has been a part of our kitchens for the longest time. All these years, we use jaggery in different ways in our kitchen. Not only does it add natural sweetness to different recipes but is known to have some amazing health benefits too.
Jaggery is packed with calcium, iron, potassium, magnesium among other rich vitamins and minerals which can benefit our health in many ways. To enjoy all these health benefits, it is essential to add jaggery to our daily diet. A great way of doing it is by preparing gur paratha at home.
Gur Paratha Health Benefits
Here Is What The Expert Says
We spoke to Nutritionist Ekta Sood and asked her what are the benefits of consuming gur or jaggery paratha during the winter season. She said, "Gur is an offical winter food and we should all consume it during the chilly season. Not only it tastes good but it gives enormous health benefits and be should definitely consumed in winters."
Treats Cold And Cough
Gur or jaggery is rich in many vital vitamins and minerals, it also boosts our immunity. Most of us fall ill during the winter season because our immune system weakens during this time of the year. Consuming gur keeps health issues at bay. It helps treat cold and cough.
Controls Body Temperature
During the winter season we need foods which can keep our body warm and control our body temperature. Consuming gur paratha is an easy way to keep yourself warm during the chilly season.
Good For Respiratory Health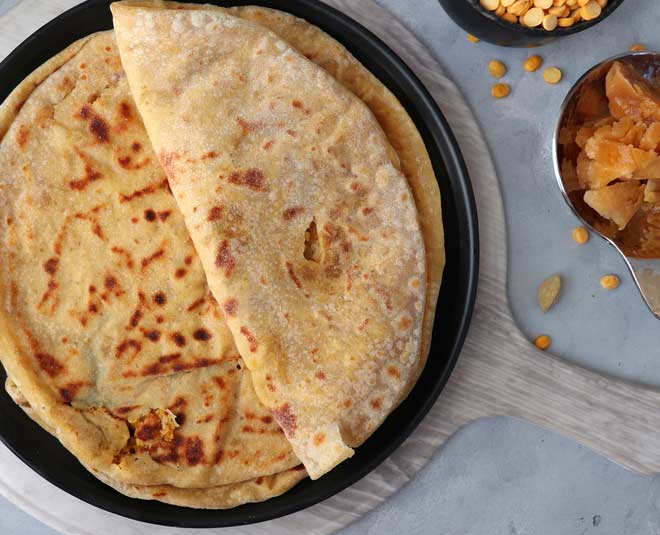 Gur paratha is great for consumption when you are exposed to too much polluted air. The polluted air has a negatgive impact on our respiratory health. Gur or jaggery can do wonders for your respiratory health.
Clears Harmful Toxins From The Body
The rising pollution in the country puts are health to a higher risk. Consuming jaggery in the form of a paratha is a great way to reduce the effect of pollution on the body. It helps in clearing harmful toxins and pollutatns from the body.
Don't Miss: Trying To Lose Weight? Start Having Gur With Warm Water On An Empty Stomach
Nutritious For Kids
The expert shared that usually kids don't consume jaggery or gur but preparing a delicious, sweet paratha using the ingerdient can be a good way of making them eat it. It is highly nutritious and beneficial for the kids.
How To Make Gur Paratha?
Just like any other stuffed paratha, this one too tastes great and can be prepared using just a few ingredients.
Ingredients Required
2 Cup Whole Wheat Flour Or Atta
Ghee As Required
Water To Knead Dough
3/4 Cup Chopped Or Powdered Jaggery
1/2 Tsp Cardamom Powder
Chopped Dry Fruits (Optional)
Directions
Begin with kneading a dough. To knead your dough for a gur paratha, you need warm water.
In a bowl, add atta or whole wheat flour.
Add some ghee to the flour.
Pour in warm water slowly as required and begin to knead the dough.
Keep the dough covered for about 20 minutes.
In another bowl, add powdered or chopped jaggery, chopped dry fruits, cardamom powder and some ghee. Mix well.
Roll a thick disc from the dough and stuff it with jaggery mixture. Seal all the sides.
Flatten the paratha using a rolling pin.
On a non-stick pan, place the paratha. Cook on both the sides.
Apply ghee as required.
Take off flame and top with some more ghee. Enjoy!
Though gur or jaggery is quite healthy, make sure you consult your doctor before adding it to your diet if you are undergoing a medical treatment to avoid any issues. For more such health related stories, stay tuned!