Known as the 'Cultural Capital' of India and 'City Of Joy', Kolkata is the capital of the Indian state of West Bengal. Located on the east bank of the Hooghly River, this city is a paradise not just for food lovers but it also has something for the wildlife fanatics, the movie buffs, the museum and art loving individuals. The streets of this city have a history that have many stories attached to it. Know more about the city through this article and sit and chat with the locals living there for more hidden stories for a richer imagination.
Places & Monuments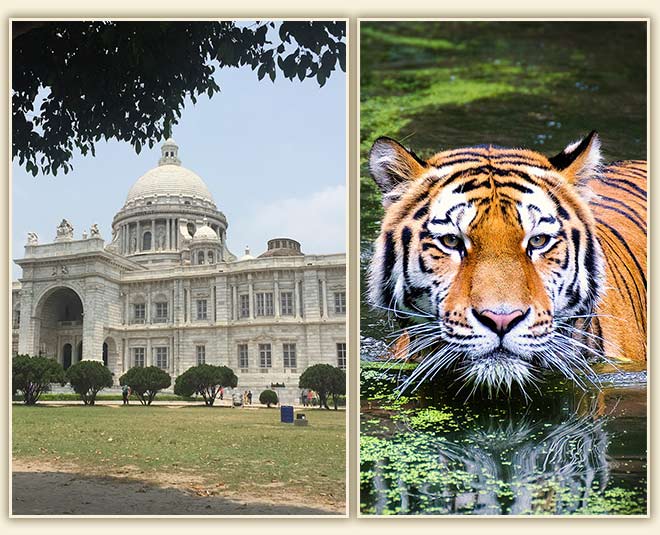 This is very 'touristy', but if you haven't clicked a picture of the Howrah Bridge, Victoria Memorial Palace and the Eden Gardens, then your trip is incomplete. While Howrah Bridge is an archetype for the art of engineering and it is among the longest bridges in the world, it is also an unforgettable experience when you walk here with your love and recreate so many movie scenes where chemistry between actors and actresses sizzled.
On the other hand the Victoria Memorial Palace is a large marble building which has been transformed into a museum in Kolkata. Built between 1906 and 1921, it's 54 metres high, this place is perfect to know the story behind its construction. It is located in the Quen's Valley with a meager entry fees.
Checkout the Eden Garden, which is the most iconic cricket stadium in the world. It was established in 1864 and is one of the famous tourist spots here. Although a cricket stadium, it has occasionally hosted football matches too. It is located at BBD Bagh an the ticket prices depend on the match scheduled.
Trams Of Kolkata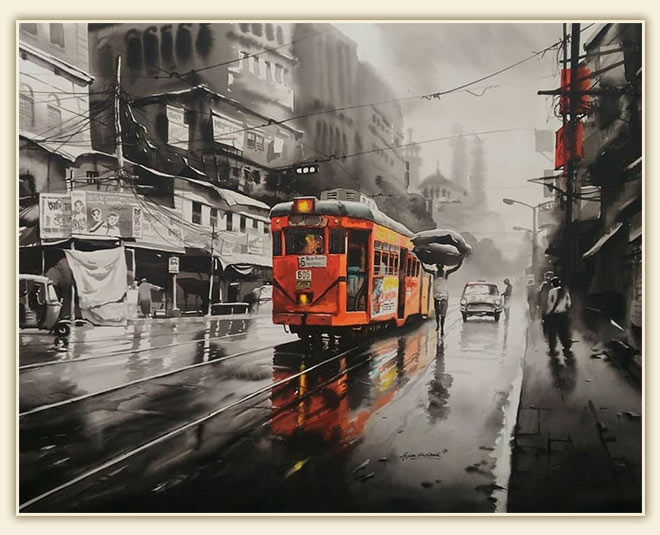 Image courtesy: www.instagram.com/_suvam.maity
If you are going to Kolkata, you cannot let this opportunity of riding the tram, pass by. An old world charm, the trams are the lifeline of the city that help so many working people commute on daily basis. It can accomodate 24 passengers and has a television and an FM radio as well. Don't worry, they have an AC as well. These trams run four rides daily to the north and south of the city. Head to Kalighat to board the tram with a not so exensive the ticket which includes snacks.
Shop Till You Drop
Carry a big jute bag or by it at Park Street and go crazy in the market. Some of the best things to buy in Kolkata include sweets, jute craft items, books, terracotta structures, traditional sarees, tea, masks made from paper mache, Dokra art , and more. Park Street is also the place where Christmas is celebrated with full zest.
Read More: Travelling Long Distance? These Tips Will Help You Have A Great Journey
Temples Galore
Actor Amitabh Bachchan is among the most respected actors in India and to know the extent of the craze people have for him, visit this temple dedicated to the actor. What you will find there is his shoes that he wore in the film Agneepath in 1990. The temple also houses his portait and montages of stills from his movies.
Dedicated to the Hindu goddess of Kali, the Kalighat Kali Temple is among the most visited and sacred sites. The temple attracts thousands of pilgrims each day. There is a really long cue that you have be a part of to see the statue of Kali. If you don't want t get into the hustle bustle, you can choose to just walk around the outside of the temple.
Curries & Street Food
Kolkata is a gastronomical delight as it offers all types of cuisines. The street food here is to die for. Try their Puchkas or gol gappas, treat yourself to telebhaja, kathi rolls, churmur, and luchi aloor dum which are unbeatable. Speaking to the non vegetarian lover, do not come back home without diving into kosha mangsho or mutton curry, chicken kabiraji, Tibetan food, chelo kebab, fish curries, the Mughlai parontha and more.
Bengali Mishti
Bengalis are crazy about their sweets. Go bing on some delicious rasgulla, sandesh, and mishti dohi. You will find all these on the menus of almost all Kolkata restaurants. Just a small tip, please carry some Gelusil with you. It is easily available in Kolkata.
Salt Lake
This place offers a number activities for relaxation and fun. For relaxing, you can take a stroll n the morning or evening, while for shopping head to any of the places around for shopping. Don't forget to enjoy the delicious food of Kolkata while you're here. Head to North 24 Parganas district to checkout this neighbourhood.