French fries are loved by everyone all over the world. You can see these in absolutely all menus and they are the perfect side dish. Most of us have eaten simple fries, however, French fries come in a lot of shapes, sizes, and flavours. This National French Fry Day, we bring to you 8 varieties of French fries that you should definitely try.
Tornado Fries
Also known as twist potatoes, this yummy variety of fries originated as street food in South Korea. These are basically deep-fried spiral-cut whole potatoes on a skewer brushed with different kinds of seasonings such as honey, cheese, onion, and many more. Some varieties also contain sliced sausages in between them.
Curly Fries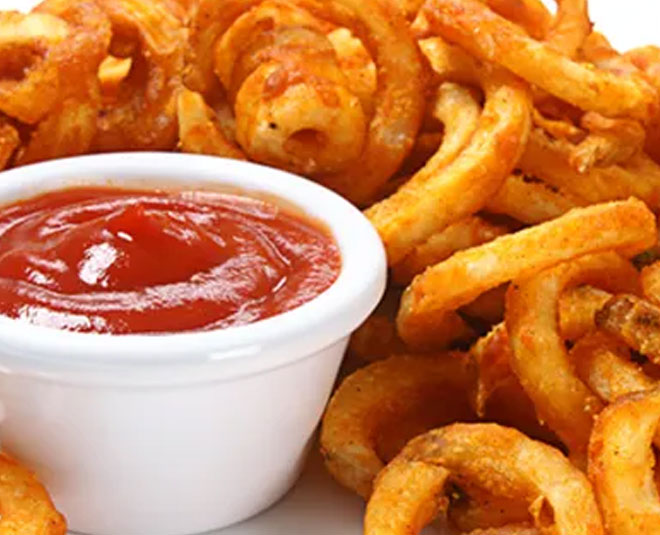 Curly fries satisfy our hunger as well as our inner child because of their playful shape. This spring-like shape is created using a spiral cutter. Also known as Suzi-Q fries or Goldilocks fries, these are perfect in taste with a crunchy exterior and soft potato filling inside.
Garlic Fries
Put garlic on anything and the taste will be amazing. These special kinds of fries are topped with garlic. Along with this, these fries are served with seasonings like salt, grated parmesan cheese, parsley, and more. Pairing these up with burgers and sandwiches just enhances the taste of the dish.
Chilli Cheese Fries
An adaptation of the simple cheese fries, this dish is enhanced by adding chilli on top of the fries. It is believed that these fries were invented by Don A. Jenkin at the age of 16. Just top your normal fries with shredded cheese and chilli, and your quick yet tasty movie night snacks are ready.
Overloaded Fries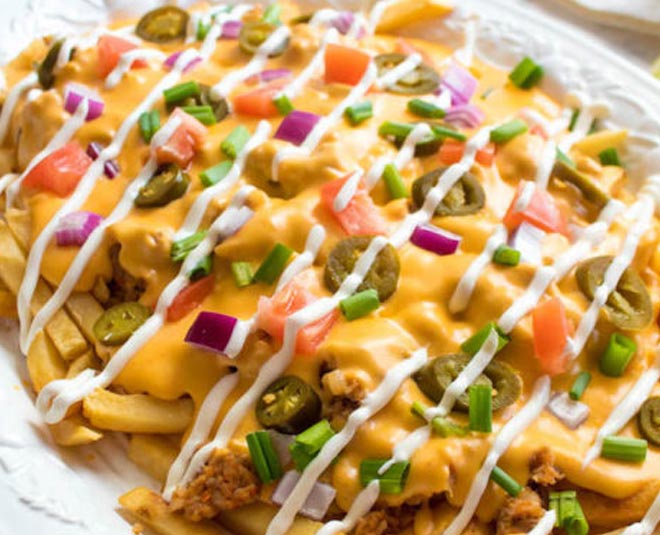 Cheese (cheese benefits) is just not enough for our taste buds, therefore, to take the fries to the next level you can add various toppings like olives, jalapenos, sour cream, red sauce, tomatoes, bell peppers, and many more. All these additions will result in overloaded fries and will give you an amazing taste.
Don't Miss: World Chocolate Day: Know All About The History Of Chocolate
Home Fries
This yummy dish is the perfect breakfast as these are amazingly soft and crispy at the same time. Start your morning with these delicious fries and you will be cheerful for the rest of the day. Although these fries look easy to prepare but can be extremely difficult. If you mess these up, then you might get a mixture of extra crispy and a mush of undercooked potatoes in between.
Don't Miss: 5 Best Places To Have Kurkure Momos In Delhi
Sweet Potato Fries
As the name suggests, sweet potato (health benefits of sweet potato) fries are made with sweet potatoes. They come in various shapes such as standard cut, waffles, and many more. Brushed with different herbs such as garlic and cheese, these fries can be the perfect snacks.
Also, you can transform them into dessert by dipping them into marshmallow cream, honey, or sugar syrup. As compared to white potatoes, these are healthier because they contain more Vitamin A and will lower your carbs and calories intake.
Standard Cut
How can we forget our popular standard cut? These well-known fries are the most common version of the dish. Served as a side dish for burgers and sandwiches along with your choice of dips, these are perfect to curb your evening hunger pangs. They are really yummy and at the same time, they can be easily prepared at home.
This National French Fry Day, try these 8 types of french fries. For more such stories, stay tuned to Her Zindagi!