Even though there are so many brands that are releasing makeup lines off late, very few cater to the darker skin tones. In search for the right concealer for my dark skin which does change due to tanning, I got my hands on the Netsurf's Rang De Exotically Indian Concealer Palette for dark skin and I am really happy with it.
Claims
All-Natural Ingredients
Herbal Concealer Palette
Organic Pigments
Key Ingredients
Theobroma Cacao seed butter, Euphorbia Cerifera Wax, Cera Alba (beeswax), Copernicia Cerifera Cera, Melaleuca Alternafolia Leaf Oil, Tocopheryl (Vitamin E) Acetate.
Packaging
A beautiful palette for sure! The cover of the palette has Indian tribal art forms like tikuli, madhubani, bhil and warli drawn on the front side with a neon yellow as a backdrop and detailed painting in contrast blues and greens and hints of orange and red. Very eye catching and sleek, the palette becomes a topic of conversation when you open it in front of people in the office loo if that is where you do your makeup or amngst friends.
When you open the palette, there is a full size mirror on one side and a small little sponge which is pretty good unless you have a fixed one you like to use. There are six shades and you can use the darkest one as a contour as well. You can mix different shades as well to achieve the one your skin demands. It also has a small tracing paper sheet as a barricade between the mirror and the shades and it prevents dust from entering as well. It has a magnetic closing which means no buttons and clasps, making the palette look sleeker.
Price
It is priced at Rs 1799.
My Experience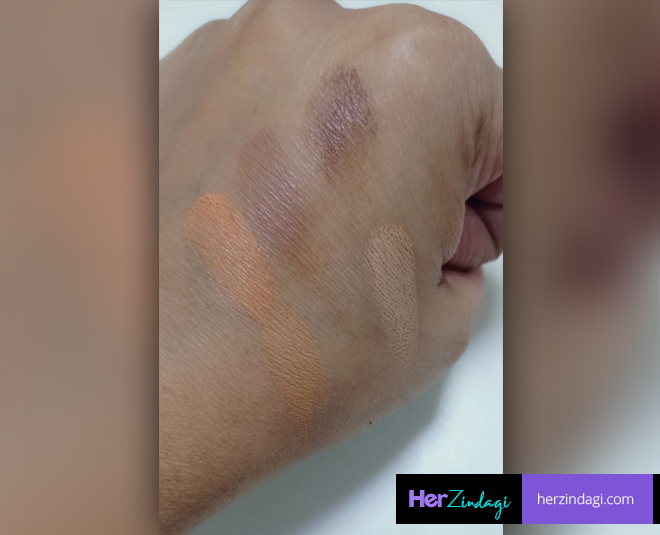 The palette comes with 6 shades for the dark skin and the palette for the lighter skin tones comes with 6 shades as well. I sometimes mix two shades for the area around my mouth as I have darker skin there. Also, I use the darkest one as a contour and it blends like a dream with the baby sponge the palette comes with. It blends well and stays on for a long time. The only thing is the price but then it is natural which is very important for our skin, something many still do not understand. Try to shift to chemical-free makeup and skincare ladies, read the ingredients list and then make your purchases. Imagine spending a bomb which contains petrol and what not!
Don't Miss: HZ Tried & Tested: Netsurf's Rang De Exotically Indian Lip Colour Palette Detailed Review
Pros
The packaging is unique and beautiful
Love the shade assortment which includes dark to light even in the Dark palette.
Full-size mirror
Organic.
Fades after a long time.
Travel-friendly
Cons
A little on the expensive side.
Rating
4.5/5