I am a lipstick hoarder and take to beautiful packaging like a bee to a flower and this was a palette which was perfect! I got my hands on this beautiful Rang De lip palette by Netsurf which is totally organic. I used it for two weeks and here is a detailed review on the same.
Claims
All-Natural Ingredients
Herbal Lip Colour Palette
Organic Pigments
Anti Darkening and Nourishing Lip Colours
Mix multiple shades to create your own custom lip colour
Key Ingredients
Euphorbia Cerifera Wax, Camauba Wax, Cera Alba, Cocoa, Seed Butter, Baobab Oil, Argan Oil, Vitamin E, Peppermint Oil, Olive Oil
Packaging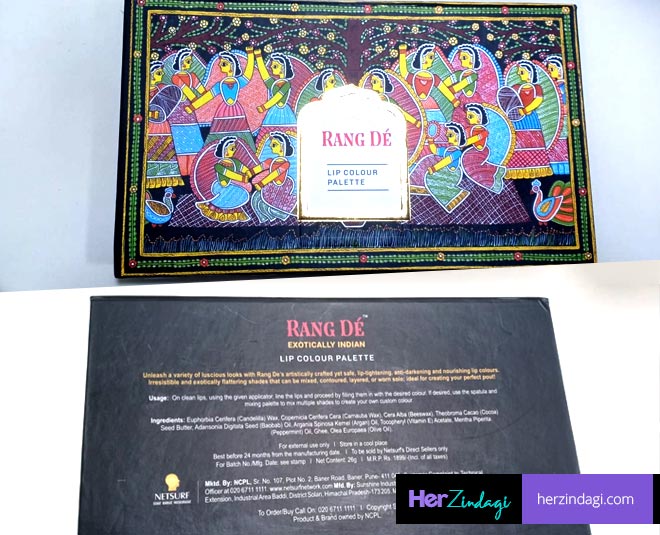 The packaging of this lip palette is beautiful! It has Indian tribal art forms like tikuli, madhubani, bhil and warli drawn on the front side with perfectly balanced colours which makes the palette totally eye-catching. It looks really pretty on the dressing table.
Furthermore, it has a mirror and also a mixing plate on which you can take different shades to create your own colour that you feel like wearing. It has a magnetic closing which means no buttons and clasps, making the palette look sleeker.
Price
Originally priced at Rs 1899, you can buy this palette at a discounted rate of Rs 1799, here.
My Experience
The palette has 10 shades which are named gehu, ela, rati, alisa, raaz, beryl, madhubani, rasa, lavi and heer, which are perfect for the Indian skin tones. What I love is the mixing plate which helps me make different and darker shades or nudes as per my dark skin tone which has blue undertones.
The lip brush as well is good but since it is a palette, you have to clean the brush again and again before dipping into another shade although this is something every palette has as a drawback or disadvantage. It stays on for 4 hours, including eating and drinking. But the plus point here is that it is totally organic and includes vitamin e. It also is quite travel-friendly.
Don't Miss: HZ Tried & Tested: Herbs & More Vitamin Therapy Face Wash Detailed Review
Pros
The packaging is unique and beautiful
Love the lip shade assortment which includes dark to light.
Has a mixing plate.
Organic.
Fades instead of going in patches.
Travel-friendly
Cons
A little on the expensive side.
Rating
4.5/5