The off-white coloured substance has a creamy consistency that has been extracted from shea tree nuts. Shea butter is easy to spread on your skin and is highly beneficial. It is found as an ingredient in several beauty products as it has anti-inflammatory and healing properties.
Applying shea butter on your body, especially your face can condition, tone, and soothe your skin. Read on to know about all the benefits of shea butter for the skin.
Moisturises Dry Skin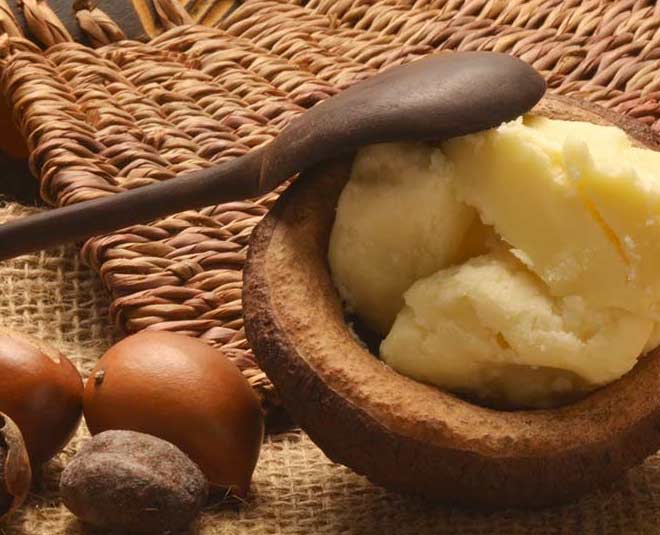 Dehydrated skin becomes rough which is really unhealthy for your skin. The fat content is responsible for its emollient and humectant properties which lock the moisture in the skin. This keeps the skin hydrated for a long time.
Shea butter also helps to nourish the skin and make it supple without clogging the pores. Thus, it is extremely effective on dry skin. You can use it to prevent cracked heels, dry cuticles and rough patches on the skin.
Treats Acne And Blemishes
Shea butter is popular because of its healing properties due to the presence of several fatty acids and plant sterols. This is why raw and unrefined shea butter is extremely effective in curing skin rashes, scars, frostbites, burns, insect bites, stings and many more.
Reduces Skin Inflammation
Shea butter has several anti-inflammatory properties which makes it beneficial for the improvement of skin conditions that are a result of inflammatory compounds. Conditions like dermatitis and rosacea can be prevented due to these properties. Also, sunburns, rashes, cuts and scrapes can be treated with the regular use of shea butter.
Anti-aging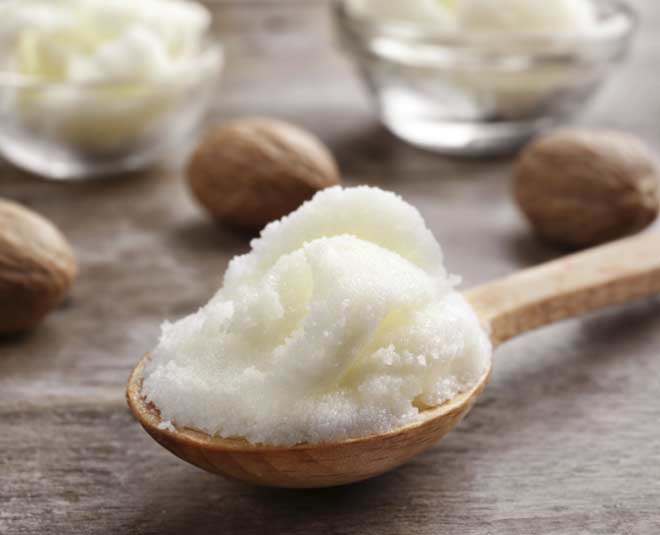 Shea butter is a great anti-aging agent for the skin. This is because it stimulates the production of collagen which is the youthful scaffolding protein in the skin. Also, the vitamin A and E present in this butter keep the skin nourished and bright.
Along with this, it reduces wrinkles and early signs of aging making your skin look youthful. Anti-aging properties can also increase circulation in the skin along with promoting skin renewal. Thus, shea butter is great for skin.
Restores Elasticity Of Skin
Shea butter is rich in vitamin F and non-saponifiable matter that are vital ingredients in maintaining the elasticity of the skin. Aforementioned, the production of collagen is also improved, thus, restoring the natural elasticity of the skin along with reducing blemishes and wrinkles.
Don't Miss: Teej 2021: Here Are 3 Easy Makeup Looks That You Can Slay
Good For Lips
Applying shea butter on your lips is extremely beneficial as it is easily absorbable as well as provides extra moisture and nutrients to the lips. This is especially great for your lips during the cold season when the weather conditions are especially dry.
Therefore, shea butter is a great substitute for lip balms as it forms a barrier on the lips which retains moisture.
Don't Miss: How To Use Your Argan Oil To Make These Masks, Scrub Recipes
Reduces Razor Irritation And Bumps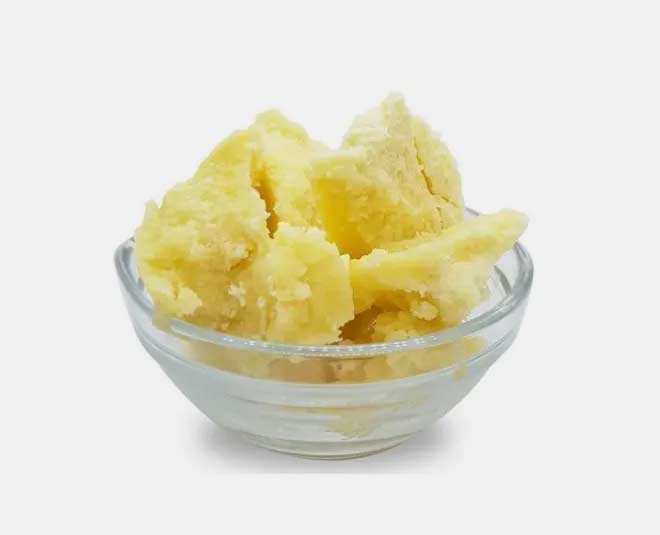 Using a razor to shave our hair can often result in irritation and bumps which can be extremely uncomfortable and painful. As shea butter is a great moisturiser and soothes the skin, therefore, it can help to get relief after shaving.
You can also apply shea butter on your skin before shaving as this will make the process of shaving easier and faster without any spots left behind.
For more such stories, stay tuned to HerZindagi!