The summer season brings along a long list of skin problems for all of us. The scorching heat demands a completely different skincare regime. Rather than hunting for new summer care products, you can stick to remedies that are natural and effective.
Here we have some quick and effective skincare DIYs that would help you treat a lot of your skin problems. Read on.
Homemade Skin Toner Or Freshener
During the hot summers, one needs to add skin toners or fresheners to their skincare routine. These help in restoring the normal balance of the skin and keep our skin pores unclogged.
Expert Shahnaz Husain shared that one can prepare a skin toner at home. In a bowl or bottle, keep some rose water or rose skin tonic and always keep stored in a refrigerator. It should be used chilled. You can spritz it on your face through the day or apply it with a cotton ball as many times as you want through the day.
Another skin toner you can prepare at home is by mixing some cucumber juice with rose water. Cucumbers have an astringent effect and help in reducing the oiliness of the face. Applying a mix of rose water and cucumber can help in closing the pores and reducing oil production on the skin.
Natural Cooler For Skin Rashes
Skin rashes due to the harsh heat are common during the summer season. These can be treated with a quick DIY. In a bowl, add some sandalwood paste, rose water, and mix well. Both sandalwood and rose water and coolants help treat skin rashes. Apply on the affected area and wash with normal water after 20-30 minutes.
Quick DIY For Itching
Itching is another common skin issue we all face during the hot summers. The expert shared a quick tip that can help reduce it. In a bowl, add one part of apple cider vinegar and three parts of water. Mix well. Dip a cotton pad into the mix and apply to the face. It will not only help reduce itching but also help restore the normal balance of the skin/
Easy Tan Removal At Home
You don't really have to head to the salon to get the tan removed. You can prepare a tan removal scrub at home. In a bowl, add some ground almonds, yogurt, and a pinch of turmeric. Mix all the ingredients. Apply on your face and start to gently massage. Wash off with plain water. This scrub will also help you get rid of blackheads.
If you have oily skin, you can prepare a mix of cucumber juice and lemon juice in equal quantities. Apply it on your face for 20 minutes everyday. You can also prepare a mix of cucumber pulp and yogurt and apply it to your face. These two DIYs work best to remove tan from oily skin.
Don't Miss: Face Mask Or Face Scrub? Here's What Shahnaz Husain Has To Say
Soothing Burnt Area
Due to excess exposure to the skin, your skin may get burnt. To soothe and heal the skin, you can apply fresh aloe vera gel to the area. As aloe vera has anti-inflammatory properties, it helps your skin recover faster.
You can also apply coconut water or coconut milk (coconut milk health benefits) on the burnt area as they help soothe the skin. Applying them everyday for 30 minutes will also help you remove skin tan.
Curd too is great for burnt and tanned skin. It helps soothe and soften skin. It also helps in lightening your skin colour.
Remedy For Skin Irritation And Pimples
In a bowl, add some marigold flowers and soak in warm water overnight. In a bowl, add sandalwood paste, yogurt, and marigold water. Mix well and apply on the face. Make sure you avoid applying it on the lips and around the eye area. Wash it after 20 minutes. This pack has an astringent effect which helps in reducing oiliness from your face and closes the pores. Anyone from normal to oily and combination skin can use this face pack.
Skin Cooling Face Pack
Your skin needs some cooling after you spend all day long out in the scorching heat. You can prepare it with some cucumber juice or pulp, egg white, and 2 tsp of powdered milk. Mix well. You can also put the ingredients in a blender to make a smooth paste. Apply it to your face and neck. Keep for 30 minutes and wash.
Don't Miss: Shahnaz Husain Shares A List Of Beauty Creams Which Are A Must Have
Quick Pack To Reduce Oiliness
We all have been there! Exposing our skin to too much sun can lead to our skin getting oily. A face pack prepared using fuller's earth or multani mitti with rose water can do wonders. Mix well and apply the paste to your face and neck. Let it dry and then wash. This face pack shrinks the pores of your skin and makes the skin clear.
Shahnaz Husain's Quick Tip
All those who suffer from excess sweat should stay hydrated all day. The expert suggested sipping nimbu paani, ginger tea before and after meals.
You can also have some fresh, raw ginger. Chop it finely and then mix with a pinch of salt. Chew it before your meal. Sipping hot water with your meals can also help. The expert advised having a light diet and fewer spices during the hot summers.
We hope all these home remedies help you treat your summer skin problems. You can also add summer skin care products to your regime from the house of Shahnaz Husain. The range includes everything from sunscreen to face washes.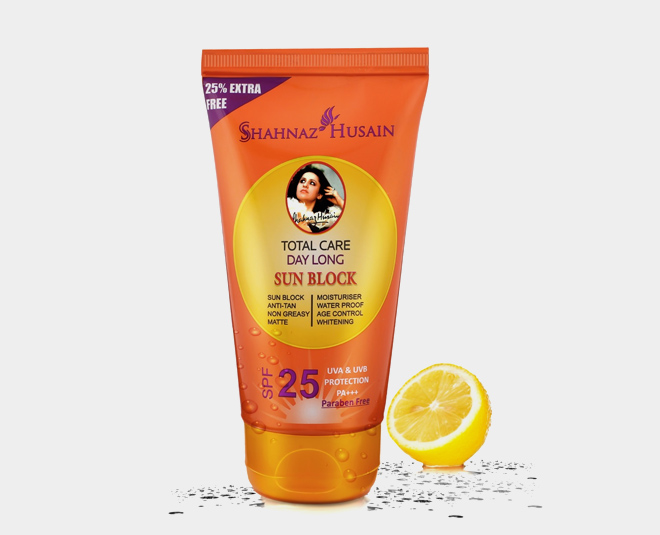 Shahnaz Husain is a well-known skin and hair care expert. For more such tips from the expert, stay tuned to HerZindagi.