Whether she has a salon make-over or dresses at home, the bride wants to look her best. She is the centre of attention and so are some bridal makeup tips. If you are a summer bride, you will need treatments that make you look and feel cool, fresh and vibrant. Cleansing the skin before make-up is most important. Wash off with plenty of cool water. After cleansing, use chilled rose water to tone and cool the skin. This is not only refreshing but also helps to close the pores. It also helps to stimulate blood circulation to the skin and add a glow.
Go For The Natural Look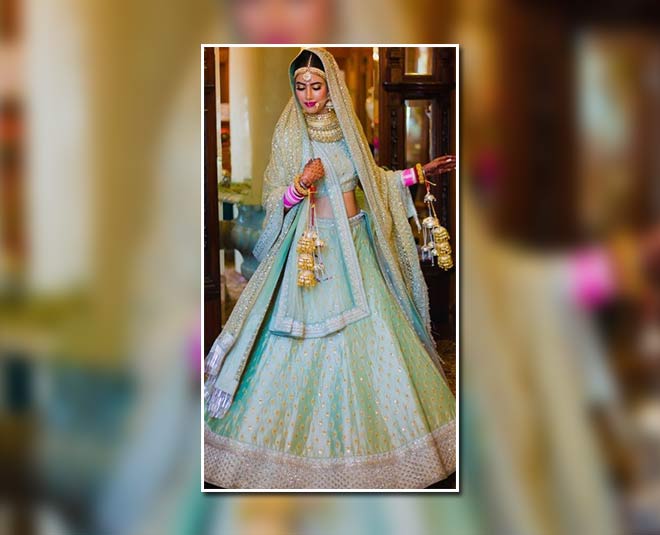 "Go Natural" is the key to summer bridal make-up. For foundation, the natural look is in. The dewy look with light tinted moisturizers would be ideal for summer. The aim should be to have a smooth and sheer texture, without too much foundation. In fact, matte (non-shiny), water-based foundation should be used in summer. Dot foundation on the face and blend with a damp sponge or with fingertips.
Don't forget the neck, apply loose powder, or try compact powder to set the foundation. Use foundation with beige tones, rather than pink. I feel beige suits Indian skin colour better. Or for wedding make-up, go for Gold foundation to give the skin a golden glow. Use gold-tinted powder used to "set" the foundation. The powder should be lightly applied, using a big powder brush.
Avoid applying too much. Then use a hint of blusher on cheeks. Blend it outwards and slightly upwards. Apply light coloured highlighter on the cheekbones, blending well. When you apply make-up, remember not to smear too much or rub it. When dealing with a blusher or foundation, the best way to apply it is with fingertips or a brush. It can also be applied lightly and evenly with a damp sponge.
Lip Makeup
At night, you need more colour. Applying lipstick with a lip brush helps it to last longer. The lip colour should match the attire. However bronze, coral, copper, burgundy and even red would look good for the night. Bright lip colours look good with dusky complexions and traditional Indian clothes. Dramatic red for lips is in vogue. Or go for warm earthy colours, like coral, wine, plum, strawberry, pink and shades of red in lipstick. Or go for matte (non-shiny) lipstick and add just a dab of gloss in the centre for a delicious pout.
Blush Up The Cheeks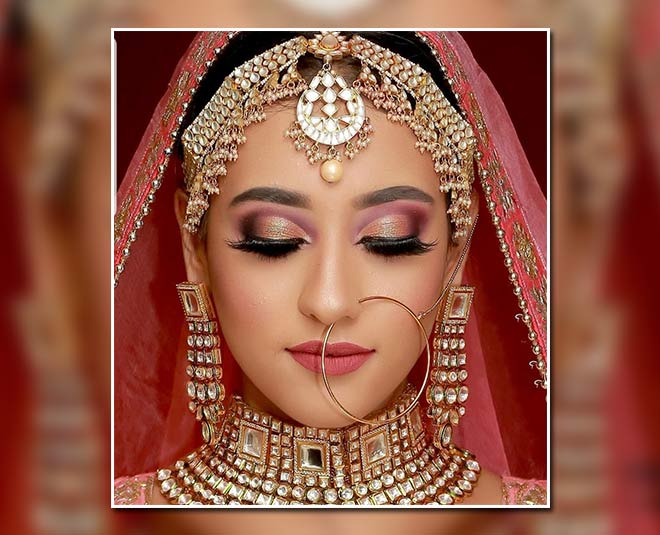 A hint of blusher should be used on the cheeks. A powder blusher is easier to apply. Use it after you have applied powder and at the end of your make-up. Apply on the cheekbones and blend it outwards and slightly upwards.
Waterproof make-up cosmetics are available. For example, waterproof mascaras and eyeliners will prevent eye make-up from running during the hot and humid season. Waterproof or water-resistant lip colours and lip liners are also available.
For Those Sparkly Eyes
For your eye makeup, all you have to do is apply the light brown eye shadow first on the entire upper lid and then pick a darker shade of the same colour and apply this on your lids to give your eyes a little more depth. Highlight and define your eyes with a darker pencil or eyeliner. For a smudged effect, a dark eye shadow also works well on the upper lid, close to the lashes just take it forward to extending up to the corners to give a great look. Smudging can be done with a sponge-tipped applicator.
Using an eyeliner for your lower lid is also a great way to add to that smudged look. Nowadays golden, silver, green, blue, brown coloured eyeliners are also gaining a lot of popularity. So, highlight under the brows with ivory or gold. Then apply mascara. Roll-on mascara is easy to apply. To add volume to your lashes just make sure to incorporate some powder between the coats of the mascara.
Don't miss: Shahnaz Husain Decodes Nail Art For Brides
Final Tips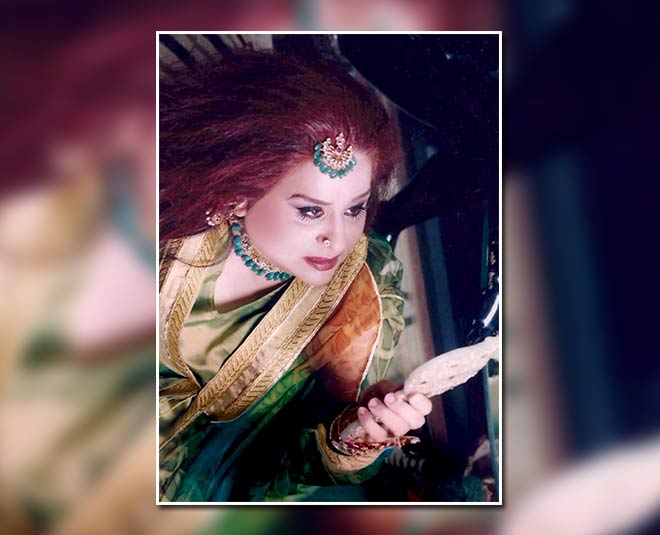 One of the most important parts of bridal makeup look in India is a bindi. a decorative bindi, to match the colour of your dress, studded with small shiny beads, in bright colours would be just perfect for a bride. Actually, fashion trends come and go, but traditional weddings are still very much a part of our Indian life, and will always remain so.
Don't miss: DIY Summer Skin Care Tips By Beauty Expert Shahnaz Husain
Shahnaz Husain is a market-leading beauty/makeup expert. She is also the founder, chairperson and managing director of The Shahnaz Husain group in India. Her vision for providing herbal products that cater to individual needs is revolutionary.
Stay tuned to Her Zindagi for more.