Shahnaz Husain Decodes Nail Art For Brides
Use these tips by Shahnaz Husain for nails and hands to look perfect on your wedding day!
To look perfect on the weddong day, it takes weeks of care, well in advance and this includes weekly manicures and pedicures so that our hands and feet are in good condition. When it comes to the nails, they must be cared for weeks before the wedding to show good results on the actual day.
Strengthen the nails by massaging with creams and oils. Use pure almond oil to strengthen them and to keep them in a good condition. Dip the finger tips amd mails in almond oil which has been slighlt warmed up. Keep them immersed for 10 minutes and then massage it in.
Cuticles
The cuticle around your nails should be soft and smooth and not sticking out and dragged. Otherwise, the skin gets torn or stretched. Also never cut your cuticle from the skin. Massage them daily and push them back with a cotton bud or a pusher. Do not use sharp instruments when you want to clean your nails. Take a thin stick and wrap some cotton around it or simply use a cotton bud to clean the nails.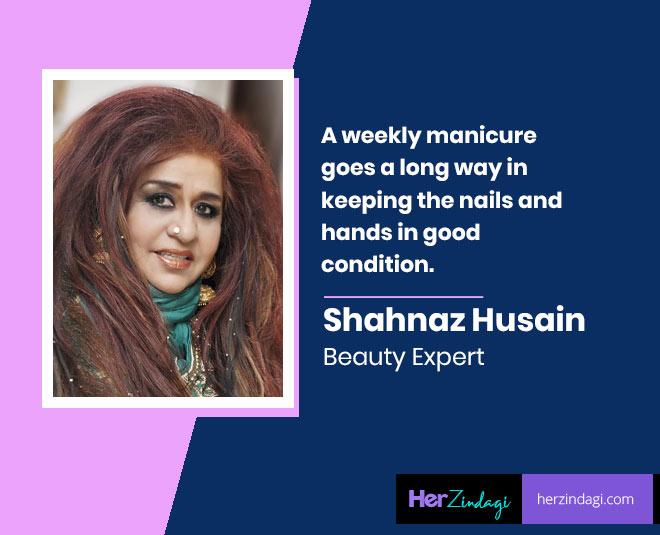 Nowadays, there are many hand spa treatments and deluxe manicures available. At our salons, we offer different packages for nail and hand care, which includes manicure with paraffin wax treatment, normal polish, diamond polish etc. If you opt for a super deluxe nail care, it includes everything polish, manicure, wax treatment, whichare very popular as pre-bridal treatments.
Nail Art
Nail art has become a specialized field now. Earlier, there were simple ways of nail art but now it is a very creative field which even includes artificial nails. As part of nail design, nail polish is applied in unusual colours which could also mean a green, purple or a blue. Sometimes different colours are also used for each nail in different permutation and combinations. Another trend is that narrow strips are use, where they are of three different colours.
For an extravaganza night, a varnish in gold or silver is used. Then on top, glittering stars are stuck. Now there are so many options out there and people make major fashion statements with their nails.
Many techniques of painting and polishing nails are used. Some also opt for nail piercing, which is a more recent trend. Nails are bejewelled and decorated using diffferent materials and you can channel the creative in you and try all the designs.
Don't Miss:HZ Tried & Tested: Plum Wild Cherries & Kiwi Hand Cream Detailed Review
Since it is a painless art, you can experiment a lot. Nail gels and acrylic nails have also become very popular as they offer vast opportunities in terms of colourand nail art. They are very convenient to use, and are best for covering up brittle or chipped nails.
French Manicures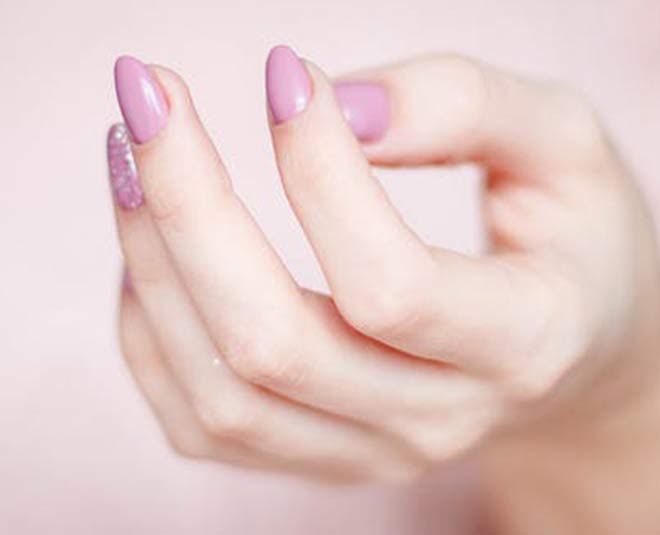 French Manicures are very popular with brides. Go to a professional nail stylist for them as they use false tips in acrylic. Or, you can even do French manicure at home. You can keep your nail style square or oval and paint only the tip with white nail polish. If you can, try painting the underside of the nail with white as well.
Don't Miss:HZ Tried & Tested: Shahnaz Husain's Neem Turmeric Germicidal Hand Wash Review
This emphasises the tips even more. Let the polish dry and then paint a second coat. Take a sheer transparent polish or a pale pink colour, and paint the entire nail. Let it dry and paint a second coat. Once it all dries up, apply a topcoat with a colourless, transparent polish. This helps in protecting your manicure.
Another tip is that you paint your nails with clear topcoat everyday, to touch up and make the manicure last.
Gel Designs
You can opt for gel designs as well these days and incorporate diamantes, sequins, tattoos, glitter, beads, stones have all become a part of nail art.
Stay tuned to HerZindagi for more such tips from beauty expert Shahnaz Husian who is well known globally and many of us take inspiration fron.