As the dead skin cells, dust, and other particles settle on the skin, time to time exfoliation becomes a major part keep skin healthy and fresh. To keep our body free from skin-dulling agents, we need to follow a regular skincare regime. Other than removing all the excess dirt and oil from the skin, it keeps it moisturised, clean and smooth. One of the best ways to make your skin beautiful and attractive is by using body scrubs. While a lot of body scrubs are available in the market these days, it is best to prepare these at home. Homemade body scrubs are easy to prepare and cost you a little. Here are some DIY body scrubs:
Sugar And Coffee Scrub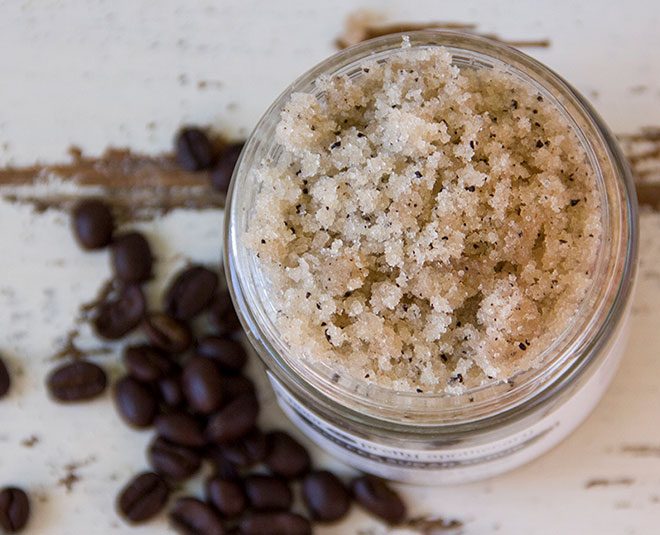 Both sugar and honey are great ingredients for your skin. While coffee brings a natural shine to the skin, sugar is a great exfoliator for the skin. A combination of coffee and sugar is great for your skin. Both the ingredients work well for your skin and make it soft and healthy. You need ¼ cup of coffee, ¼ cup of sugar, 2 tbsp of olive oil. Mix all these ingredients well in a bowl and then start applying it on your skin. Massage the paste in circular motions and then wash off with warm water.
Coconut Oil Scrub
Coconut oil is great for your skin. It is a good exfoliating product. It cleans your face naturally and moisturises it well. Coconut oil leaves your skin soft and smooth. Use it in combination with sugar in equal amounts. Make a paste by mixing the two ingredients and apply it on your skin. Massage gently on your skin in circular motions. Wash with lukewarm water. This can be repeated twice a week.
READ MORE: From Moisturising Your Hair To Cleaning Your Skin, Coconut Oil Has Numerous Benefits
Yogurt Body Scrub
Because of increasing pollution these days, we need to clean up our skin off the impurities regularly. Impurities and dead skin cells keep piling up on our skin and make it look dull and dirty. Yogurt is a great cleansing agent for your body. Yogurt is a great moisturiser for your skin. It is a great product if you have a dry skin. Take 1 tbsp yogurt, 2 tbsp olive oil, 1 tbsp honey, 3 tbsp sugar in a bowl and mix well. Apply this paste on your body and see how well the mix hydrates your skin.
Lemon And Sugar Scrub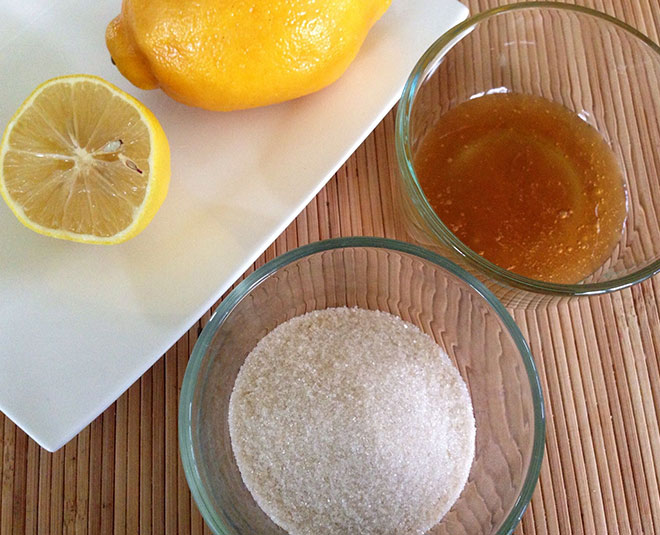 As we all know, sugar is a great exfoliator and this makes it a common ingredient in all the body scrubs. When used with lemon, sugar gives your skin even a better glow. Lemons are rich in vitamin C which nourish the skin and balance the pH levels. The lemon and sugar duo helps you get a soft and smooth skin. Mix 2 tbsp sugar, 1 tbsp honey, 1 tbsp lemon juice together. Prepare a paste and use it on your skin to achieve clean skin.
Banana Scrub
Bananas have some amazing benefits for your skin. Bananas help in removing excess oil from your skin. It makes your skin soft and moisturised. Mash one ripe banana and add in 1 tbsp of sugar. Mix well and then apply it on your body for a few minutes. Massage gently and wash off.