Many people are making most of this lockdown time by taking care of themselves, pampering their skin and hair. Not just us, celebrities too are indulging into self care during this lockdown period. Thanks to social media that we are getting a sneak-peek into self-care sessions of our favourite celebs. It is Mira Kapoor's birthday and we thought of bringing you the secret recipe of Mira Kapoor's face scrub. Some time back, Mira Kapoor took to Instagram and shared the recipe of her homemade face scrub.
Mira took to her Instagram and wrote, "My face literally ate breakfast. Oats honey and milk scrub. Worked like magic." Well, we all envy Mira Kapoor's spotless skin and now you have the secret! We are so thankful to her for revealing this amazing recipe. The best part is that it is so easy to prepare and uses just 3 ingredients! These are natural ingredients and do no damage to your skin.
I thought of giving this face scrub a try and can say this one works for real. My skin looked so fresh and bright. This scrub works as a great exfoliator and clears the dead skin cells from your face.
This scrub is way better than all those scrubs I have been using these years because obviously those are packed with so many chemicals that are harmful to skin in the long run.
Oats For Skin
Oats are an amazing ingredient for your skin, especially if you have oily skin. Oats can soak the excess oil from your face. If you have acne-prone skin, oats are the right ingredients for you. Oats cleanse your skin deeply, they remove all the dirt and exfoliate your skin.
Milk For Skin
Milk has some amazing benefits for your skin. It works as a toner as well as a moisturiser for your skin. Milk can soak up excess oil from your face. It can be used as a skin cleanser too. It clears off all the dirt from your face.
Don't Miss: World Milk Day 2019: Here Are Ways Milk Can Make You Look Beautiful
Here are some more benefits of using milk for skin:
Milk gives your face a natural glow
Milk can fight skin problems like acne and dark spots
It prevents your skin from premature ageing
Honey For Skin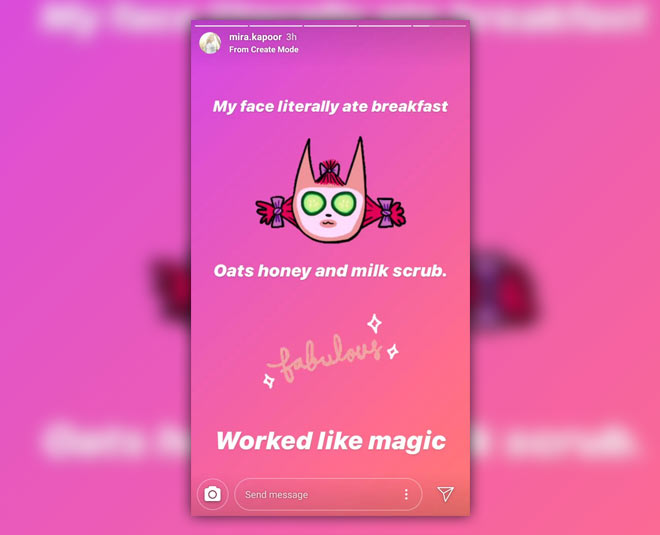 Honey is one of the most commonly used ingredients when it comes to skincare. This is because of its numerous benefits for the skin. Honey has antioxidants that prevent your skin from ageing. It has antibacterial properties that prevent your skin from problems like acne. Honey also helps in improving your skin complexion.
Don't Miss: Honey For Whiteheads: 5 Homemade Face Packs To Keep Those Pesky Whiteheads Away!
Read on to know some more benefits of honey for your skin:
Honey works as a gentle exfoliator, it cleanses dead cells
Honey cleanses your skin pores
It tightens your skin and makes it look young
Honey keeps your skin hydrated
It keeps ageing signs like wrinkles at bay
We really can't thank social media enough for keeping us connected to our favourite celebs! Now that you have Mira Kapoor's secret scrub recipe, why don't you try it? Make sure you do a patch test before applying it on your face to prevent any skin problems. Do share the results with us!