A lot of you may not know but using the wrong shampoo can damage your hair. Your shampoo should have ingredients that keep all hair issues at bay. You should pick natural, Ayurvedic and sulfate free shampoos that don't damage your hair. Do you know that your shampoo has a dangerous ingredient called sulfate? Sulfates are a form of detergent that is found in a lot of shampoos. The two common forms of sulfate that are found in shampoos is Sodium Lauryl Sulfate and Sodium Laureth Sulfate. Also, let us tell you that these detergents are also found in your floor cleaning and cloth cleaning products. Would you actually use the same products on your hair that you use for household cleaning? Sulfates take away the natural oils from your hair scalp and make your hair dry. Shampoos with sulfate give you a good lather and people believe that these help you clean your hair thoroughly. However, the truth is that using these shampoos makes your hair dry and dull. It also makes your hair frizzy and increases the problem of split ends. You want your hair to be healthy and for the same, you need to use products that are not harsh and give your hair the much-required nourishment.
WOW Apple Cider Vinegar No Parabens & Sulphate Shampoo
If you feel that your hair has just stopped growing and feel dry then this shampoo may work for you. It comes with apple cider vinegar that helps in hair growth. This is also very effective on dandruff. If you have an itchy or dry scalp then this one can give your hair the much-required moisturisation. You can buy it here at a discounted price of INR 319.
StBotanica Biotin & Collagen Volumizing Hair Shampoo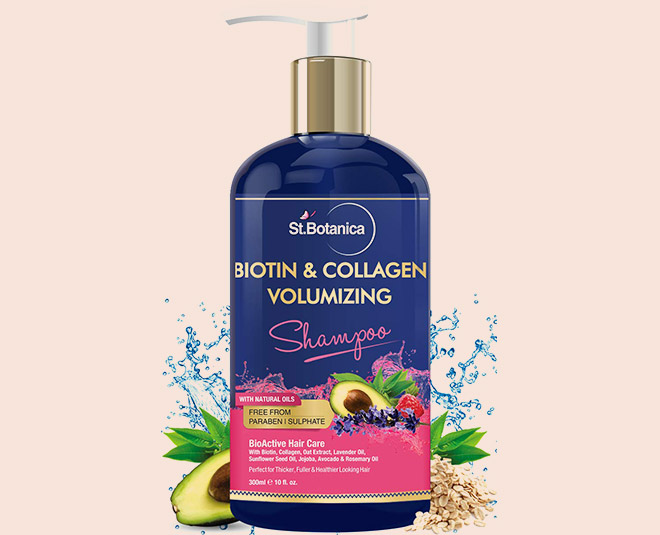 With biotin and collagen, this shampoo gives your hair a great boost. If you have fine hair, this is a great product for you. It will make your hair feel thicker, fuller. Available in the market for 799, you can buy it here for just INR 499. Don't Miss Make Your Own Shampoo Using These Recipes, Save Money
Khadi Mauri Herbals Amla and Bhringraj Herbal Shampoo
If hair fall is a big problem for you then try this natural shampoo. It comes with natural ingredients like amla, bhringraj which are great for your hair. They promote hair growth, prevent hair fall and clear dandruff. This one also protects your hair from sun damage which affects your natural hair colour. You can buy it here for just INR 150.
Mom & World Hair Strengthening Shampoo - Protein Shampoo For Thicker And Fuller Hair
For lifeless and dull hair, this shampoo is a great pick. It is enriched with protein that brings back the shine to your hair and prevents breakage of your hair. This shampoo also conditions your hair well and strengthens your hair follicles. Buy it here at a discounted price of INR 399.
Organic Harvest Daily Shampoo
Have a habit of washing your hair every day? This shampoo will work great for you. It keeps your scalp clean without stripping natural oils from your hair. It is also very helpful in improving the texture of your hair. Buy here at a discounted rate of INR 584.
Did you like this article ?