Acne is an issue most of us suffer from. My sister too had this issue so she tried Inveda's Acne Treatment Kit. Here is a detailed review of the same.
Claims
This kit of three products including a healing day cream, anti-acne oil blend and neem and gotukola face wash, is a combo which is all set to trace invisible impurities that tend to harm the skin and leads to breakouts and redness. The brand says that a natural combo like this maintains the skin's natural pH level, repairs skin from within, dries out eruptions from the roots and ensure skin stays soft, healthy and acne-free.
Main Ingredients
Almond, lavender, neem, gotukola, tea tree oil
Packaging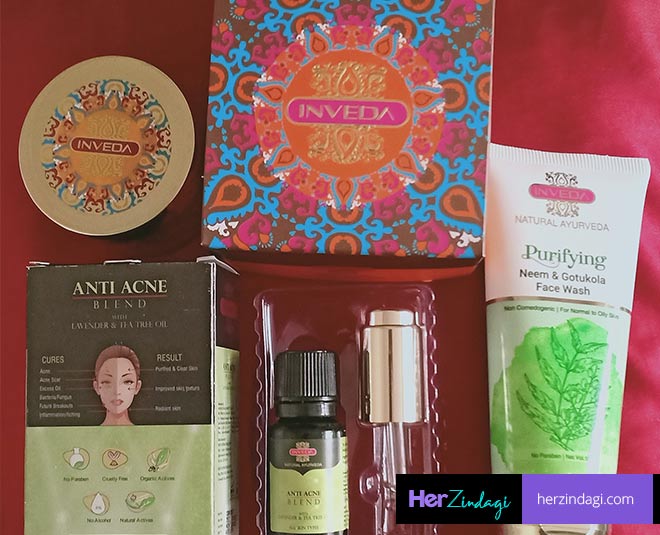 The packaging of the products is neither too simple nor very fancy but it looks pretty on your dressing table and clean and fresh on the sink vanity. The Neem & Gotukula face wash comes in a white tube and has a golden plastic cap.
The Anti-Acne Blend comes in a dark face oil glass bottle and a plastic cap, along with a golden capped dropper to make the application easier for you.
The Healing Day Cream comes in a jar with orange and brown labelling. The jar comes in a cardboard box with a pretty design and emboss work on the top that you want to possess.
Fragrance/ Consistency
The face wash has a medicinal fragrance but it is not at all over powering. As for the consistency, it is gel-like and a bit runny, more like one thin string.
The anti-acne blend oil has tea tree and lavender oil so a fragrance is inevitable.
The consistency is that of a thin oil so it is not heavy or sticky.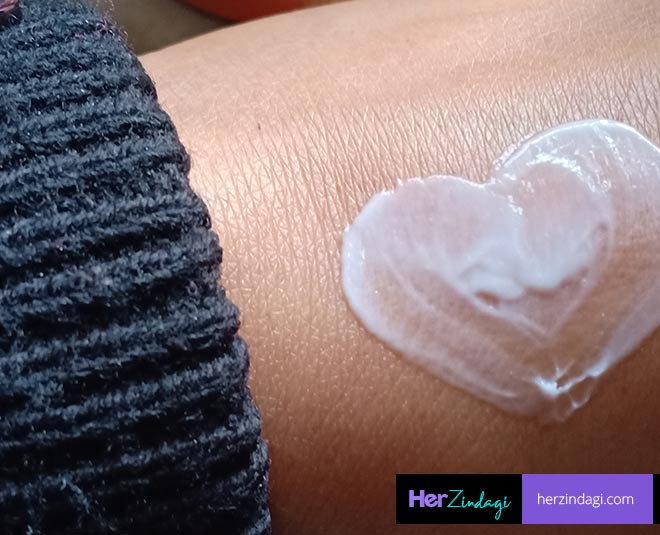 The Healing Day cream is a soft cream that spreads easily but it has a strong fragrance. The consistency is like that of a light lotion perhaps.
Price
The entire kit is priced at Rs 750 for a 100 ml face wash, a 10 ml oil blend and a 50 ml healing day cream.
Don't Miss: HZ Tried & Tested: Renee Cosmetic's Skin Repair Combo Detailed Review
My Experience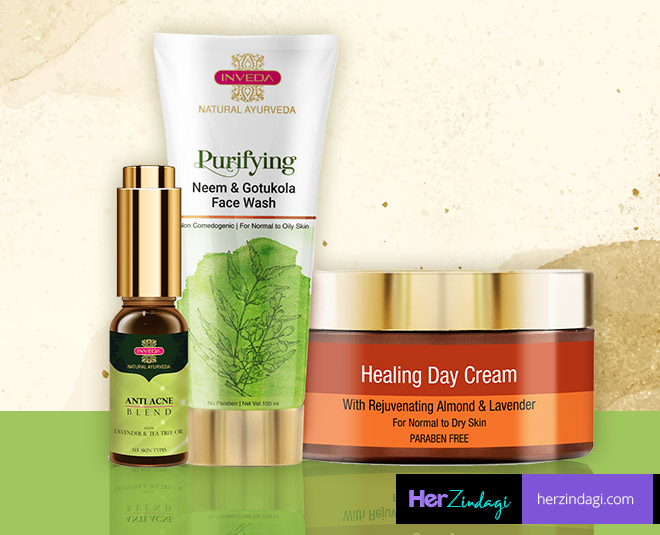 My sister has a major acne issue for which she has tried many treatments so far. Getting good products in the market is not that easy and neither does she experiment much but this time when she got her hands on Inveda kit, to my surprise she gave it a try and for once has no regrets. The face wash does not fry out her skin and the oil works wonders! She uses it every evening once she knows she does not have to step out of the house.
Next, she uses the day cream in the morning since it sorts out her winter skin issue as well. She has been using this combo for a week and the progress is surprisingly remarkable. One of the reasons why she gave it a try was the fact that it is an organic and paraben-free product.
Pros
Effective but takes its sweet time since it has natural ingredients
Affordable
Good Quantity
Organic
No parabens
No alcohol
Vegan
Don't Miss: HZ Tried & Tested: Urban Color Age Redefining Night Cream Detailed Review
Cons
Fragrance might be an issue for some.
My Verdict
My sister loves this kit and she was happier with the fact that it is so affordable! Since I have migraine issues, the fragrance of lavender is not what I would look for but if you want something that does the job then go for it! You don't have to smear a lot, just dab it in with a light hand.
Rating
4/5