Most of our lifestyle today needs some extra care and this is so many skincare regimes have come into play. The most famous one which is ruling the world in a sense is the Korean regime which has a number of steps involved but can be tweaked as per the time of the day and the needs of your skin. If you are someone who loves makeup and does it even at home while we are all on work from home or your job requires you to have some layers on then your skin definitely needs a good prep and a post prep. I am definitely one of those girls and my eye makeup is generally very heavy and I cannot go with a lipstick on my pout even at home because yes I miss going to the office and getting ready every day. So, I gave a try to actress Aashka Goradia Goble's Renee Cosmetic's Skin Repair Face Oil combo and here is a detailed review.
Claims
The brand claims that the combo of non-sticky & non-greasy mix of oils suits every skin type. It is perfect to prep the skin before make and recover after makeup and ideal for your day-night skincare routine.
Main Ingredients
Renee Texture Fix (Post Makeup Oil)
This oil has poppy seed oil, rice bran oil, rosehip fruit oil, macadamia ternifolia seed oil, sweet orange peel oil, rosemary leaf extract, fragrance as some of the ingredients.
Renee Glass Glow (Pre-Makeup Oil)
This oil has ingredients like coconut oil derivative, blackcurrant seed oil, unsaponifiables, hemp seed oil, neroli oil, olive oil, perfume among others.
Packaging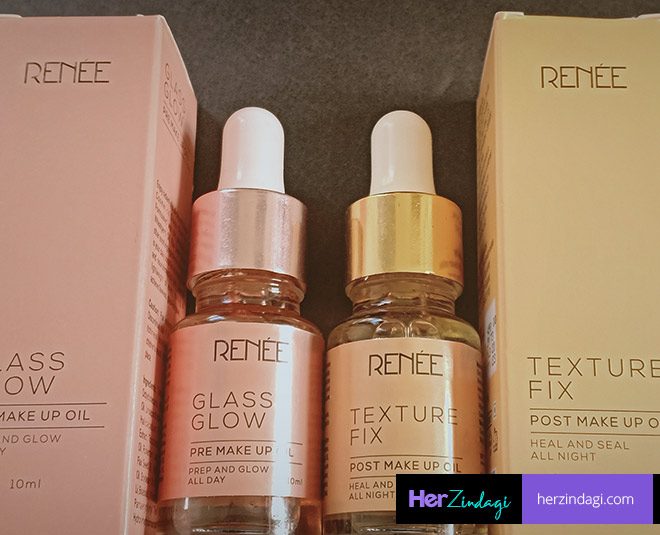 The packaging of the oil combo is rather simple and elegant when it is kept on the dresser. It comes in a simple black box with two boxed bottles.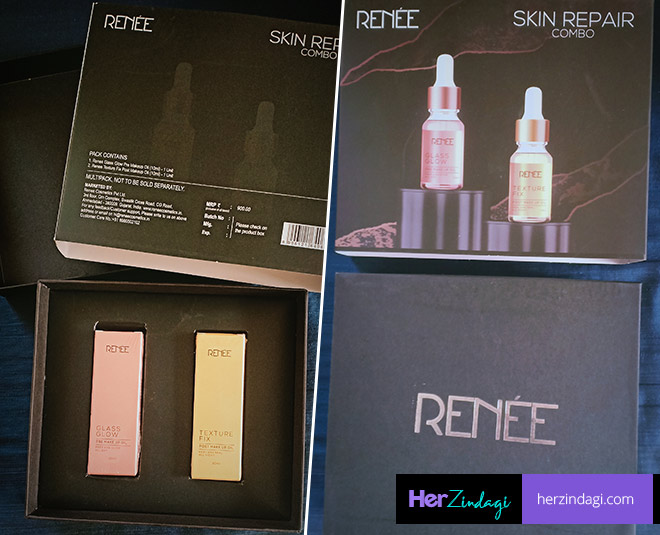 While the post makeup oil has a golden finish, the pre-makeup face oil is rose gold and peach. The bottles are in the cardboard box and are transparent so that you can see how much product is left with lovely colours of the liquids visible.
Fragrance/Consistency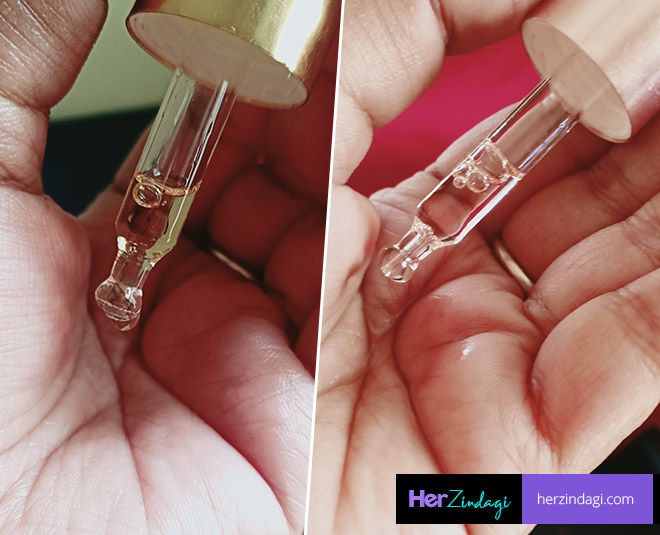 The oils have added perfume and fragrance but are not very over powering. It is a thin oil but a little goes a long way.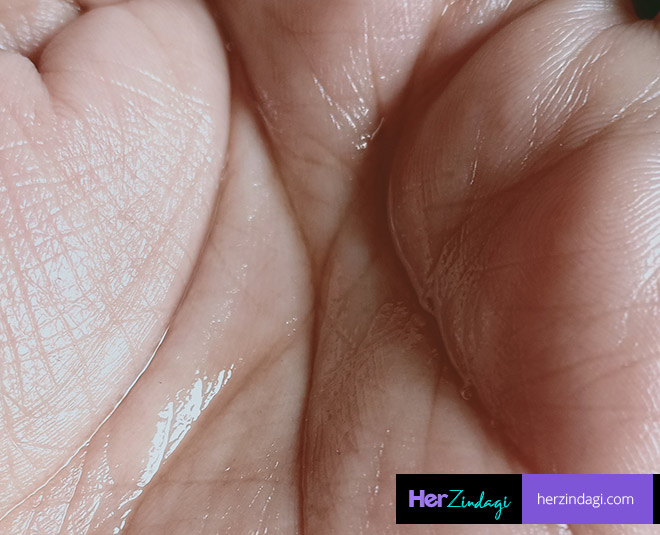 When you put a few drops in your hands of both the oils, you do see the colour of the two but it is very subtle. It is transparent indeed.
Price
The combo of Renee Texture Fix and Renee Glass Glow is of 10ml + 10 ml and costs Rs 900.
My Experience
I have a fixed skincare routine for morning and as well for the night time. A face oil is a must for me as I have very dry skin. I had been using just one oil for both the time but when I got my hands on the lovely skin repair combo by Renee, I had to give it a try and I have no regrets. The bottles at first looked very small but when I started using them, I realised that they will last me for atleast a month or two given that I have a small face and I need just two small drops.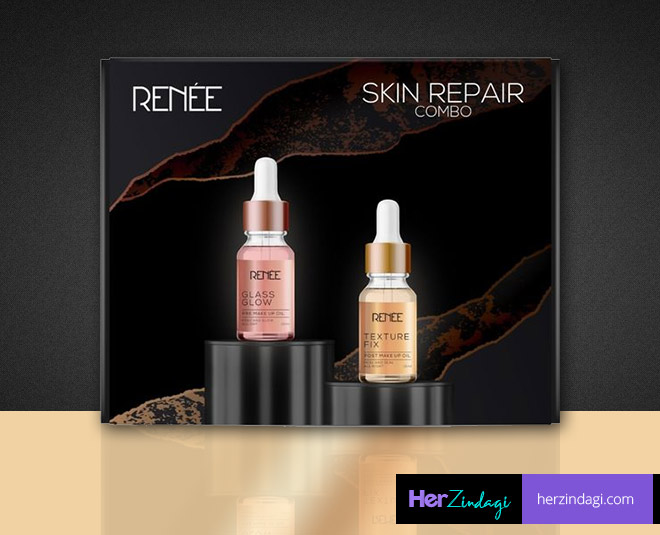 I generally apply the oils on moist skin so that seal in more moisture and gives the oils more scope to seep in surprisingly. This was a tip given to me by my aunt who is a dermatologist and "bade log kabhi galat rai nahin dete" indeed! The fragrance of both the oils is very pleasant. I have migraine as I always make this point clear in all my reviews and I am vary of all products. This created no issues for me so tick check for this point. Now for the seep in time, the oil takes 10 minutes to soak in especially if you have applied on moist skin. Do not step out of the house with the layer still gleaming and wet on touch. The glow comes but you have to apply sunscreen when stepping out or if you sit with your curtains open.
Don't Miss: Ultimate Guide to Lose Face Fat With 21 Home Remedies, Easy Workouts
For the night routine, just wash your face properly, taking off all your makeup and then apply the oil. Wait for a few minutes and let it soak into your skin and then you can sleep with your eye mask on.
Pros
Nongreasy
Very light
Ingredient list is visible and is full of goodness.
Affordable
Simple packaging
Hydrating
Travel friendly
Cons
The fragrance might be an issue for some people and those with sensitive skin must do a patch test before going full throttle with the usage.
Don't Miss: Exclusive: Aashka Goradia Believes That 'Makeup Is A Woman's Best Friend'!
My Verdict
I have been using this oil for a week and I have no complaints. My dry skin is very happy with the two oils and I do plan on buying another combo for my friend for her upcoming birthday.
Rating
4.5/5