This pandemic has certainly taken a toll on our minds along with our physical health. We have been faced with much more stress than we had been used to previously. Sometimes, by the end of the day, all we want is a relaxing spa. While there are so many ways to recreate a spa experience at home, who has the ingredients?
We understand your situation which is why we have come up with a full-fledged plan to help you recreate an entire spa at home, with just one main ingredient- Himalayan Pink Salt!
Why Is Himalayan Pink Good For Skin?
Image Credit: images.squarespace-cdn
Himalayan pink salt is known to reduce irritation and redness on the skin.
It has also been acknowledged that it helps with reducing inflammation as well.
It works as a great exfoliator and rids the skin of the dead skin cells, making it look youthful and fresh.
It has also been noted that Himalayan pink salt makes a great toner due to its detoxifying qualities and draws out toxins from the skin.
How To Make A Full-Fledged Spa With Himalayan Pink Salt
Foot Scrub
Image Credit: ecolivingmama
One of the first things that they do when you go for a full spa treatment is making your feet feel free from all their dead skin cells. A good 15 minutes massage with a nice and refreshing scrub not only makes your feet bright and rejuvenated but it also gives you a relaxed feel. To make this foot scrub, all you have to do is take one cup of Himalayan pink salt, add ⅓ cup of coconut oil and 15-20 drops of your favourite essential oil. If your salt is too coarse, grind it for a few seconds and then your scrub is ready! Apply the scrub on your feet and gently rub them for 10-15 minutes. Put them in hot water and your feet will feel very special!
Bath Salts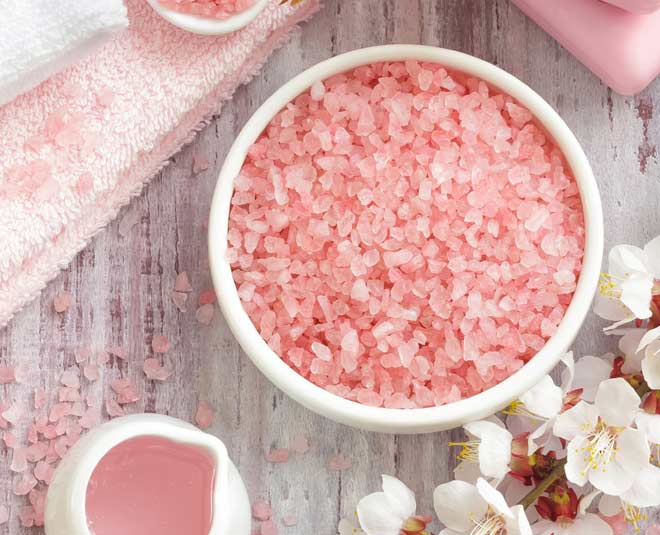 Image credit: bathbodybeyond
Right after your foot has been pampered, it's now time for your body to feel the love. Prepare the most relaxing bath salt with the help of Himalayan pink salt in just these simple steps. Take ½ cup of Himalayan pink salt and ½ cup of Epsom salt. Add a teaspoon of lavender oil or any other oil of your choice. Mix all of this together and add these salts to your bath of warm water and relax your body and mind!
Don't Miss- Mira Kapoor's 1 Minute Makeup Routine Is So Easy To Follow
Toner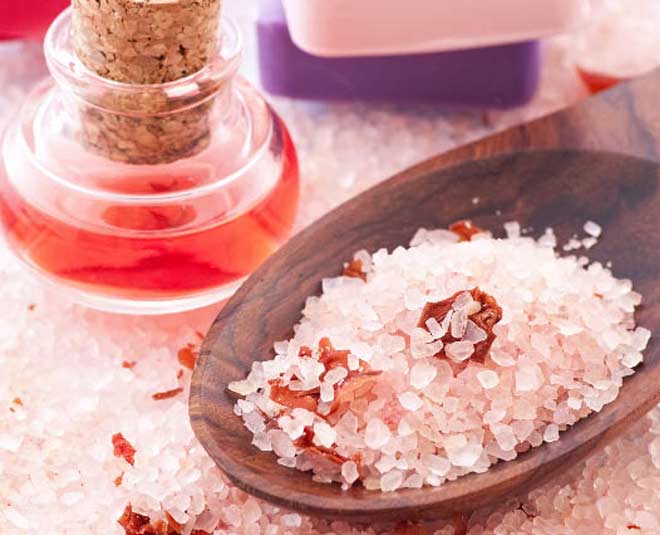 Image Credit: cdn.energymuse
End your spa by spraying toner on your face. To make a toner with Himalayan pink salt, take a cup of water and add ½ teaspoon of Himalayan pink salt and ½ tablespoon of coconut oil. Mix them well. Now transfer this liquid into a spray bottle and use this mix to tone your face right after cleansing.
Don't Miss- How To Make Reusable Sheet Masks At Home
Face Mask
Being a natural exfoliator that it is, a face mask made of Himalayan pink salt is great for the face as well. Mix ½ teaspoon of Himalayan pink salt with two teaspoons of honey and one tablespoon of coconut oil. Mix it well and apply it to your hands first to check for irritation. If it does not irritate your skin, apply it on your face. Gently rub in a circular motion and keep it away from your eyes. Now, wash the face pack off with warm water after 3-5 minutes to get bright and lively skin!
We hope you liked reading this article. If you wish to read more such articles, stay tuned to HerZindagi!