Being locked down at home has made us all extremely involved in taking care of our mind and body. We have all started to indulge in self-care. When it comes to skincare, the two products that we all have been using, irrespective of our differences are rose water and aloe vera gel. This is because both these products soothe our skin and make it relaxed. Before we get to making this skin-soothing product, let us know the benefits of the star ingredients.
Rose Benefits For Skin
It helps to control the excess oil of the skin and maintains its pH balance.
In case of acne, or skin irritability, rose water is helpful in calming the skin down and reduce the redness.
It is also a great cleanser. It helps rid the skin of all the accumulated dirt.
Apart from being a fantastic cleanser, rose water can also be used as a toner.
Aloe Vera Benefits For Skin
Aloe Vera gel is very effective when it comes to soothing the skin at times of blemishes. Along with relieving the skin of irritability, aloe vera gel also rids the skin of redness, itchiness and rashes.
It can be applied over sunburns.
Another well-known benefit of aloe vera gel is its stretch mark lightning properties.
It exfoliates the skin and leaves a hydrating impact.
Make Aloe-Rose Gel
Image Credit: mysimpleremedies
Now that we know that both aloe vera and rose are beneficial for our skin, let us learn how to make this gel!
Ingredients Required
5-6 Fresh Roses
5 tbsp Rose Water
Grinder
Sieve
10 Tablespoons Aloe Vera Gel(preferably natural)
2 Vitamin-E Capsules
Read More On Skincare- Pamper Your Skin With Homemade Rose Water Ice Cubes
Procedure
In a blender, add the petals of the fresh roses. Make sure you do not add the stem or leaves.
Instead of water, add rose water. Blend well till a thick paste is formed.
Sieve the paste into a bowl properly and make sure all the rose water is extracted. (do not throw away the solid remains, instead use it for making other self-care products).
Add the aloe vera gel in the bowl of rose water spoon by spoon. Make sure the two combine well.
Once the gel looks like it has combined, add the vitamin E and give it one final mix.
Note- If you are using the aloe vera gel from a fresh plant, you can blend it first before combining it with the other ingredients.
Learn How To Make Makeup Fixing Spray - Make Your Own DIY Makeup Fixing Sprays At Home
How To Use Aloe Rose Gel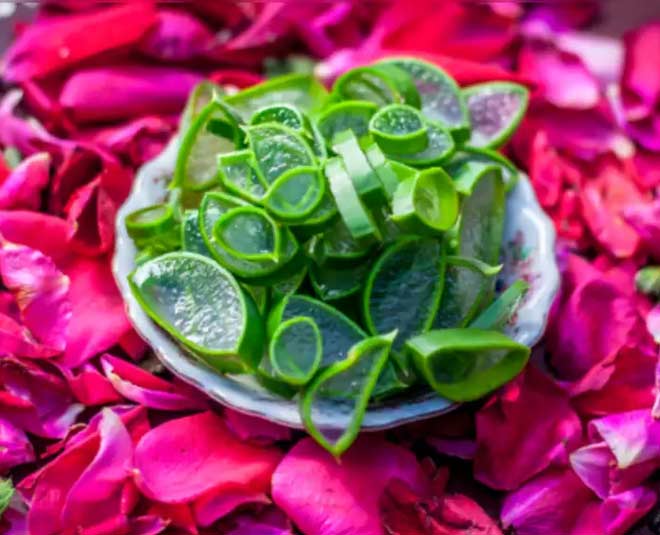 Image Credit: static.toiimg
Store the gel in a cool place. It is advisable to first apply it on your neck/hand and see if it causes any reaction. If not, you can go on and apply it on your face! This gel will live for at least a month. You can either apply it on your face before sleeping or after bathing in the morning. In either case, make sure you have washed your face before so there is no excess oil or dirt. This gel will not only soothe your skin but also give it a natural glow(read more on gel moisturisers) that people wear all kinds of makeup to achieve!
If you liked this article, stay tuned to Her Zindagi for more content on body care!