We all wish to achieve beautiful and graceful-looking skin that is healthy and radiant but it really becomes challenging to keep at it. The results of market-made products are not at all satisfying and neither are those of the things we do using home ingredients as market-made products are simply not efficient enough and are chemical laden and home remedies, we are hardly able to follow regularly. So, here we are to tell you about a super effective and strong solution for your problem- rose petal powder. Check out how you can make it at home and pave your way to beautiful skin.
How To Make Rose Petal Powder At Home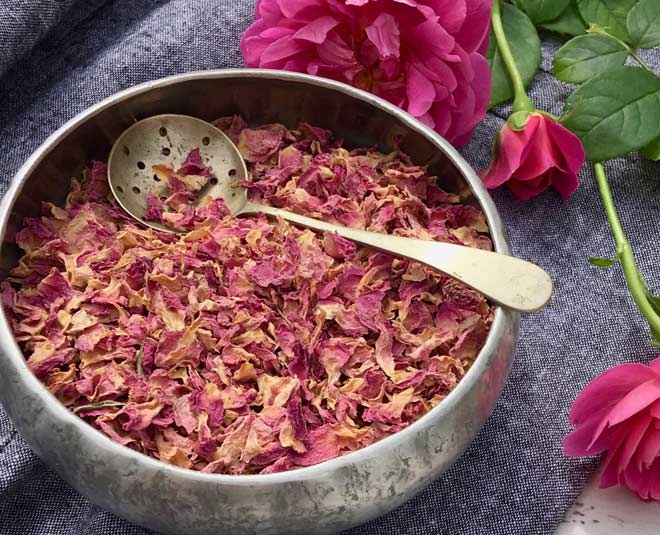 To make rose petal powder at home you shall need 10-15 roses.
Remove the petals from the roses and place them in a bowl.
Wash the petals nicely to remove any dust or dirt particles trapped in them and spread them on the tray.
After this, leave them in a safe place to let them dry for about 4-5 days.
Remember not to lay the rose petals under sunlight as it will dry out all the moisture in them and we don't want that to happen.
Once the leaves are dry, take them in small quantities, grind them in the mixer jar, and store them in a bowl.
Repeat this for all the leaves and once you have powdered them all transfer the contents of the bowl and grind them one last time nicely in order to avoid petal chunks.
Store this in an air-tight jar at room temperature.
Benefits Of Rose Petal Powder
Rose is considered to be the queen of flowers since it is filled with strong nutrients along with a beautiful smell. The flower is enriched with skin-boosting agents that provide a natural glow to the skin. Further, the rose is known to have proteins that especially, as a part of its primary functions, moisturise and nourish the skin.
The dried rose petals that are crushed to form powder have all the vitamins and minerals intact and can this give you a boost in your skin health in a wholesome and long-lasting way.
Rose Petal Powder Face Cleanser
Women love using rose petal powder because it is hassle-free, safe, and easy to use. Once you have your rose petal powder ready, make the following face cleanser and mask with it and use it once in a week for that rosy pink radiance on your face.
Ingredients
Method
Take a bowl and add all the ingredients to it one by one. Use a stick or a spoon to make a proper lump-free mixture with this.
Store this in a glass jar and refrigerate for 2 hours, mix well and then apply evenly on the regions of your face.
Let the cleanser dry and then wash it with cold water, massaging the face in a circular motion.
Rose Petal Powder Face Mask
Ingredients
2 Tablespoons Of Coconut Oil
5 Tablespoons Of Rose Petal Powder
1 Tablespoon Of Lavender Oil
1 Tablespoon Curd
Method
Take all the ingredients in the above-said quantities and mix them together. Once a consistent mixture is formed then wash your face and pat dry.
Apply the mask evenly all over your face leaving out the eyes.
Leave the mask on for about 15 -20 minutes and then wash it off with cold water thoroughly.
Spray over some rose water to tone and moisturise the skin and you will be done.
Don't miss: Make Face Masks With Natural Flowers For A Beautiful Glow
Do you like trying natural ingredients for your skin? How well do you think they work? Let us know by commenting down below and stay tuned to Her Zindagi for more such beauty tips, recipes, and more.