Having A Hard Time Blending Your Foundation? These Techniques Will Help You!
Does your foundation leave harsh lines behind? You're probably not blending your makeup properly! Here's everything you need to know about blending!
Finding the right foundation shade is an extensive task for sure, but finding the right technique to blend your foundation is something we can help you with. How to blend your foundation to give you a flawless finish is something all of us have been finding for all this while.
Having the perfect canvas is what we are looking for! To attain the perfect foundation finish, every skin type must use a different technique to ace that base!
Blending Your Foundation Using Your Fingers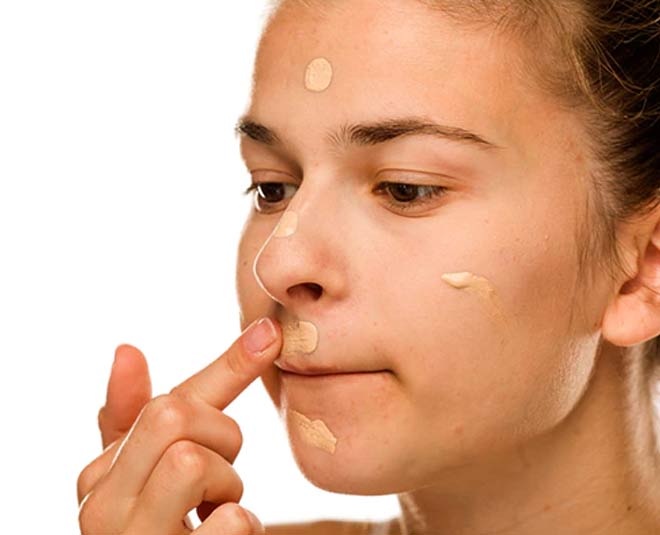 At times, the only applicator with us is our fingertips. Fingers can't achieve the ultra-smooth blending that a sponge or brush creates. But if you use the same upward-sweeping strokes and light pressing motions, your foundation will look just fine. Resist the urge to rub the product into the skin, as your foundation will smear and appear unnatural.
Using your fingers to apply your foundation should ideally be a technique that should be followed by women who have delicate and acne-prone skin. It will help warm up your foundation, target sensitive acne patches gently and cover up those pimples, marks, and scarring on your face more effectively. It's always safe to use your clean fingers instead of brushes and sponges that may breed bacteria and trigger more acne.
Tip: Do not forget to apply foundation to your neck as well!
Blending Your Foundation Using A Beauty Blender
The egg-shaped product has been quite a thing! We have been using it for all the right reasons!
Sponges are more similar to the surface of your skin than brush bristles, and they can deposit product more evenly. You can apply foundation directly to your skin, or add the layer using your sponge. Keep in mind that you'll lose more product to the inside of the sponge with the second method.
Gently press and buff foundation into the skin in an upward motion. This will help the product lay beautifully on the skin. Using the same sweeping/dabbing motions you would use with a brush will only smear the makeup on the skin.
Read More-4 Matte Foundations You Must Try
Blending Your Foundation Using A Makeup Brush
The idea of using a makeup brush to apply your foundation is to allow broad strokes to cover your face evenly, at a much quicker pace. While using a brush, you still need to be careful of the technique you put into use as it requires determination and time. There are two types of brushes that allow you to spread your foundation all across your face.
Flat Brush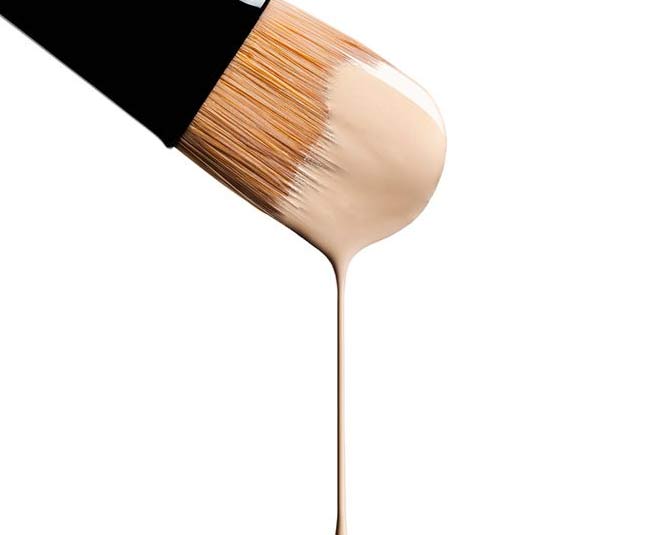 A flat brush ensures quick and easy access to all areas of your face that require the layering of your foundation. You can pump about a pea-sized amount of foundation onto the brush and swipe it across your face as required. A flat brush is generally made out of synthetic hair as the synthetic bristles don't contain cuticles, they are less absorbent, and won't soak up too much product – making them ideal for liquid or cream products.
A flat brush will help you reach all parts of your face while evenly applying a layer of foundation. Using a flat makeup brush is more or less like using a paintbrush on a wall. You need to consider your face as a canvas for the same.
After applying a sufficient amount of foundation to your face, you can go in with a dab-dab motion using the same brush. The same motion can also be used while applying the foundation to your face and neck.
A flat brush, if used in a stippling motion, can give you an airbrushed look!
Using a flat brush to apply your foundation is a technique that is recommended for women with normal to dry skin. It also works well to cover redness and rash which are common issues with sensitive skin types.
Read More-Difference Between Foundation And Concealer
Kabuki Brush
A kabuki brush has tightly packed bristles that buff out the product, so your foundation is evenly blended and doesn't slip throughout the day.
You can use the dab or swipe motion to blend in your foundation using a kabuki brush to combat shiny t-zones and get a flawless finish. The brush will help in creating a natural finish to your foundation! It is a well-recommended product for women with oily skin types.
You can also use a kabuki brush to apply a layer of loose powder!
Did you find the perfect technique for yourself? Connect with us over our official Instagram account and drop in a comment. Stay tuned to HerZindagi for more tips and tricks!