Dandruff is a common hair problem that has bothered us all at some or the other point. It basically affects the scalp's health, causing loose white flakes. Dandruff mostly happens during the winter season, because of the lack of moisture, further making the scalp dry and flaky.
Normally, the winter dandruff does not stick to the scalp and that's is called loose kind of dandruff. When suffering from this, here are some of the simple things you can do at home to get rid of it:
Hot Oil Therapy
One of the best things you can do is try the hot oil therapy, a useful home treatment for the prevention and control of common dandruff. It has some significant benefits, such as relieving dryness and preventing dandruff from clogging the pores of the scalp.
Steps
Take ½ cup of olive oil, and heat it on stove or microwave.
When the oil is lukewarm, take a ball of cotton wool, dip in the oil and rub gently to dislodge the flakes.
Then take a towel, and dip it completely in lukewarm water.
Squeeze and wrap the towel around the head. Keep it on for 5 minutes.
Repeat this for 3 or 4 times to help your hair and scalp absorb the oil better.
For better results leave the oil on overnight and remove it using lemon juice the next morning.
Apple Cider Vinegar
When suffering from dandruff, it is a must that you wash your hair more often. Not up to the point where you start damaging the hair follicle and scalp, but at least two or three times a week. Also, don't use way too much shampoo to do so. Less shampoo and more water rinse is recommended. Best if you can use a mild herbal shampoo.
Also, try using apple cider vinegar before 30 minutes of shampooing your hair.
Steps
Take 2 tablespoons of apple cider vinegar and massage it lightly into the scalp using your fingers.
After shampoo, add two tablespoons of the vinegar to a mug full of water and use as your last rinse.
Baking Soda
Another simple home remedy is using bicarbonate of soda, or as we commonly call it, the baking soda. You can use it to massage the scalp.
Steps
Take 1-2 tablespoons of baking soda, apply on the scalp and leave it on for 5 minutes.
Lastly, wash off well with water to discourage fungus.
If you don't have baking soda, use salt to rub the scalp gently to dislodge flakes and clean the pores.
Lastly, wash well with water.
Rosemary Essential Oil
Not just this simple kitchen ingredients, but a beauty oil, the rosemary essential oil can also be effective in getting rid of dandruff.
Steps
Take 5 drops of rosemary essential oil and add it in 50 ml of rose water.
Mix both well and keep in a glass bottle with a tight-fitting lid. Apply the mixture on the scalp after shampoo. Use a ball of cotton wool to do so.
Leave it on for your scalp for at least 5-7 minutes. Remember essential oils should never be used by themselves, that's why you must mix it with rose water.
Fenugreek Seeds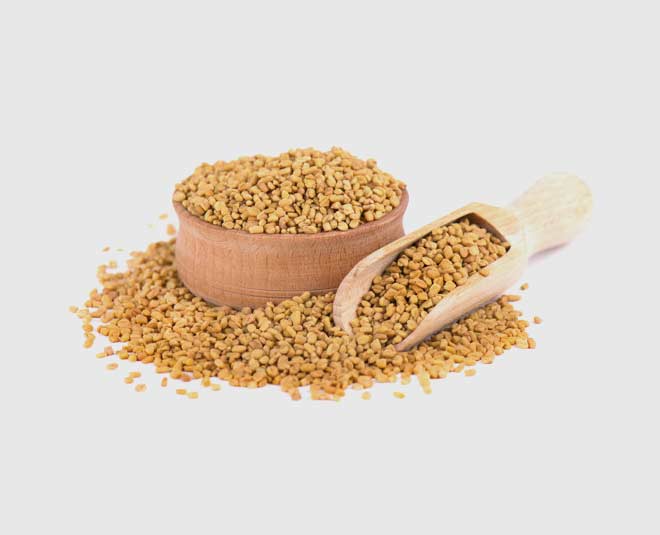 Fenugreek seeds probably is one of the best natural elements to bid adieu to problems related to hair.
Steps
Begin by grinding 1 tablespoon of methi seeds coarsely.
Soak it in two cups of cool water and leave it overnight.
Next morning strain and use the water as a last rinse.
Neem Leaves
For treating fungal infections, you need something that has antibacterial and anti-fungal properties. Something like neem leaves, to remove dandruff from the hair.
Steps
Start by adding two handfuls of neem leaves to 5-5 cups of hot water. Let it stand overnight.
Next morning, strain the liquid and use it to rinse the hair.
This remedy is great to relieve itchiness and keeping the scalp free from infections (feminine hygiene tips to avoid infections).
If the dandruff condition has become severe, make sure that the combs, brushes, pillow covers and towels are washed daily, in hot soapy water. You can also add a few drops of an antiseptic solution in it.
When it comes to your diet, consuming fresh fruits, raw salads and sprouts (why to eat sprouts everyday) can help in proving better nutrition to your scalp and hair. Don't forget to drink 6 to 8 glasses of water daily, alongside the juice of the lemon in a glass of water in the morning.
Don't Miss: Acne Prevention: Here Is How You Can Prevent Acne From Ruining Your Skin
A world-renowned beauty expert, Shahnaz Husain is known for giving amazing beauty tips and remedies. If you want more suggestions, stay tuned to HerZindagi for such remedies from her.