Massage with oil has been considered very important for the body, hair care and general well-being since ancient times. It is now believed that massage actually has an uplifting effect on the mind. Not only this, pampering the body with wholesome oils can promote metabolic and chemical changes, further healing and making sure of the general well-being.
We realise the benefits of massage with oil for the skin and hair, especially in winter, as it is a way of supplying the body with the emollients and nourishment that it needs. In Ayurveda, the multi-beneficial sesame seed (til) oil is popular for massage.
But this is not it, the ancient system also suggests selecting a particular oil for the body according to different seasons. For instance, olive, coconut and sunflower oils are considered more beneficial during summer, whereas, almond and mustard oils are great for winter. Read on to know in detail how every particular oil is likely to enhance your hair, body and overall health!
Sesame Seed (Til) Oil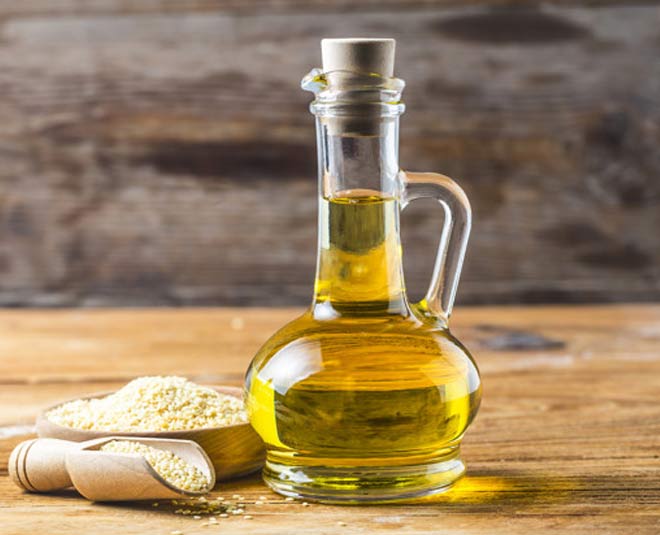 One of the most healthy oils, the sesame seed oil used throughout the year. This is because it is extremely light in texture, is odour free and gets easily absorbed by the skin. Besides this, the oil also has an amazing nutritional value which doubles its capacity to heal.
As per a few studies, the oil is packed with natural sunscreen properties of SPF 6. Therefore, it is also great to soothe sunburn, alongside giving you benefits of vitamin E, minerals, protein and lecithin.
Olive Oil
Known to be one of the most expensive oils, the olive oil has garnered popularity for also being extremely versatile. It can be used for body massage, to soften the skin and to provide nourishment. And it can also be consumed because it is very healthy when paired with other food items.
It comes with many vitamins and minerals, besides having a great amount of antioxidant. The antioxidant in it helps to prevent oxidation or free radical damage and degeneration. All this is caused by exposure to the sun and chemical pollutants.
Not just adults, olive oil is also considered amazing for babies, as it can be used to massage a baby's tender skin. Babies also develop a scaly condition on the scalp, called "cradle cap." While it is not supposed to be pulled out, all you can do is soften it with pure olive oil. Apply the oil with cotton wool and wash the baby's scalp with a baby shampoo the next day.
Almond Oil
Another great oil for our skin and body is the almond oil. In winters, many suffer from flaky, dry skin. This oil is particularly beneficial for that kind of skin, as it is soothing, healing, lubricating, softening, revitalising and nourishing.
Not just your skin, almond oil is also very nourishing for extremely dry hair (homemade conditioners for dry hair). If you want your nails to have shiny texture, heat almond oil and massage the nails and cuticles with it. For the area around eyes, apply pure almond oil and massage lightly. Let it sit for 15 minutes under each eye and wipe off gently with moist cotton wool.
Don't Miss: Here Is How You Can Do Organic Pedicure At Home
Coconut Oil
Pure coconut oil (benefits of coconut oil) is most commonly used in India. It helps to improve hair texture and is said to promote growth. Oils can also be mixed with various other ingredients and applied on the hair.
Jojoba Oil
Jojoba oil may be used if there is dandruff with loose flakes, as is common in winter. It also benefits a dry scalp. Apply the oil with a light massage and wash the hair after an hour.
Don't Miss: Shahnaz Husain Shares Her Anti Pollution Skincare Tips
A well-known beauty expert, Shahnaz Husain gives away easy and highly effective remedies to enhance your skin, hair and body. For more such articles, stay tuned to HerZindagi.