Pineapple is a fruit with a plethora of wholesome benefits, both for your body and skin. Pineapple acts as a blood purifier when you eat it and applying it to your face will give you a flawless and glowing texture. The vitamin B and C in it can help you deal with dry and flaky skin. It also boosts the production of collagen, leading to wrinkle-free plump skin. Pineapples are also packed with beta-carotene, which quickens the regeneration of skin cells, exfoliates the skin, and the anti-inflammatory properties in it take care of acne and any skin rashes too. If you too want to take advantage of this fruit and want to include it in your beauty regime, here are 5 DIY pineapple face masks for you.
Goodness Of Milk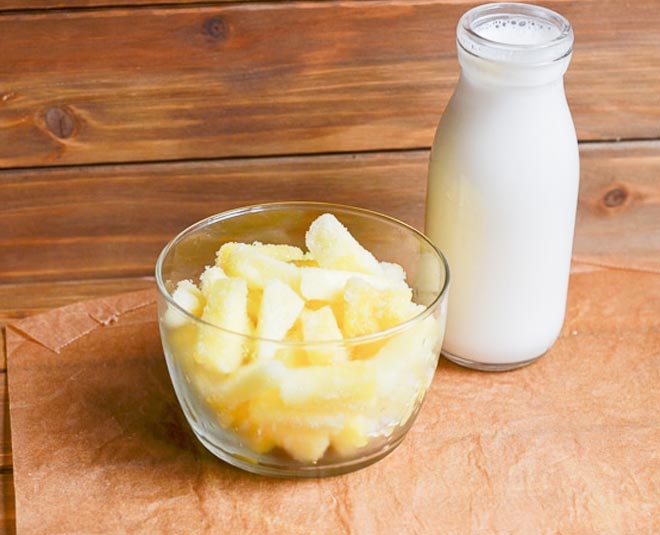 Milk is a natural humectant that attracts moisture and locks it into the skin. That, mixed with pineapple, makes a hydrating and nourishing face pack that you should consider if your skin cracks in dry heat.
How to make it
To prepare this mask, take half a pineapple and mash it. Add 2-3 tbsps of milk to it. Mix to make a paste and apply it over your face and neck. Let it sit for half an hour or so, then wash it off with cold water. Do this twice a week for best results.
Don't Miss- Learn 5 Ways To Use Dried Roses Most Effectively
Besan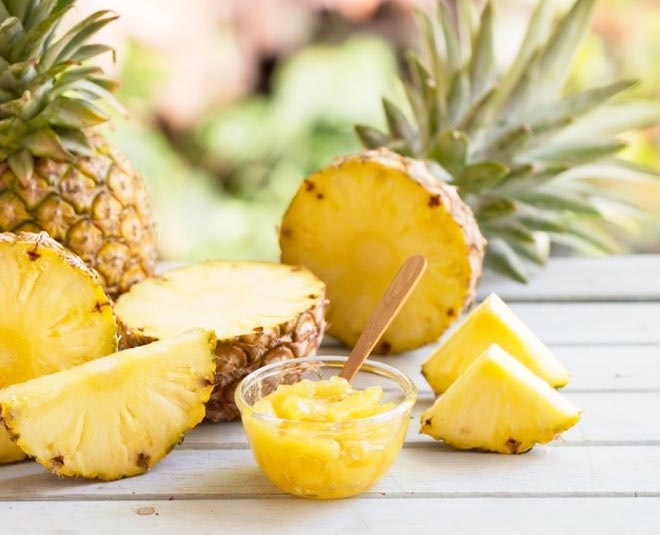 Besan (gram flour) has skin brightening and lightening properties, while pineapple is alkalizing in nature and attracts the toxins that are lodged deep into the skin pores. When combined together, this mask can help you get rid of dark spots, acne, fine lines, and dead skin.
How to make it
To make this pack, mix in two teaspoons of pineapple pulp with two teaspoons of gram flour, add few drops of rose water. Apply the pack on your face, let it dry and wash off with water for brighter and spotless skin.
Green Tea
Tired of that oily skin? Try this green tea face pack! Green tea is rich in antioxidants which help exfoliate our skin, unclogs pores and gets rid of the dead skin and makes our skin supple and shiny. The soluble fibers, potassium and magnesium content in green tea not only work on blood pressure, weight loss and digestion but also work wonders on oily skin.
How to make it
Grind 1 teaspoon of green tea into a fine powder, add some pineapple pulp, few drops of honey and massage the pack on your face and neck for few minutes. Wash off your face with warm water.
Don't Miss: DIY Eye Masks: Use These Natural Remedies To Say Goodbye To Puffy Eyes And Dark Circles
Papaya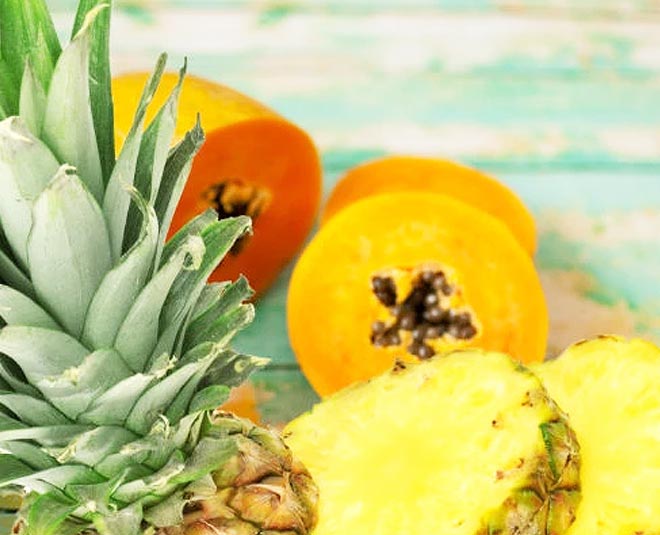 Both pineapple and papaya are loaded with the goodness of Vitamin C. Papaya is also a natural bleaching agent that lightens the skin tone while pineapple is known to moisturize and remove dead skin.
How to make it
Take 4 teaspoons of mashed pineapple and mix 3 teaspoons papaya pulp to it. Mix and massage the paste on your face. Wash off with cold water after 10 minutes. Use this mask daily for achieving naturally glowing skin.
So, not only is pineapple a yummy fruit but it must also be included in your beauty regime. If you enjoyed this article, stay tuned to HerZindagi for more such content.