Face sheet masks are ruling the beauty market these days. These serum packed face masks are available in a variety of different skin types. For those who don't know, let us tell you that this beauty product originated in South Korea and Japan. Today, it is has become popular all across the world.
These face sheet masks are being loved by women everywhere as they have come as a quick and handy way to treat a lot of common skin problems. These face sheet masks come with a serum which helps us deal with our skin problems. First, let's take you through the benefits of adding these face sheet masks to your beauty routine, and then we have a quick guide that will help you use these masks in the right way.
Fuel Your Skin With Vitamin C, Collagen
Our skin needs the goodness of vitamin C and collagen which keep the skin healthy and glowing. However, not consuming the right diet or exposing our skin to polluted air and sunlight too much can make our skin lose all its glow. To get back that beautiful glow, our skin needs vitamin C and collagen. These face sheet masks come with these two ingredients. These ingredients fight the free radical damage in our skin and further treat issues like dull skin, dark spots, and old-looking skin.
Hydrates Skin
When you open a face sheet mask you will see a white liquid dripping from it. These masks are soaked in a serum that hydrates your skin. This makes this mask great for those with dry skin. This serum hydrates the skin from within and makes it soft and smooth.
Detoxifies Skin
Our skin is exposed to so much dirt and pollution everyday and all these things damage our skin. If we stop taking care of our skin then it starts to look dull. An easy way to detoxify our skin is by using a sheet mask. Many sheet masks have detoxifying ingredients present in them which clear all the toxins from the skin and make the skin hydrated and clear.
Don't Miss: Try These DIY Face Masks For An Absolutely Impeccable Skin
Make Your Skin Youthful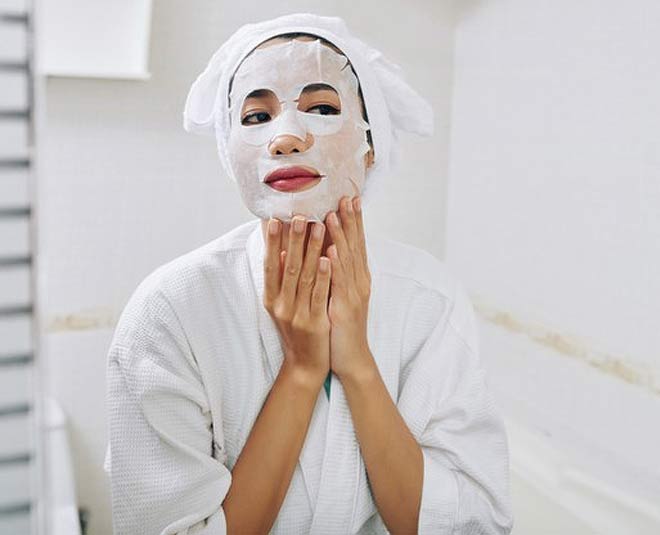 Ageing signs like fine lines, crows feet, and wrinkles make your skin look dull and old. Using a sheet mask with ingredients like green tea or coffee can help in reducing the appearance of ageing signs.
The Right Way Of Using A Face Sheet Mask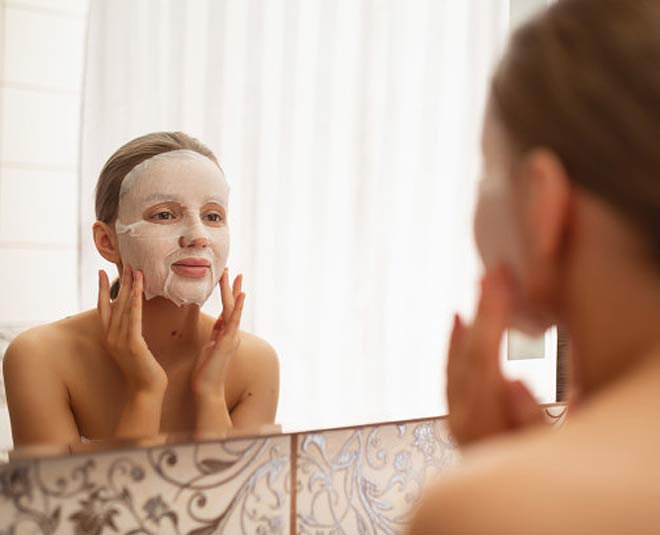 It is really easy to use this face sheet mask if you follow the directions written on the packaging. However, following a few tips can help you get the most out of your sheet masks. Read on.
Begin with cleansing your face. This step is really important as it will cleanse all the dirt and impurities from your face and make your skin ready to soak in all the goodness of the sheet mask. After washing your face with lukewarm water, pat your skin dry and it's ready for the mask.
Don't Miss: Try These Yogurt Face Masks For Smooth And Supple Skin
Place the sheet mask on your face properly to get all its benefits. Make sure that there are no wrinkles on the mask, if there are, try to press them and make it smooth on your skin.
Usually, it is okay to leave the face sheet mask for 20 minutes. Just remember that like any other face mask, this won't dry out, and leaving it for too long can be harmful.
When you take off the sheet mask, you will find a lot of serum still on your face. Using your fingers, massage it gently into your skin. It is best not to use any other product on your face after you use this sheet.
Do try a face sheet mask and share the results with us. For more such stories, stay tuned!
Image courtesy: Freepik