Your beauty kit is incomplete if you don't have a highlighter. Well, it is one product that can instantly add glow to your face. I was looking for a liquid highlighter for a long time and finally chose this light and sheer skin highlighter from Chambor. Did it work for me? Read on to know my detailed review.
Claims
A sheer texture that perfects skin with light-reflecting pearls for a soft, natural glow.Can be applied on its own or blend with foundation for a radiant finish. Ideal for all types of skin and any skin tone.
Packaging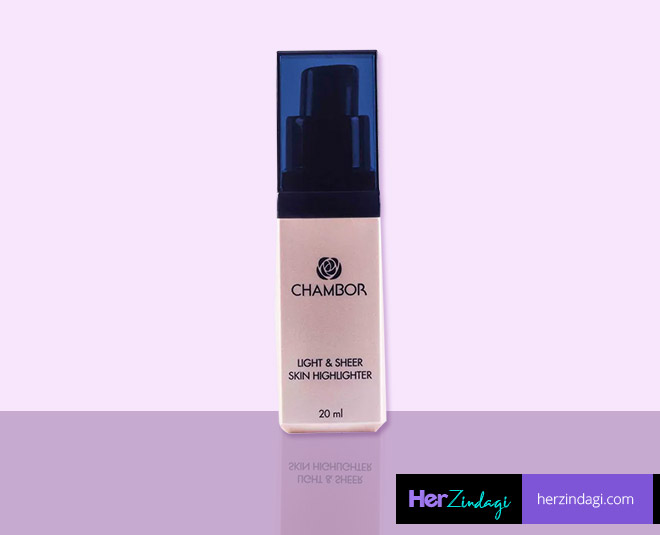 The product comes in a regular blue coloured cardboard box which had all the details written on it. The container is a sturdy plastic one with a pump to take out the highlighter.
Price
Rs. 1345 for 20 ml (You might get it for a discount online)
Colour, Fragrance, And Consistency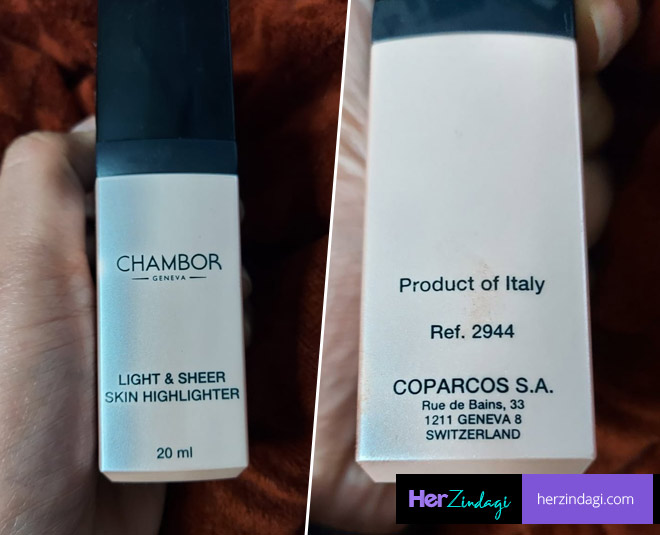 This light and skin sheer highlighter doesn't really have any fragrance which I really like about the product. The consistency is another thing I like because it is very light and blendable. This is how a highlighter should be really.
You don't find this product in multiple colours. It is only available in one shade and it isn't the regular gold or copper shade. The colour is more on the rose gold side so you don't really need to worry about it even if you are wearing it for a day outing. It beautifully blends with your moisturiser or foundation without making your face look too shiny.
Don't Miss: HZ Tried & Tested: Sunset Gold Makeup Revolution Pearl Lights Loose Highlighter
My Experience
I have been using this liquid highlighter for a long time now and can say that this has been one of my best buys in a long time. Let me tell you that it took me days to decide if I should invest in this product but I finally did and I am not regretting it!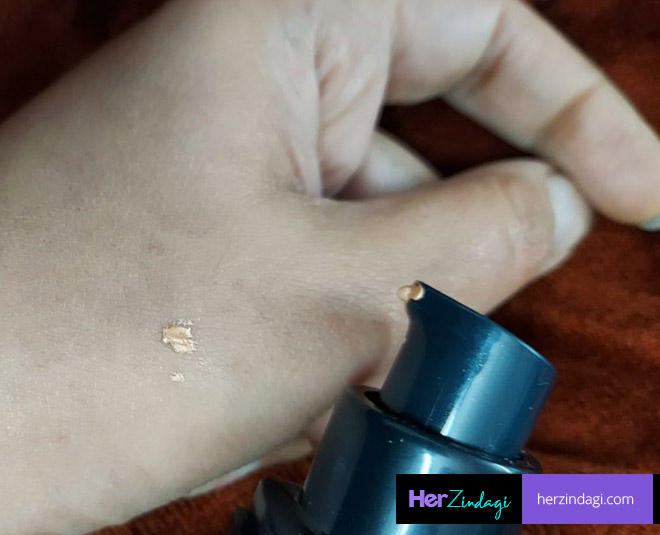 I don't like wearing foundation most days as my skin feels heavy so I mix some highlighter with my regular moisturiser. I place this mix all over my face and neck in small dots. I then massage it well so that there are no patchy areas. Also, I use this highlighter on the key areas of my face for that extra shine like the bridge of my nose, temples, and chin. There are days when I just want the inner corner of my eyes to pop and that's when I use a small quantity of this highlighter. It just works for me!
Pros
Gives a sun-kissed glow
Light on the skin
No fragrance
Little quantity goes a long way
Skin doesn't feel itchy
Long stay
Multiple uses
For all skin types and skin tones
Oil-free highlighter
Versatile product
Cons
Not very affordable
Don't Miss: Here Are 5 Ways You Can Use Your Highlighter While Doing Makeup
Verdict
If you are looking for a liquid highlighter that can help you a lot more than just being a single product then this one is a good pick. Yes, the price isn't as affordable as other liquid highlighters available in the market but the quality does make it a must-try.
Rating
4/5