We all know that bananas are not just tasty and nutritious but they also have extremely helpful in taking care of our skin and hair. What you may not know is that when you mix the banana with its banana flower, the effect is way better! In case you have not been reading the ingredients of some expensive and effective facial oils, hair serums, scrubs, and creams, the banana flower is an integral part of the list. It has so many uses and benefits besides serving as a scrumptious sabzi or snack that you will be amazed! So scroll down and know how the flowers can be utilised.
Hand Care
Banana flowers are often used in making thick hand creams and body lotions. The flowers when combined with other ingredients depending upon your skin type, are said to help hydrate and moisturise your skin. A mash of bananas and banana flowers work well as antioxidant agents that can help slow down the signs of ageing.
Exfoliation
Using walnut and apricots scrub on your face is the biggest mistake you can make as it tears on your thin skin. It is great for the body but nit for the skin. So it is best to use face scrubs which have microbeads or small particles of scrub. Get yourself an exfoliator that has banana flower powder in it. Always apply some all over your face and neck, let it sit for 10 minutes and then rub it in circular motions on your face. It cleanses your skin thoroughly and this way you get to soak in some goodness of the flower which is also known as a superfood.
Don't Miss: Top 4 Chemical Exfoliates In India That Are Safe & Not Harmful Like Physical Exfoliates Or Scrubs
Healing Balm
It is said that banana flowers act as excellent healers when consumed. The ethanol extracts in them help in healing wounds. This cleanses your skin internally and a pat of some moisturising cream with banana flower (paraben-free) smoothens it further.
Anti-Ageing
We know that bananas are said to be great antioxidants which are also known as nature's botox as they help in preventing wrinkles and fine lines. If you have been having the banana flowers as a dish then it is time you use them in your creams as well. You can either make your own by easily grinding them and adding then to a non-perfumed homemade moisturiser or buy one off the counters which have the flower as one of its ingredients.
Hair Care
Dandruff
You can treat dandruff using a pack made out of bananas and its flower. All you have to do is boil the flower, keep the water aside (use it in your tea or face wash), grinding the flower into a paste with banana, add some milk and honey and apply it on the roots of your hair. Let it stay for a while. You can do this at home twice a week but do a patch test on the inner side of your elbow in case it does not suit you. The presence of antibacterial and antioxidant properties in the flower and the fruit will ease down the dryness and work wonders.
Frizzy Hair
When you apply the same pack as mentioned above, as a hair mask, it is said to help in soothing frizzy hair. The high silica content in the combination will be absorbed by your body which will produce collagen, a major contributor when it comes to bouncy and shiny hair.
Hair Growth
Make a paste of the banana flower and mix it with little banana mash. Apply it on the scalp twice a week as the antioxidants in the pack will make a stronger defense and lessen the oxidative stress. Make your hair follicles stronger with a combination of a banana and its flower and boost hair growth.
Don't Miss: Don't Throw Banana Peels, From Cleaning Your Silver To Reducing Acne They Have Lots Of Benefits
Shiny Hair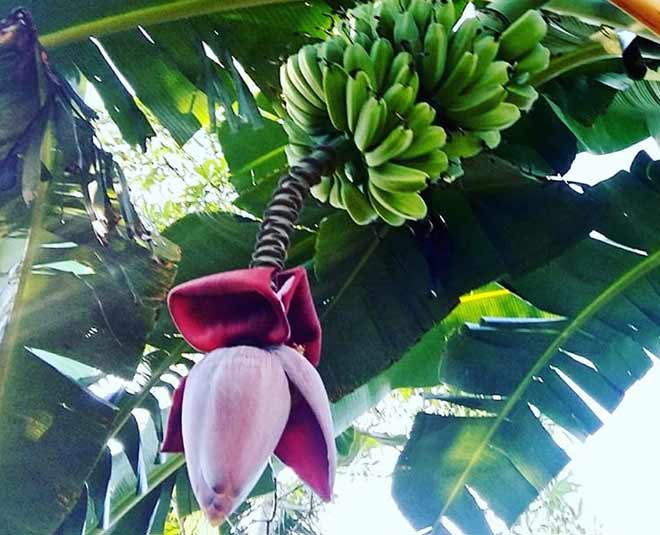 Just like banana packs, all you have to do is utilise the flower of the fruit as well. Keep some for cooking but keep a little for your beauty regime as well. Moisturise your dull hair with it by making a paste of the flower using really little milk and mix it into the banana mash with little coconut oil. This pack is rich in calcium, vitamins, carbohydrates and potassium, which will soften and smoothen your hair. The natural oils in the pack will nourish your strands and give them a healthy shine.
Some of these tips have been tried and tested by myself but it is best to consult a dermatologist to clear all doubts. Before using any natural remedies, always do a patch test as natural ingredients don't suit everyone depending upon the skin type.
Stay tuned to HerZindagi for more such beauty tips.