One of the most controversial reality TV shows, Bigg Boss never fails to surprise its fan. Every now and then there is one thing or the other you will find happening inside the house that has never occurred before. Thanks to the show's unique sets of contestants, who raise the bar and leave the fans wanting for more. Afterall Bigg Boss happens to be everyone's guilty pleasure!
Speaking of twists and surprises, some of the Bigg Boss 14 participants have already given us major reasons to stay hooked to the reality TV show. It has only been a month or so since the show aired and the heat inside the house can be felt through our screens. We are talking about a couple of controversial BB 14 contestants that are making the current season interesting then we thought!
Sara Gurpal
The first contestant to be evicted from the Bigg Boss 14 house, Sara Gurpal blew everyone's mind when she revealed details about her marriage post claiming to be single in the Bigg Boss 14 house. It all started when Punjabi singer Tushar Kumar claimed that Sara tied the knot with him in 2014. He backed his claims with a marriage certificate, wherein Sara's name was mentioned as Rachna Devi.
After this, the first question that comes to our mind is that why didn't he talk about it earlier and why he thought that clearing the air is important now? As per media reports, he made his mind after receiving messages from people on social media about a girl who looks like his wife.
"I was getting messages on Instagram and Whatsapp from people across the globe, while Sara is still claiming that she is not the one who got married to me, stating that the girl who married me just looks like Sara," said Tushar, who also accused Sara of marrying him for fame and citizenship in the USA.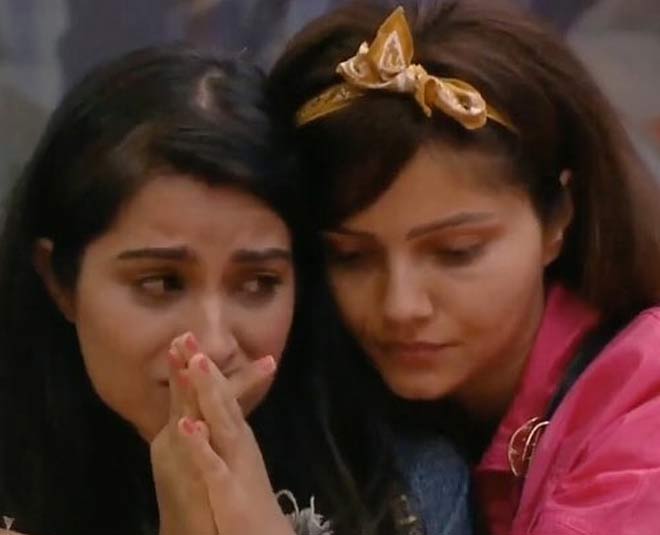 On the other hand, the BB 14 participant stated that her relationship with Tushar was unhealthy and abusive one. She opened up about her marriage further during an interview with IANS. "I think he himself said it, stating that we have been separated for almost four to five years now. It was a really abusive relationship and I think every girl has the right to move on, from something which is not healthy," said Sara.
Eijaz Khan
While most girls are going gaga over Eijaz Khan's smile and chiselled body, a confession by him has made him one of the most talked-about participants in the show. A couple of days ago, he opened up about facing rape charges years ago. The details about the incident were discussed by the actor in 2018 at chat show, JuzzBatt.
"Due to some reasons, she shifted to my apartment and we got into a relationship. But I realised after few months that it was not what I wanted. I started telling her that it was not meant to be. But she got carried away and tried to file a police complaint against me because of which I could not attend Tanu Weds Manu promotions. I had to leave Mumbai for a couple of days because of that," said Eijaz, reportedly.
The case was later withdrawn by his girlfriend after things got sorted out between them. "Yes, we had an ugly tiff which got out of hand. But things have been sorted out now and everything is normal between us. I have gone back to stay with him and it was a normal fight like any other couple would have," said actor's girlfriend, as per media reports.
Pavitra Punia
Seems like no one is willing to talk about their relationship and marriages during the 14th season of Bigg Boss. Pavitra Punia was in a relationship with Paras, who entered the Bigg Boss house last year. However, Pavitra doesn't want him to come back to Bigg Boss house. She went on to say that "if he has even a bit of self-respect and sense left".
Post this, Paras Chhabra has claimed that the actress was married to another man while they were dating, which he was not aware of. Not just this, Paras also claimed he discovered many other 'shocking revelations' about Pavitra.
During an interview with Etimes, the actor talked about the same and said, "Pavitra has rightly said that Paras was her mistake because a married woman can't be dating and fooling me. It was alarming to know this when her husband messaged me and said you both could be with each other as much as you want but only after my divorce with her."
Don't Miss: Reason Behind Pavitra Punia's Breakup With Paras Chhabra And Link-Up Rumours With Sidharth Shukla
He further added that "I confronted her and she agreed, then I got to know one after other shocking revelations about her. I don't want to open my mouth right now. I could be explosive right now, but time will tell and it will show during her stint in BB. If I open my mouth things can go against her and it won't be good. She hid about her marriage from me."
Jasmin Bhasin
While Jasmin has not made any shocking revelations, but her actions and reactions are entertaining her fans without any fail! Last week she was upset about the new rule of 7 luxury items, this week she was spotted losing her cool during a task. In the trailer of an upcoming episode of BB 14, Jasmin screams at Eijaz, "Aap aadmi k naam pe dhabba ho" after a series of fights and arguments.
Don't Miss: Jasmin Bhasin's Top Looks From Her Instagram That Are Sassy And Smart
If you liked this article, do comment on our Facebook page. Stay tuned to HerZindagi to read more such stories.