Bollywood celebs are not new to trolling. Every Bollywood star has been trolled at some point in their careers. While some get deeply affected by these trolls, others just laugh out at them and some don't sit back quite and give a fitting reply to all these trollers who just sit back and write anything to make social media a negative space.
Sonakshi Sinha is one actress who has been mercilessly trolled ever since she made it to the world of movies. When she made her big debut opposite Salman Khan in Dabangg, she was body-shamed really bad.
She was not like the regular Bollywood actresses, we won't say she wasn't fit, she was but according to many, she didn't fit the too skinny category that most actresses fall in.
Sonakshi Sinha was an overweight girl and before making it to Bollywood, she lost 30 kilos. In an interview, Sonakshi Sinha shared, "Jab maine Dabangg ki thi, aapne mujhe usse pehle dekha hua tha. I was very, very big. I was unhealthy, unfit and I lost 30 kgs to do your film and still people found words to say about me, my shape and how I looked."
Like really, do people really know what all it takes to shed those many kilos?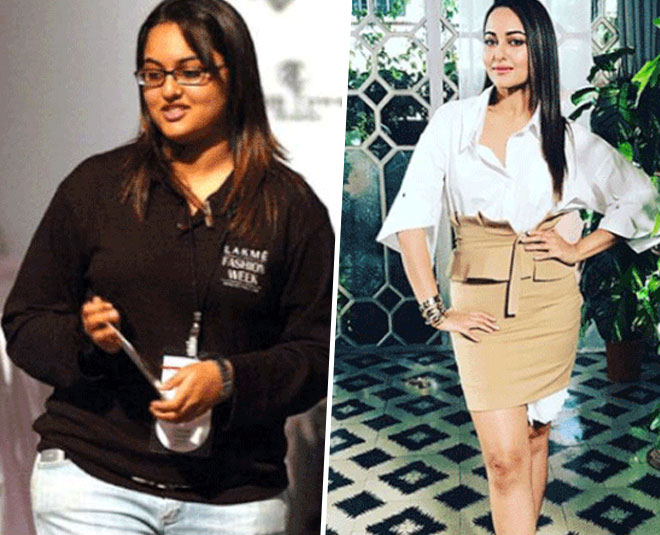 One needs a lot of dedication and hard work to reach where she did. Sonakshi in an interview said, "Tabhi I used to go in the defensive space. Maine itna effort daala hai, I have reduced so much, they have not seen the half of it. They have not seen the effort that has gone in. They have not seen the blood, sweat and tears that have gone in. Still they are talking, so to hell with it. Main jaisi hoon waisi rahungi! Aapko dekhna hai, aap dekho. Aap ko nahi dekhna hai, aap mat dekho."
Today, Sonakshi Sinha took to her Instagram handle and shared her take on body shaming and trolling. In the video, Sonakshi can be seen reading out the mean comments all the trollers have posted on her pictures.
View this post on Instagram
She captioned the post, "Lets talk about the elephant in the room! For years I've been trolled because of my weight. I've never felt the need to react because I always believed i was #BiggerThanThem... pun intended. But on the next episode of @myntrafashionsuperstar I asked the contestants to take to social media to talk about something close to their heart, and I want to lead by example. Is there something you've held back for far too long? Share your #BiggerThanThem story with me and start the conversation! You will not be pushed around because you too are#BiggerThanThem!#MyntraFashionSuperstar #SelfLove #BodyPositive #SayNoToBodyShaming."
Sonakshi calls all these trollers a joke. She shared that she thought after shedding 30 kilos why are these people still trolling her. And that's when she decided to laugh it off! A lot of Sonakshi Sinha's followers on Instagram applauded her take. Actresses Huma Qureshi and Preity Zinta too showed their love for Sonakshi.
Recently, a screenshot of Akshay Kumar's interview to a news portal went viral where Akshay said, "Sonakshi is a wonderful actress who has her own style of acting. She has an absolutely different figure – a typical, Indian figure and not size zero. Khaate peete gharane ki lagti hai. I am a pure Punjabi. I like heroines who are hari bhari. Chusa hua aam na lage."
Don't Miss: Lose Weight Like Sonakshi Sinha Following Her Fitness And Diet Routine
Twitteratis started trolling Akshay Kumar for his statement. Sonakshi Sinha defended Akshay and said, "Firstly, let me start by saying that trolls really have nothing better to do in life, so this is what they resort to. People have to understand that I was heavily body shamed at the start of my career, in spite of having lost 30 kilos, and what Akshay said was probably in response to something on the same lines."
This is true! Sonakshi Sinha has been trolled on different occasions in her 9 year long career in the industry. Sonakshi always has fitting replies for the trollers. Let's take you through times she shut trollers like a pro.
@devikajoshi760 #sonasays pic.twitter.com/SP4TYDAh5u

— Sonakshi Sinha (@sonakshisinha) September 2, 2015
Welcome to twitter. Whr only trolls r allowed to have their say 😂 yep, the only space they shud be takin up in life is the 140 chars here!

— Sonakshi Sinha (@sonakshisinha) September 9, 2015
@Hungrynfool nobodys interfering with u and ur god doofus. Relax. Understand whats been said, then react. Dont blindly follow other idiots.

— Sonakshi Sinha (@sonakshisinha) September 15, 2015
Not her body weight, recently, Sonakshi Sinha was trolled when she failed to answer a question related to Ramayana on Kaun Banega Crorepati. The question was, "According to Ramayana, Hanuman fetched the Sanjeevani herb for whom?"
Sonakshi Sinha was confused and she took a lifeline to answer the question. Soon Sonakshi Sinha started to trend on Twitter. Well, Sonakshi had a fitting reply for all the users who brutally trolled her. Here is what she posted:
Dear jaage hue trolls.I don't even remember the Pythagoras theorem,Merchant of Venice,Periodic Table,Chronology of the Mughal Dynasty,aur kya kya yaad nahi woh bhi yaad nahi. Agar aapke paas koi kaam nahi aur Itna time hai toh please yeh sab pe bhi memes banao na. I love memes 😂

— Sonakshi Sinha (@sonakshisinha) September 21, 2019
Coming back to Sonakshi Sinha's empowering video, it is time that these trollers really stop. Can we not judge an actress on their capabilities? Is body figure the only factor? What's your take? Share with us on our Facebook page.