Rishi Kapoor, who is known for his blunt nature has often been seen losing his temper for one or the other reasons. It seems like he was equally harsh with his son, Ranbir Kapoor. As we went down at an old interview of Ranbir, we realised that the Bollywood's famous father-son duo, Rishi and Ranbir was not always full of love and affection. There was a bit of resentment between the two back then. Not just once, Ranbir has talked about his relationship with his father quite a few times. While speaking to one of the leading media houses, the actor recalled how he was once slapped by his own father over something he did as a child. Despite all, they seem to have come a long way and strengthen their ties now.
Going down the memory lane, the Sanju actor opened up about his equation and anger issues of his father while he was a kid, he narrated how his father once slapped him over something that he did. He revealed that he was just 12-year-old when the incident happened. That day the Kapoor family had Pooja at their home and Ranbir had accidentally entered the house while wearing his shoes. He didn't know that one cannot enter a sacred place while wearing footwear.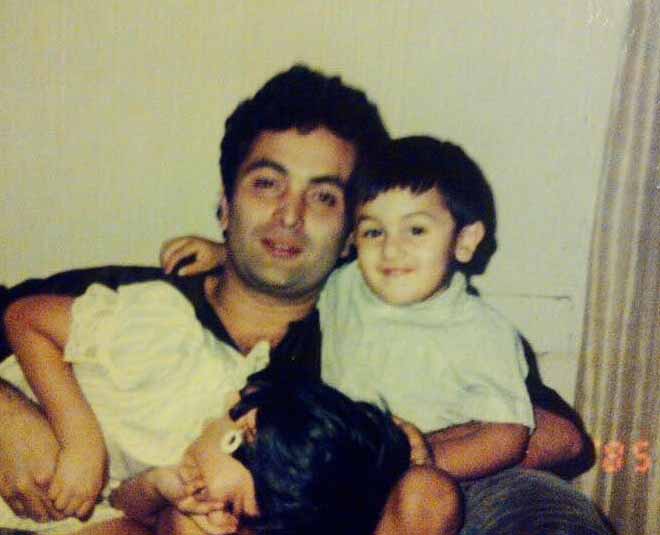 Rishi's reaction to the incident had a lasting impact on his son. Ranbir recalled his father was furious and couldn't keep his calm over seeing him do that. Rishi ended up slapping his son right there. During another interview with an ace critic, the 37-year-old actor talked about feeling "petrified" of his father.
On being asked if "you were scared of him as a kid" the star said, "Yes, I was petrified of him. He would tell me to eat my vegetables and I would start crying. But in the US we really bonded well because we stayed together. Every night after pack-up he would take me to these fancy restaurants. He is a big foodie and he is very particular that I taste different types of cuisine."
Don't Miss: Alia Bhatt & Ranbir Kapoor Living Together? Video Of Them Walking Their Dog & Pics Posted By Her Are Proof!
Besides all, their relationship has changed and come a long way over the years for the better. Drastic changes came when the veteran was diagnosed with cancer and was staying in New York for his treatment. The time allowed the son and the father to bond in a better way, revealed the actor. While their relationship was never broken completely, the time spent together in New York gives their relationship a new definition.
Don't Miss: Katrina Kaif Denies Attending Ranbir Kapoor And Alia Bhatt Wedding, Here's Why
Talking about his equation with Ranbir Kapoor, Rishi once said during an interview that, "My father gave me space when I moved out after marriage and I give Ranbir his space too when he decided to move out and share a home with his girlfriend [then-girlfriend Katrina Kaif]. In this house, he had one room: how could that be enough for a 33-year-old boy? He's a great son, he listens to me but I don't interfere in his career because my career is mine and he is his. I know I've screwed up my relationship with Ranbir even though my wife kept telling me about what I was doing," he said.
Image Courtesy: Pinkvilla, Mid Day