A country full of different cultures is bound to have diverse customs and traditions. India is one country which is an ocean of different cuisines, cultures, people and more. Every region has a different way of celebrating every festival. Navratri too is one festival that is celebrated differently everywhere. Navratri basically means nine nights in Sanskrit where nava means nine and ratri means night. It is during these nine nights and ten days when nine different forms of the goddess are worshipped. I
North India
In this part of the country, Navratri is celebrated as the victory of Lord Rama over Ravana. We celebrate this festival with Ramlila where the effigies of Ravana, Kumbhakarna, are burnt. This is how North Indians celebrate the victory of good over evil forces on the 'Vijaya Dashami' day.
Also, during these nine days special pujas, fasts, meditations, singing, and dancing takes place where we celebrate all forms of art, life, music and knowledge.
In this region, the custom of giving gifts on Navratri is common where we give sweets, clothes or some useful items for the home.
Western India
In Gujarat, Navratri is celebrated with immense fun and frolic with Garba and Dandiya-Raas dance. 'Garba' or 'Garbha' means womb, and in this context the lamp in the pot, symbolically represent life within a womb. Garba is basically Dandiya dance, where men and women pair up playing with dandiyas in their hands.
Don't Miss: Lip Smacking Bengali Delicacies You Have To Try At Durga Puja Pandals
Eastern India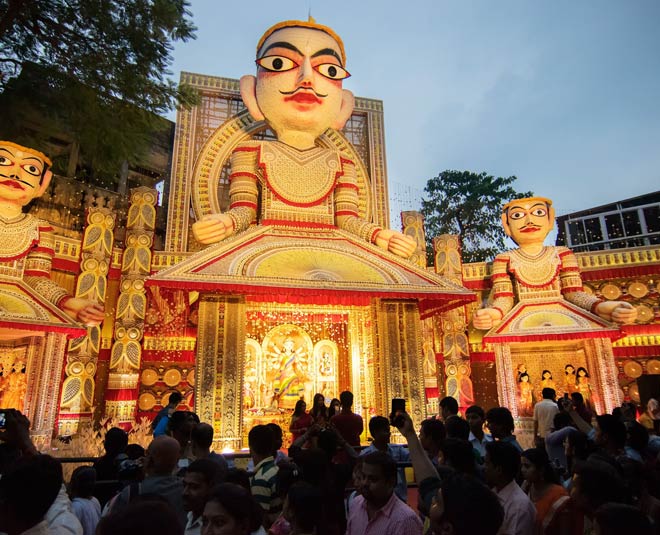 The last five days of Sharad Navratri is celebrated as Durga Puja in West Bengal. Goddess Durga is worshipped. The eighth day is traditionally Durgashtami. Lifesize idols of the goddess are put up in different stalls or pandals and there are competitons as well on how who's pandal looks prettier overall. The Goddess is depicted slaying the demon Mahishasura. The worshipping goes on for five days and then she is immersed in the river on the fifth day.
It is a crazy time in Kolkata when people from all over the country head to the city, their hometowns and celebrate the festival with full zeal, clad in the best of their clothes, enjoying all that amazing food and more. Maha Aarti is the most awaited of them all.
Southern India
In south India, Navratri is when we invite friends, relatives, and neighbours to look at the Kolu. What is Kolu? It is an exhibition of various dolls and figurines. In Kannada, it is called Bombe Habba, in Tamil, it is known as Bommai Kolu, in Malayalam it is known as Bomma Gullu and in Telugu it is called Bommala Koluvu.
In Karnataka, it is called Dasara. This is when they perform a night-long dance called Yakshagana, which is in the form of epic dramas from puranas. The Mysore Dasara is steered by the royal family of Mysore and their Jumbo savari.
An Ayudha Puja is conducted in many parts of Southern India on the Mahanavami. This is when agricultural implements, musical instruments, types of equipment, machinery and tools, books, and automobiles are decorated and worshipped. Here Goddess Saraswati is worshipped.