April 2022: Astro Expert Shares Remedies For All Zodiac Signs
The coming month of April will be quite challenging for 5 zodiac signs. Here are some Astro remedies which will help them through.
Each day is different. While some days are more like a smooth ride, others are too challenging to survive. However, life is a journey and we have to pass through each day in some way or the other. While daily and monthly horoscope predictions do help us plan our days ahead better, there are times when multiple issues arise and we find no escape.
That's when Astro remedies come to the rescue. Astro remedies are more like a prayer to the almighty to make us pull out of all the difficult situations ahead of us. These remedies help us overcome the malefic effects of the planets on our zodiac signs and help us have better days.
Earlier, we shared with you a detailed horoscope for the month of April 2022 for all zodiac signs. We asked our expert if the upcoming month will bring any luck and positivity for any of the sun signs. If you missed reading the horoscope, read it here.
Further, our expert has shared with us that some zodiac signs should remain a little careful in this coming month to have smooth days ahead. For the same, our Astro and Vastu Expert, Dr. Aarti Dahiya has shared some astrology remedies for the zodiac signs. As per her prediction, Taurus, Virgo, Libra, Capricorn, and Aquarius are some sun signs among others that might face some challenges in the coming month. To prevent these challenges, they should perform some remedies suggested by the expert.
Read on to know which Astro remedies should all the 5 zodiac signs follow for a problem-free April 2022.
Taurus (April 20 - May 20)
As per the astrologer, this zodiac sign will witness some issues in the family in the coming month. There can be some confusion among the family members. There will be a lot of trouble between family members which would lead to ugly arguments.
Astro Remedy For Taurus - Do meditation and worship Lord Bajrang Bali. If possible, visit Lord Hanuman temple. Feed dogs everyday.
Don't Miss: Taurus 2022 Horoscope Prediction By Astrologer Dr. Aarti Dahiya
Virgo (August 23 - September 22)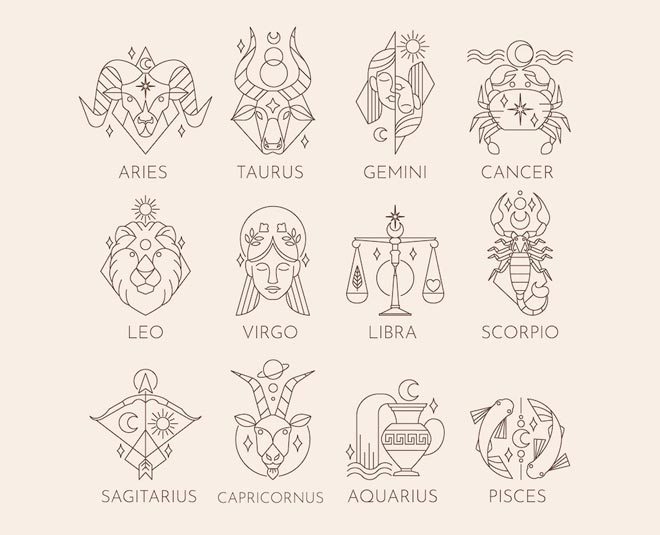 A lot of health problems will come your way. There are chances of you losing money in the coming month. Work-wise also, there will be a lot of obstacles in your way. You might feel dissatisfaction because of your work.
Astro Remedy For Virgo - Read Gayatri Mantra everyday. Offer red coloured flowers to your mother. Also chant mantras for Venus, this would benefit you a lot.
Libra (September 23 - October 23)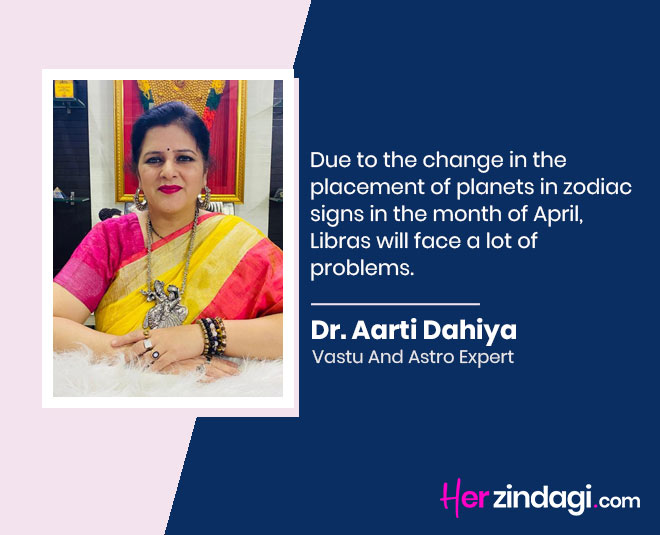 Due to the change in the placement of planets in zodiac signs in the month of April, this sun sign will face a lot of problems. After 12th April 2022, a lot of difficulties might arise at the workplace. Your mind will remain restless. Those in the field of education might suffer from some trouble too. Your expenses will increase significantly in the coming month.
Astro Remedy For Libra -Donate white coloured things as much as possible. Worship Maa Durga.
Capricorn (December 21 – January 20)
In the month of April, Capricorns will suffer from a lot of health problems. Some problems might arise in the family too. Your loved ones might behave differently. There can be some issues in the field of business as well. All this will lead to a decrease in your confidence.
Astro Remedy For Capricorn - Recite Hanuman Chalisa or Sankat Mochan everyday. Chant Mantra for Lord Shani everyday after sunset.
Don't Miss: Rahu - Ketu Transit After 18 Years For 18 Months: Read Prediction For All Zodiac Signs
Aquarius (January 21 - February 20)
In the coming month, your income will be less and your expenses will increase. Your health will also not be great. There are chances you suffer from an injury. You might have to run for things unnecessarily. This can all lead to a lot of tension. At the beginning of the month, there can be some slight tension among the family members. Your children might remain confused through the month. You will also witness a decrease in their concentration.
Astro Remedy For Aquarius - Take out some time for Yoga and meditation. Donate black things on Saturdays in the coming month.
Following these easy remedies shared by our Astro expert will help you have a smooth month ahead. If you have any questions related to your horoscope for the upcoming month, share them with us on our Facebook page and we will get them answered for you by our expert. For more such Astro related content, stay tuned to HerZindagi.com