Placing a fish aquarium at your home not only adds an interior element but brings along a lot of benefits for your health and life overall. According to Vastu Shastra, keeping a fish tank at home is a symbol of luck and prosperity. If you have been planning to get an aquarium at home with beautiful coloured fishes then you must get one already. Keeping an aquarium at home can be highly beneficial for you. How? Scroll down to know.
Keeps The Environment Relaxed
Vastu Shastra expert, Sonia Malik shared that keeping a fish aquarium at home is a good way to keep water. Water represents the moon and it is beneficial for your overall life. It makes your life more calm and relaxed. It also helps in reducing any issues within the family and keeps a happy environment overall.
Prevents Debt
Expert Sonia Malik also shared that feeding fishes regularly is a great remedy to prevent debt.
Don't Miss: Facing Financial Problems? Bring Home A Money Plant
Reduces Stress
A fish aquarium placed in your living room basically brings along a very soothing effect. It is usually placed in offices and homes to bring down the stress levels. Watching the fishes and feeding them is a great way to reduce stress.
Good For Your Heart Health
If any members of your family have health issues like high blood pressure, high heart rate then keeping a fish aquarium at home is highly beneficial. According to a lot of studies, seeing fishes swim around in the aquarium and just taking care of them can be great for your mind and heart. It prevents your blood pressure level to go high and also prevents the risk of heart attacks.
Don't Miss: Vastu Tips To Stay Fit & Healthy During Covid-19
Improves Sleep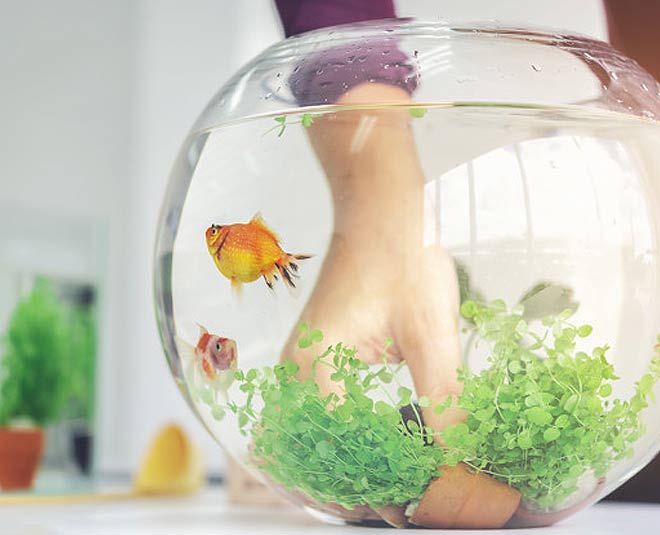 Keeping a fish tank in your room can help you sleep better. How? Fishes bring very positive energy to the room and reduce stress levels. They remove all the negative thoughts that don't let you sleep and make it easier for you to have a good night's sleep.
Reduces Pain And Anxiety
Decorating your home with a fish aquarium can also help in overcoming pain and anxiety. Have you seen fish tanks placed at your doctor or dentists' waiting room? This is to make your mind calm and reduce anxiety. A fish aquarium is an easy way to treat anxiety disorder. When you stare at the fishes swim, your mind gets diverted and you feel more relaxed and easy.
Keeps You Active, Increases Productivity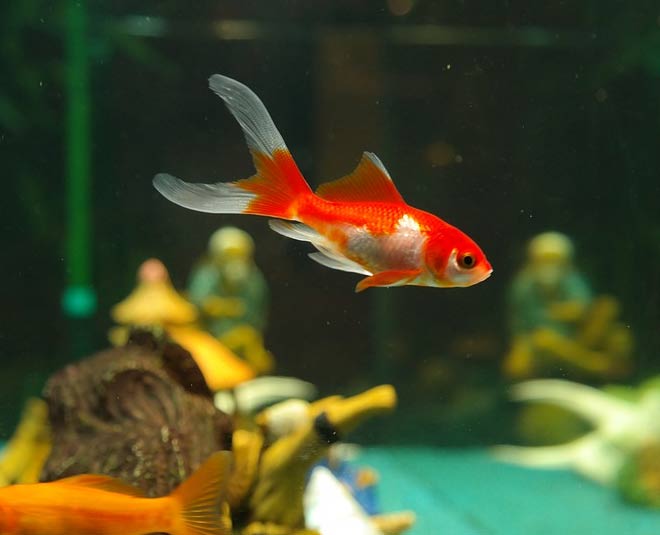 Fishes represent activeness and keeping a fish aquarium at home helps you stay energetic and active all day long. This further affects your daily productivity. You are able to focus better when there is a fish tank present around you and this also gives room for your creativity.
Great For Children
You must get a fish aquarium if you have kids at home. It is known to beneficial for kids with hyperactivity disorder. When kids watch the fishes swim in the fish tank, their mind feels calm and relaxed. This will help your child concentrate better and also help them sleep well. This further helps your children perform better when it comes to their studies.
Vastu Tips To Keep In Mind
According to Vastu, the aquarium should have 9 fishes in the aquarium and one of them should be black in colour.
It is important to ensure that the fish aquarium is clean and hygienic.
The fish tank should be placed in the living room or bedroom and no other place in the house. It should be located in the North or East direction.
Fish aquariums are so beautiful and now that you know the amazing benefits of keeping them at your place, you must get one. Fishes have a great affect on your health and overall life. What are your thoughts? Share with us! For more such stories, stay tuned to HerZindagi!