In a facebook post, self-proclaimed filmmaker Daniel Shravan had the audacity, well it also reflects the thinking of many individuals, to post that rape should be legalised in India! Wait till you read the entire post by this man amidst the gruesome "rape culture" that India has been witnessing even after the Nirbhaya case in 2012. This time it is the rape case of Hyderabad that has brought some more voices together to protest against so many rapes and murders that have been taking place in the country and not just Delhi for that matter. Before we delve deeper, here is what the man posted along with some reactions that we gathered from social media.
Shravan suggested that instead of calling for police help, women should carry condoms and save themselves from the fate of murder.
He posted that "Murder is a sin and a crime. Rape is a corrective punishment. No justice is going to happen with Nirbhaya Act or Priyanka Act. The agenda of rape is fulfilling the sexual needs of rapists based on that time or mood."
He also went on to rant that women are assaulted by rapists, they should cooperate in the act and offer the rapist a condom so that they are not killed afterward.
It is not just shocking but disgusting to the hilt that this thought actually crossed an individual's mind!
Singer Chinmayi Sripaada shared the appalling pictures of the posts made by Shravan on his Facebook page.
In one of the posts which has now been removed, Shravan argued that "Rape is not a serious thing but Murder is inexcusable".
If this was not enough, Shravan voiced his sickening opinion that Society and Women organisations are "real culprits for engendering the evil thinking of killing the rape victims after raping them". He wrote that if the courts, government and law provide an exemption for rapes, then rapists wouldn't think of murdering the victims.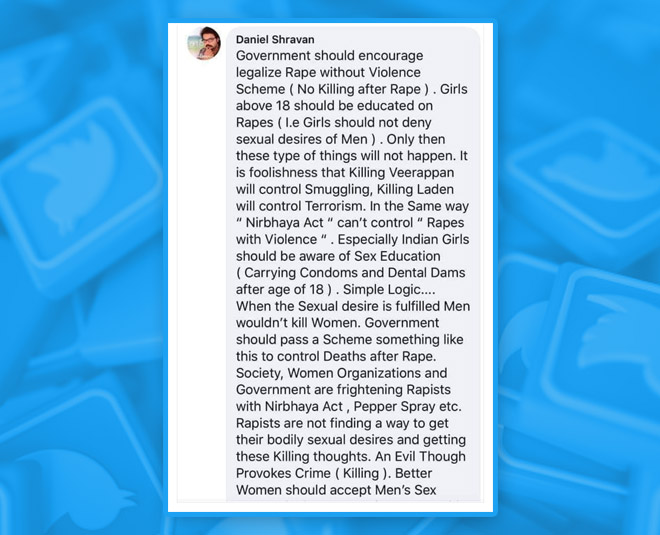 Award-winning Indian journalist-author, Sonal Kalra shared the post on her Twitter account.
If this is for real, I want to die. pic.twitter.com/yT5zsepJ6f

— Sonal Kalra (@sonalkalra) December 4, 2019
Actress Kubbra Sait wrote:
Whoever this Daniel Shravan is: needs medical help, maybe some heavy duty whacks up his butt, will help him clear his constipated mind.
Infuriating little prick. https://t.co/z8WVpClKTC

— Kubbra Sait (@KubbraSait) December 4, 2019
RJ Khurafati Nitin also lashed out saying Khurafati Nitin: "Someone needs to sue this man 'Daniel shravan' ! What a bloody moron!"
Here are a few more reactions by the people of India.
Filmmaker Daniel Shravan says rape victims should carry condoms and cooperate in rape to avoid their murder afterwards

Hello Daniel Shravan,

On behalf of all women, please get lost https://t.co/aw2saopnTz

— Nupur J Sharma (@UnSubtleDesi) December 3, 2019
Look at this filthy men Daniel Shravan..What a waste of sperm he is!! ..If same thing happens to his family member, he will definitely say "arey chalo achcha hai...tumhara sirf rape hua hai.. .kam se kam murder to nahi hua! pic.twitter.com/jupHDkOFBw

— Kolkata_Chhori (@Kolkata_Chhori) December 3, 2019
What is "Rapes Without Violence?" .
And this guy is not some anonymous profile.
He is a movie Maker goddamn it.#danielshravan pic.twitter.com/RefqsdI5I9

— Lone Wolf Ratnakar (@GabbarSanghi) December 4, 2019
Who the fuck is Daniel shravan and why the fuck is he not behind bars because he is a potential rapist!!!! Men are just!! im so done. https://t.co/zWDtje3oL1

— ibad (@Ibadsayed) December 3, 2019
Daniel Shravan!! Are you a Human? I am appalled by your opinion. You are asking the government to legalise Rape! Apropos Hyderabad Rape and Murder case, your opinion is impish and frightening at the same time. Strict action should be taken againt him. #HyderabadHorror pic.twitter.com/nLHvnDSZ3n

— Shaurya D Joshi (@ShauryaDJoshi) December 4, 2019
Do we hv some psychiatrist who can help daniel shravan
Who says instead of dialin 100 to call police,women shud carry condoms to save themselves
Such a cheap publicity stunt!@RituRathaur @OpIndia_com @rahulroushan @ssvirendra @madhukishwar @English_bahenhttps://t.co/UUgboE3r9S pic.twitter.com/xQAJhq73aj
— Kritika Khatri (@kk_hjs) December 4, 2019
One user wrote: "Just when you thought it can't get worse for women. #Danielshravan".
It is disheartening when people come up with such opinions about rape. How could anything justify the heinous crime? In India we have been fighting for laws that don't let the rapists go scot-free yet we have such words coming out. Just recently the horrific rape and murder of the veterinary doctor in Hyderabad caused widespread outrage across the country.
Don't Miss: Telangana Rape Video Porn Searches Show A Society That Is In Dire Need of Moral Overhauling
The four men gang-raped and then burnt the 26-year-old veterinarian in Shamshabad later. The Cyberabad police has nabbed all the four accused.