Yes, I am a bit pensive but the moment I read about the incident of rape in Telangana, it wasn't really a shocker. However, I sure was disgusted beyond belief when the details of the case started pouring out. From the way the accused made the 26-year-old veterinarian doctor their target, to surpassing all levels of heinous behaviour, the rapists were surely neither humans nor animals.
However, if only those were the criminals who were caught by the police of such crime, what are we going to say about other perverse mindsets who have the audacity to go and search for the rape video of this soul-wrenching incident on porn sites.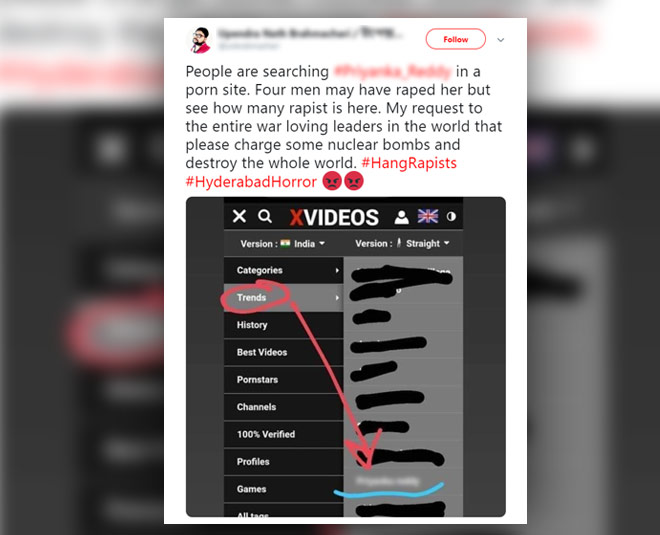 As scary as it sounds, over the past few days the keyword has been searched over 8 million times, according to certain reports. The highest searches have reported been from India and Pakistan.
Aren't they the same sadists or in the worse case, a rapist in the making, who are seeking pleasure out of someone's tragedy.
Read More - Wing Commander Anupama Joshi Seeks Azadi From Restriction Of Thoughts
Dr Samir Parikh, a Psychiatrist and Director of Department of Mental Health and Behavioural Sciences, Fortis Healthcare, says, "Such behaviour is not common and it has two sides to it. First, there are various kinds of fantasies that people might have and such media helps them in addressing those. Secondly, there have been several studies which have stated that pornographic viewing has a deep impact on the sexual behaviour of people. A lot of pornography has violence which is a bigger concern. This might lead to false thoughts and ideas like a 'no' doesn't mean 'no' and 'pain is enjoyable', apart from several others.
According to a report, India is the world's third-largest consumer base at PornHub, with only US and UK ahead of us. Home Ministry reportedly took off as many as 71 videos of child pornography, rape and gangrape apart from other offences from social media after registration of 33 FIRs.
The news of Telangana rape spread like a wildfire and the gory details of the brutality soon made people squirm with hate, disbelief and agony. But maybe, I am talking about a selected few because if this was the case, the google search would have been something else.
Read More - The Bhabhi We All Need: 5 Times Renuka Shahane's Woke Statements Were All Too Sane
Time and again we keep mentioning about the deteriorating moral fabric of our society but still there is this Indian culture, sabhyata, sanskaar that we can't just stop raving about. But then, there are a few like me who would like to believe that the time has come to question the same culture, to question the ethos and morality which we just can't stop eulogizing. We hail Durga and Kali, especially during those 9 days of Navratra, and turn the young girls and mothers around us into a living god. However, the moment we are over that festive euphoria, the state succumbs to the most barbaric acts, gestures and tones.
Here I must talk about Hyderabad police's 14 tips for women to stay safe, which has put the onus of keeping herself safe upon a woman only. Why should we bother troubling men with this? Right? I wonder if they have any bit of advice on how to tame men who feel women as their territorial right. And if you thought that the police's version of women's safety was outrageous, the CM of the state called for an 8 pm curfew for women and an end to late-night working shifts for them. This, he thought, would 'prevent' women from getting raped and burnt since they would not be out on the roads, roaming around.
But I am yet it hear from them, along with other high authorities, to help women draw and implement an action plan that will keep us safe from the brutality many of us face within the safe confines of 'home sweet home', where girls and women are sexually, physically and mentally traumatised on a daily basis.
Maybe I deviated from the topic of google search but how can we not talk about what went wrong and not uncover our own souls, which are charred beyond recognition now. That lifeless body wasn't just a raped, abused and barbarised woman, it was the society, the people, the culture and the values burnt to pieces.
If this doesn't bleed our soul, I wonder what it would take to make us question human survival.