Winter season means dressing up comfy and cozy. But in the process of layering up with such clothes, don't forget to slay with your styling. People often forget to style themselves nice in the winters due to procrastination and laziness brought on by the cold. However, it often leads to a bad impression. So, help you with that, here are some techniques which will enhance your winter looks without requiring much effort and will leave you looking stunning. Have a look at these styles.
1. Belt Over Blazer
Belts are a beautiful accessory which can enhance any look. These belts become even more popular during winters among fashionistas. Adding a belt is the easiest way to give new life to your outfits, and blazers are one of them. You can choose any belt of your choice and wear it over your coat for a fresh new winter outfit. It will not only make your outfit appear fresh, but it will also add polish and class to your style.
2. Contrasting Scarf
Scarves are a wonderful addition to any winter outfit. However, choosing the right type of scarf with a contrasting colour than your outfit can make you stand out in the crowd. Scarves come in a wide range of styles and can be worn in a variety of ways. So choose a scarf in a colour that contrasts with your clothing and go slay! Several styles of scarves are- Long scarves, Shawls, Mufflers, Stoles, and so on.
Don't miss: How To Style Your Winter Scarf For Most Stylish Looks?
3. Sheer Stockings
Well if you don't want to give up wearing dresses, even if the weather is too cold and chilly, worry not, because sizzling sheer stockings are here to get you the taste of winters in your wonderful dresses. Wear a pair of sheer stockings on your legs along with your warm and cozy sweater dress and get ready to glam everyone with your charm. These sheer stockings can instantly make yourself look more polished, and you can show-off your legs without worrying about the chilly winters.
Don't miss: Stockings Or Knee High Socks? Which One Should You Prefer During Winters?
4. Layering Different Textures
This season, play with different textures for a stylish sparkling look. There are different styles of layering which can give you casual to classy, whichever look you want, depending on the choice of clothes you choose. Layering is the key to stay warm!
In the picture Sonam Kapoor has done a fabulous winter layering. She started with warm turtleneck and then paired her checked co-ords with a woolen coat in a warm nude shade. She has also put on a dainty scarf for that little detail. This look on Sonam Kapoor is just WOW!
5. Coloured Knitted Cardigans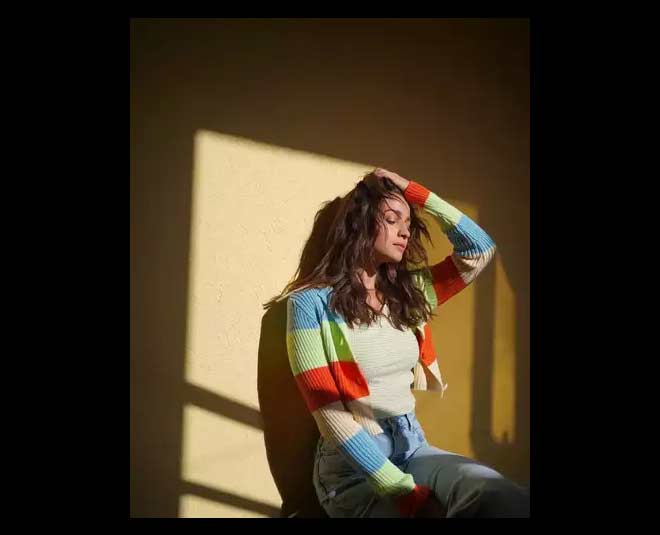 Knitted cardigans are excellent cold protector outfits. However, a splash of colour can make even your most basic, boring or cheerful outfits stand out. They can make your outfit more lively and give you a cheerful appearance. If you choose this outfit, you are most likely to receive several compliments as well as a reminder of how gorgeous you look.
These winter styling techniques will turn you into a fabulous Fashionista and up your style game. Which among these is your favourite styling technique for this season? Let us know by commenting on our Facebook or Instagram page.
For more such stories, stay tuned to HerZindagi!