Keep It Comfy Yet Classy, Wear These Outfits When You Feel Bloated
A bloated stomach can ruin your special occasion attire. You can, however, overcome this situation by dressing up right.
A bloated stomach does not only cause uneasiness but also something we all women hate the most: a more noticeable belly. Sometimes even after being very careful and eating everything correctly, a minor mistake can trigger this discomfort. Bloating can be caused by a variety of factors, including something as simple as the food you eat or by other medical conditions. However, if you want to conceal your bloated tummy and avoid drawing attention to it, simply dress accordingly. To help you choose clothes according to that, we will help you. Take a look at your outfit options and find a way to be comfortable while still looking classy.
1. Flowy A-line Dress
(Image courtesy: Amazon)
Flowy A-line dresses are a stylish yet comfortable option for a bloated stomach. They are ideal for parties or any other special occasion. These dresses feature a style that is flattering on the vast majority of women, regardless of their shape or size.
These chic A-line dresses are fitted to your waist and then gently flare out to the hem. The beauty of this style is that it can minimize the look of waist, hips, and thighs while drawing emphasis to the bust half.
2. Kaftan With Straight Pants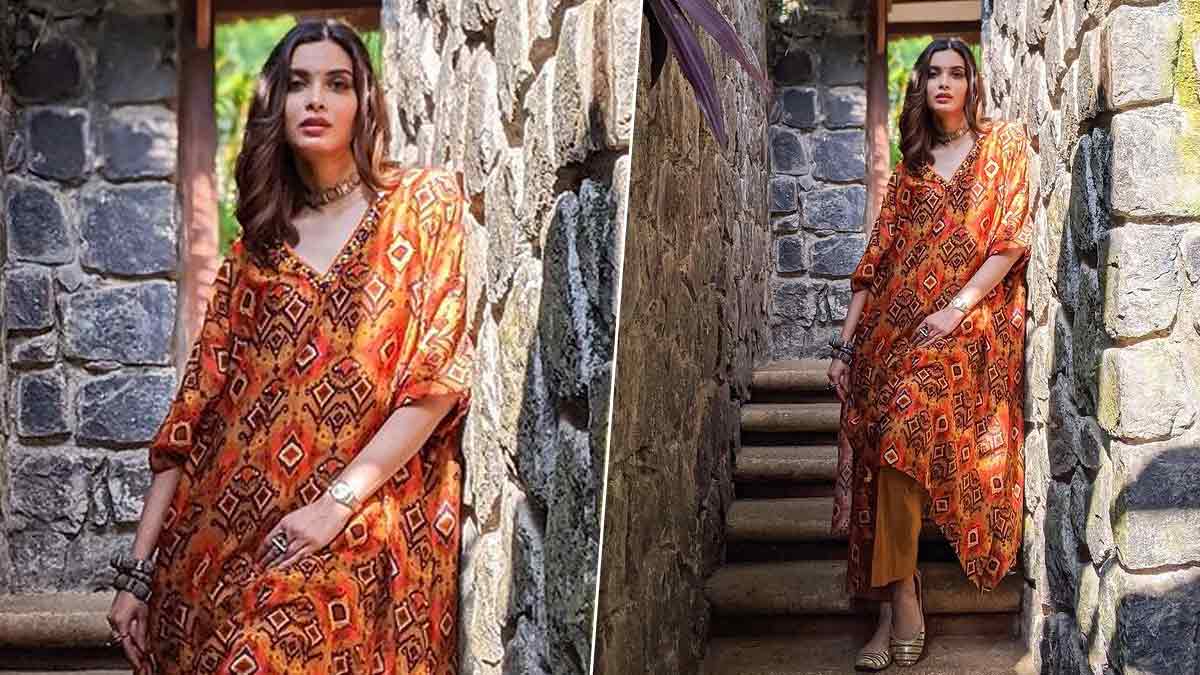 (Image courtesy: Instagram/dianapenty)
A Kaftan is a loosely fit stylish yet freely flowing, ankle-length flattering garment. When paired with straight pants, it will give you just the look that you have wanted: stylish while concealing a bloated stomach.
It's a stunning clothing option that you may wear everywhere and effortlessly impress and turn heads. From the beach to formal occasions, you can wear this outfit anywhere you go.
Don't miss: Kareena Kapoor Khan Has A Thing For Kaftans And We Can't Miss Adding Them To Our Closets This Season
3. Shirt Dress
(Image courtesy: Instagram/who_wore_what_when)
Shirt dresses are a cute and wonderful option which can help you hide that bloated tummy. However, make sure your dress is not too tight. Choose a baggier fit with space at the hips. If it doesn't feel tight around the hips, it won't hug your tummy when you're bloated. Shirt dresses are a wonderful option for you, however choosing the apt dress is the key. Shirt dresses are cool and chic outfit options that can work wonderfully for any casual occasions.
Don't miss: How To Wear Shirt-Dress According To Your Body Type
4. Tunic Tops With Loose Pants
(Image courtesy: lasylife.top)
Tunic tops can be used as a superpower to conceal a bloated stomach. Simply pair your tunic tops with loose pants. To avoid the fluffy appearance, avoid combining tunic shirts with flared or baggy trousers. This is a comfortable appearance that you'll love to wear.
Don't miss: Here Are Some Trendy Long Tops To Hide Your Camel Toe
5. High Waisted Pleated Skirt
(Image courtesy:lasylife.top)
High waistedpleated skirts are an excellent investment because they are both comfy and versatile. They are a very elegant choice that will also make you extremely good. Because they are high waisted, they cover the tummy area and conceal the bloated stomach. From day outings to elegant parties, you can wear this outfit anywhere.
6. Ruffle Dress
(Image courtesy: pngegg.com)
The ruffle dress is a fantastic and beautiful outfit that can hide basically anything. You can also choose a ruffle top based on your body shape. The ruffle layering does an excellent job of concealing your stomach. If necessary, select a size larger than your usual size.
Wear these outfits when you're bloated and you'll look and feel great. I hope you liked this story. Do share your thoughts with us by leaving a comment on our Facebook or Instagram pages.
For more such stories, stay tuned to HerZindagi!